National Volunteers' Week: Celebrating our alumni volunteer community
We were delighted to celebrate National Volunteers' Week 2022! Every year between the 1-7 June, the UK celebrates volunteers and the huge impact they have on their communities. Here at the University, this week-long event gives us the chance to say thank you to the thousands of volunteers that support our staff, students and the wider local community each year.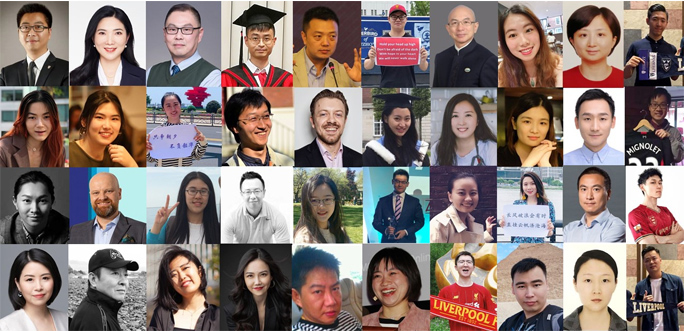 Alumni Network in China
It's been three years since the establishment of the official University of Liverpool Alumni Network in China. We would like to take this opportunity to thank our volunteers. Your talent, expertise and generosity have brought diversity to the alumni network, enriched the community, and strengthened the connection with the University enormously. We would love to see more of you join the alumni volunteer community, support the University and fellow graduates in various ways. There are so many of you who help the university alumni community anonymously. Our gratitude is beyond words. Your support is invaluable.
Connect with Haibei, our Alumni Engagment Manager (China) via email: haibei.feng@liverpool.ac.uk or visit UoLalumni on WeChat.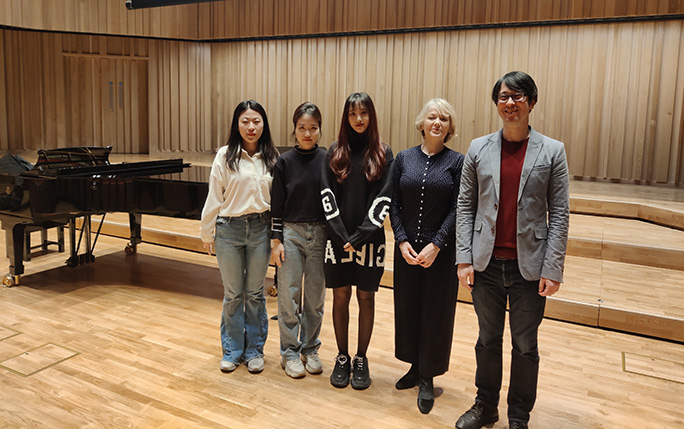 Operatic Soprano Joan Rodgers returns to Liverpool to deliver a Music Masterclass
University of Liverpool alumna Dr Joan Rodgers CBE (BA Hons Russian 1978, Hon DMus 2005) returned to Liverpool this spring to deliver a day of music masterclasses to six Liverpool singers in the new Tung Auditorium, in the Yoko Ono Lennon Centre.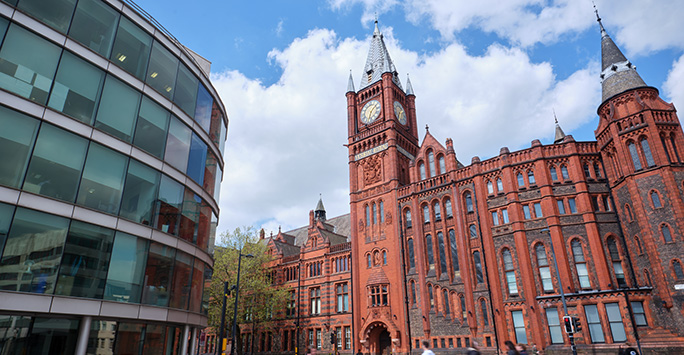 91% of Liverpool's research rated as world leading or internationally excellent
The University of Liverpool has reinforced its place as a world leading research institution in the results of the independent Research Excellence Framework (REF 2021) with 91% of the University's research classed as world leading or internationally excellent.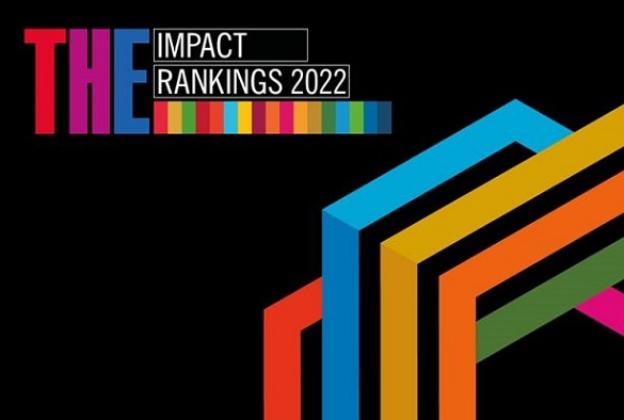 Times Higher Education Impact Rankings League: University of Liverpool ranked in world's top 100
The University has been ranked among the world's top 100 in the Times Higher Education Impact Rankings League – and number one for its partnership work in support of the UN Sustainable Development Goals (SDGs).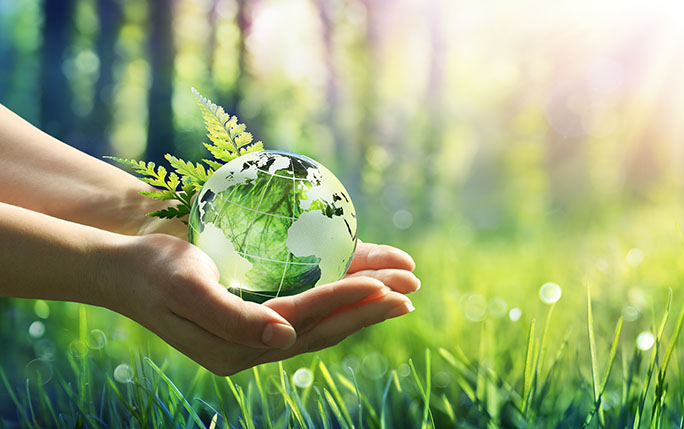 Help us achieve our sustainability pledge
In January 2020, the University committed to the UN's Sustainable Development Goals (SDG) to help build a more sustainable society, economy, and environment. This year, we're asking our alumni community to support our 2022 pledge to make a change, share their own sustainability goals and help us make an impact on global sustainability together.
Alumni Magazine 2022
In this year's magazine you can read our in-depth alumni interviews with Dr Chadden Hunter, Megan McCubbin and Shalom Lloyd (pictured), read features on Liverpool's International Slavery Museum and the new Pandemic Institute, and find out what your fellow graduates have done since graduation in Class Notes.

Have your say in the Alumni Survey
Let us know how we can improve our communications, events, volunteering opportunities, benefits and offers, and tell us about your experience as a Liverpool graduate in our short survey.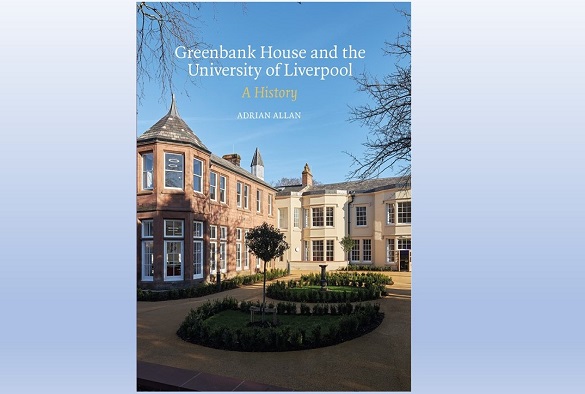 Greenbank House and its legacy to the University of Liverpool
In May this year, the University marked the 150th birthday of Eleanor Rathbone, alumna, humanitarian and welfare reformer. The Rathbone family home, Greenbank House, was gifted to the University in 1944. A new book by alumnus and retired University archivist Adrian Allan chronicles the history of Greenbank House, as well as its subsequent use as a University Hall of Residence.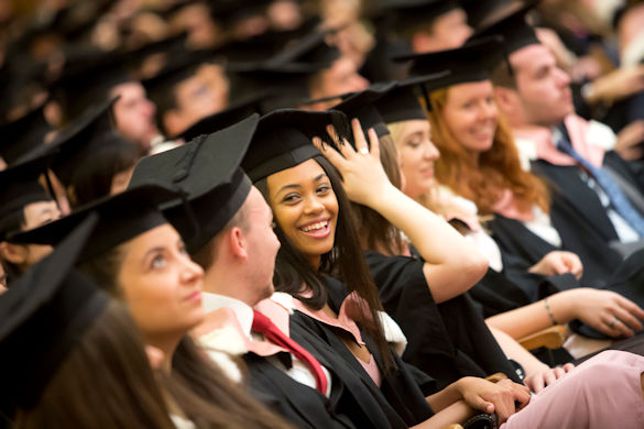 Congratulations to our Classes of 2020 and 2021
We've been delighted to have our Classes of 2020 and 2021 back on campus over the past eight months to take part in their delayed graduation ceremonies. We're so excited to finally celebrate all they have achieved and share some of their special moments, which you can see on our social media wall if you scroll to the bottom of our graduation homepage.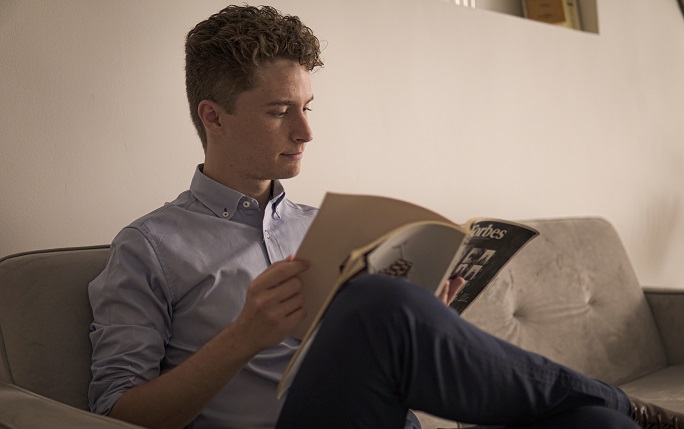 Graduate shortlisted for Entrepreneur of the Year award
Alumnus and entrepreneur Moises Barbera Ramos (MPhys Physics 2020) has been shortlisted for the Entrepreneur of the Year Award at the 2022 Educate North Awards for his medical device start-up, Drill Surgeries, which develops new medical devices using the latest technologies to reduce the X-ray impact in hospitals around the world.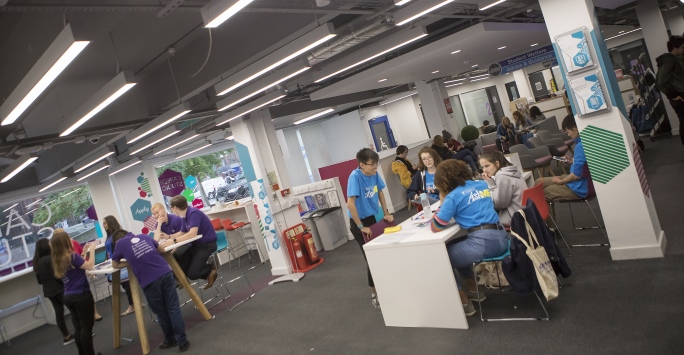 Careers and Employability: I Got Hired blog
Students and recent graduates have shared their experiences as interns and graduate trainees in the Careers and Employability team's I Got Hired blog.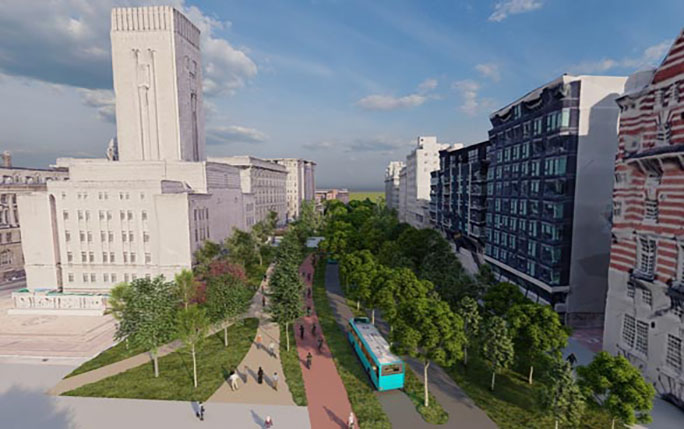 Student's bold design ideas to transform Liverpool's city centre
Town and Regional Planning student Todd Lithgow recently met with Liverpool Mayor Joanne Anderson to share his ideas for new ways to transform the city centre – with a key idea of improving space for walking and cycling and making the city's roadworks safer and greener.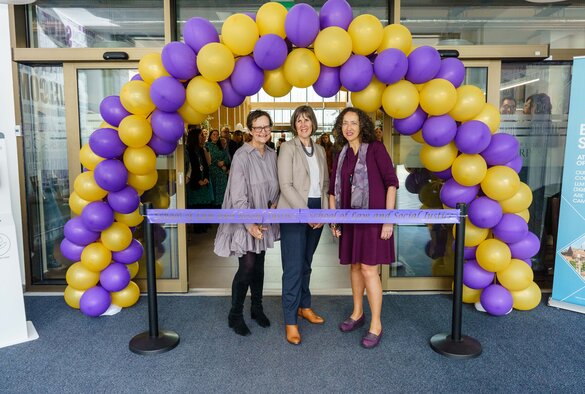 New School of Law and Social Justice Building officially opens
The University of Liverpool's brand new School of Law and Social Justice Building was officially opened two years on from being brought into use, after the pandemic forced organisers to delay the official ceremony.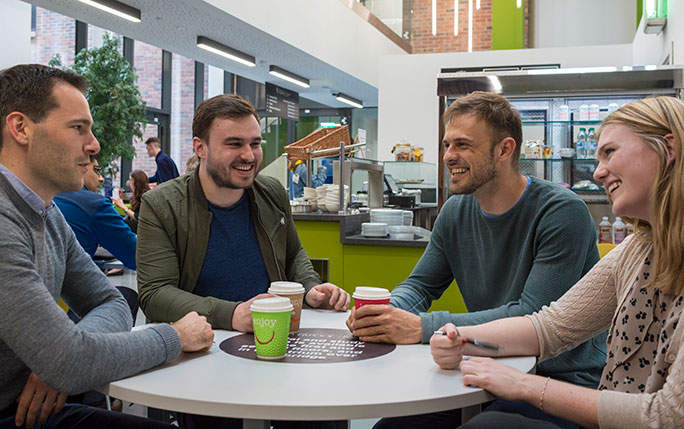 Share your expertise with our students
Starting university is an exciting experience, but it can also be challenging, especially for those who may be moving to a new city, are first in their family to join university or are returning to education. Can you help our students by offering advice about your time at Liverpool?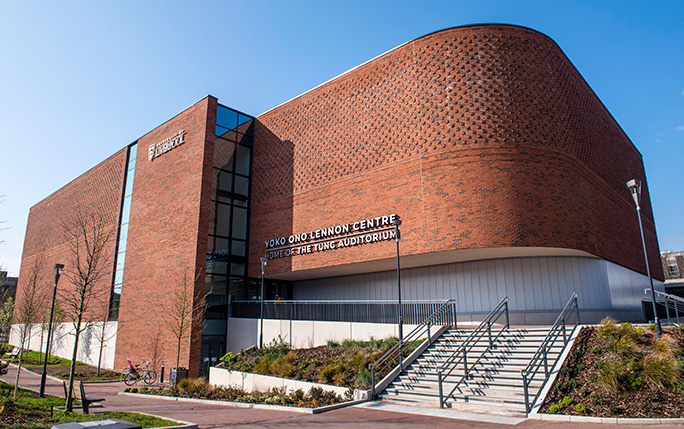 The architecture of the Yoko Ono Lennon Centre – designed by Liverpool alumni
Jade Meeks, Project Architect and Mushtaq Saleri, Senior Associate were part of the alumni team at Ellis Williams behind the new Centre, which opened to the public in March 2022.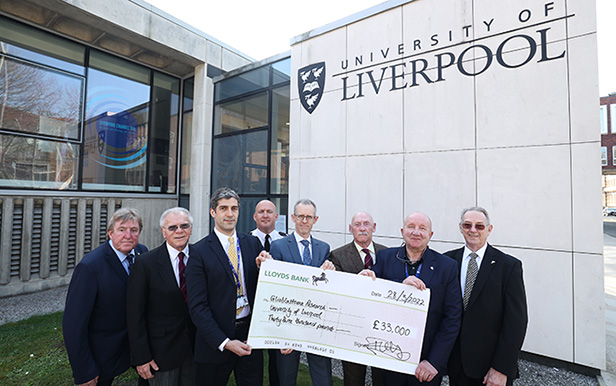 Brain cancer campaign receives fundraising boost
The University of Liverpool's new Glioblastoma (Brain Cancer) Fund, which launched in March this year, has got off to a good start, raising more than £40,000 towards its £250,000 target.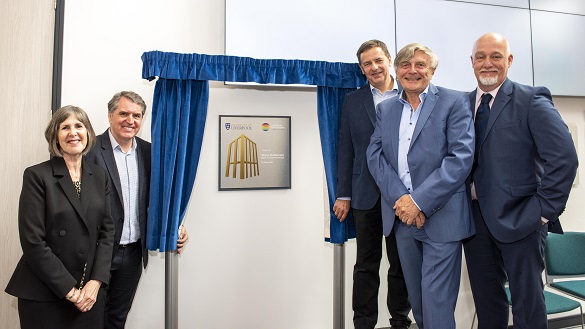 Official opening of the Digital Innovation Facility
Steve Rotheram, the Liverpool City Region Mayor, officially opened the University of Liverpool's Digital Innovation Facility (DIF), a £12.7 million Centre of Excellence in emerging digital technologies, alongside tech entrepreneur, alumnus, supporter and visiting Professor at the University, Sir Robin Saxby.
EXCLUSIVE: Watch our exclusive video of Sir Robin Saxby in conversation with Dr Andy Levers, Executive Director of the Institute of Digital Engineering and Autonomous Systems (IDEAS) here.

Are you an SME business leader? Or do you know someone who is?
The Government-funded Help To Grow: Management course is helping thousands of SMEs boost their growth post-pandemic.
Delivered by the University of Liverpool and other leading UK business schools and accredited by the Small Business Charter. Help To Grow: Management includes 50 hours of in depth training, inclusive of 10 hours of 1:1 business mentoring, and the opportunity to grow your business, fast. If you have 5 – 249 employees and want to drive growth, for full information and real-life SME stories here.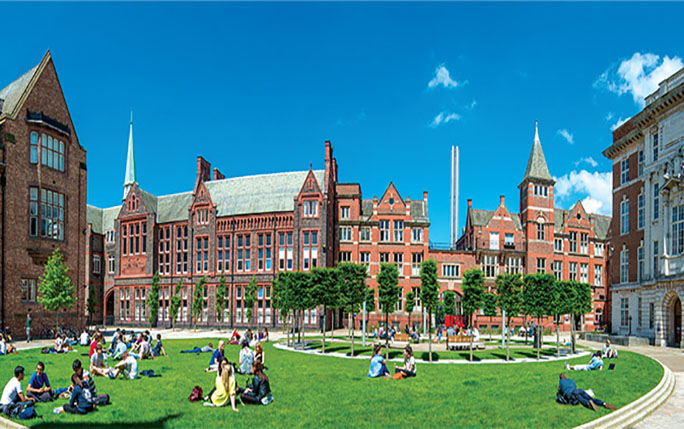 Spotlight on School of Health Sciences and Continuing Professional Development (CPD)
Helen Orton, Academic Lead for CPD at the School of Health Sciences, gives an overview of the CPD opportunities open to all healthcare professionals in the new academic year.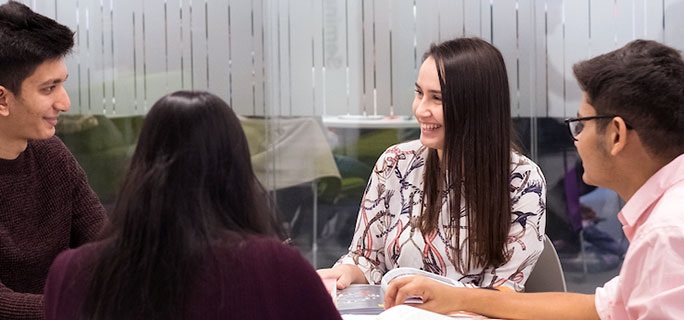 Progress to Postgraduate with one of our new master's programmes
Whether you're looking to take the next step in your current role, change career direction, or challenge yourself to explore a subject you're passionate about, there will be something for you. As we approach a new academic year, read on for a sneak preview of the new master's programmes which will be launching in September 2022.
REUNION STORIES

Class of 1972 German Reunion
During April, Class of 1972 German alumni gathered in Liverpool to celebrate 50 years since their graduation. The group first reunited in Liverpool in 1987 for their 15th anniversary and, since then, they have established the tradition of 5-year reunions, which have culminated this year with their "Golden" 50th celebration.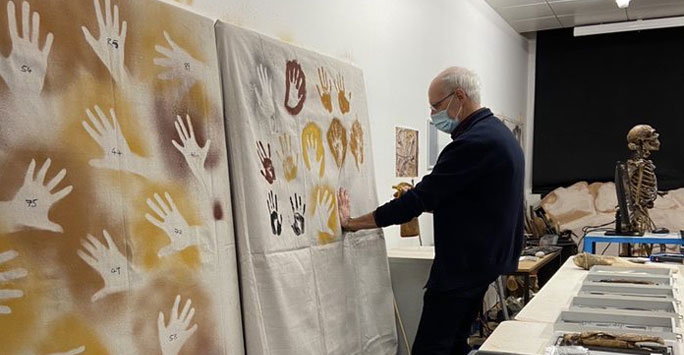 'Sloman Loungers' Reunion
This spring, the University welcomed back the 'Sloman Loungers', a group of Physics alumni from the 1960's, who named themselves after spending time as students in the Sloman Lounge of the Guild of Students while undertaking their studies.
EVENTS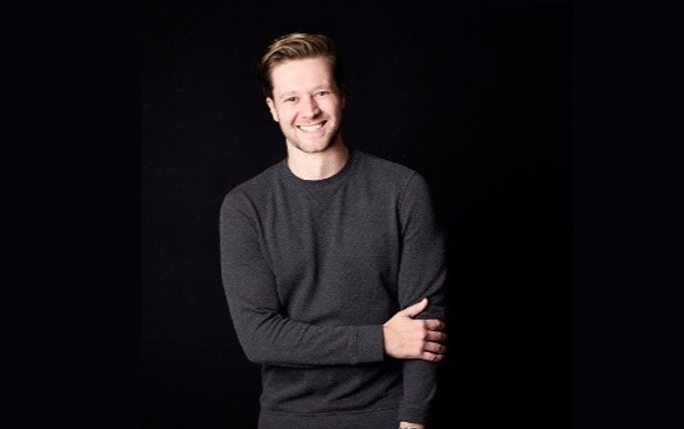 Bringing the world to Liverpool: VP, Franchise Lead, NBA2K at 2KBU
Thursday 16 June at 5pm (BST), online
We're delighted to announce that the next event in our Bringing the World to Liverpool series will feature Zak Armitage (BA Business and Politics 2012), who is VP Franchise Lead at NBA2K, one of the biggest video franchises in the world.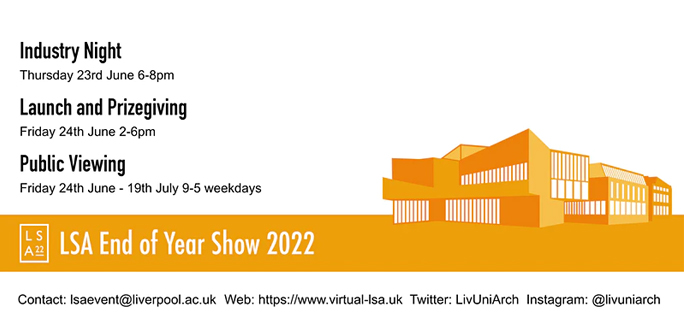 LSA 2022 End of Year Show Industry Night Private View
Thursday 23 June, 6-8pm (BST)
Professor Ola Uduku, Head of School, and the staff and students of Liverpool School of Architecture invite you to the annual LSA End of Year Show Industry Night private view. We are very pleased to announce that it will be held in person for the first time in 3 years at 6-8pm on Thursday 23 June at the Liverpool School of Architecture, 25 Abercromby Square, Liverpool.
For further information or to inform us of any specific access requirements contact lsaevent@liverpool.ac.uk.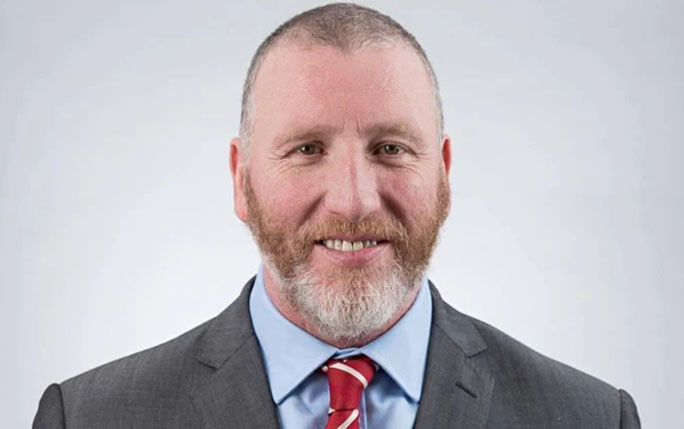 Liverpool Leaders with Ralph Rimmer, CEO of the Rugby Football League
Tuesday 28 June at 5pm (BST), online
We are thrilled that the first speaker in our new Liverpool Leaders series will be Ralph Rimmer (BA Hons Economics 1987) who is the CEO of the Rugby Football League. Ralph will be on hand to discuss his fascinating career since graduation, including how he has risen to take on one of the biggest positions in Rugby League.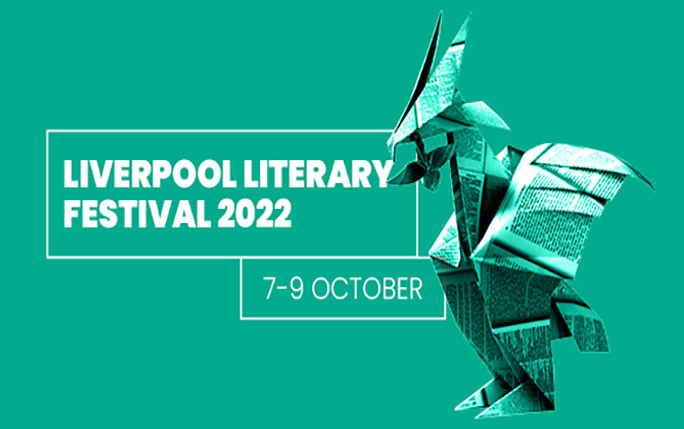 Liverpool Literary Festival 2022
We're currently finalising the programme for the Liverpool Literary Festival which this year runs from 7-9 October. In the meantime, sign up to our mailing list to make sure you're the first to hear about the new programme or catch up on events from last year's Festival with our Festival player.
CATCH UP WITH PAST EVENTS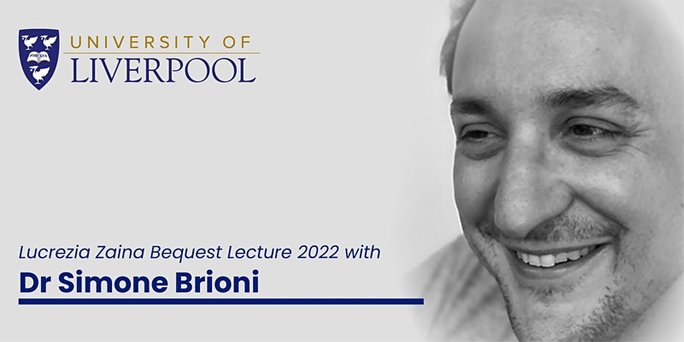 Lucrezia Zaina Bequest Lecture 2022 with Dr Simone Brioni
In case you missed this year's Zaina Lecture, it is now available to stream online. Hear Dr Simone Brioni discuss how it is possible to reevaluate Italian symbols in a more inclusive way that acknowledges the multiple, diasporic and postcolonial perspectives through which Italian culture is created, discussed, appropriated, and kept alive.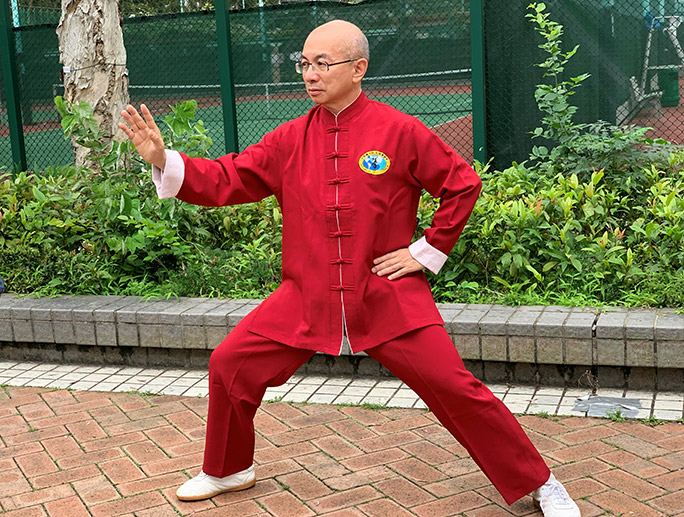 Alumnus hosts online Taichi event
In May, University of Liverpool alumnus Lawrence (Pak Ho) Wong (BEng Hons Civil Engineering 1980) (pictured above) hosted a successful online event with the University's China alumni network, offering fellow alumni the opportunity to learn and appreciate the essence of Taichi. Lawrence introduced a lung exercise especially tailored for people experiencing the pandemic to develop some useful breathing techniques.
Lawrence has a long connection with the city of Liverpool, having spent his school and university years in the city. He has over 30 years' experience in the developing, planning, managing and financing of major real estate, infrastructure and logistics projects.
In 2009, Lawrence started to learn Taijiquan from Master Mr Chen Xiaowang, Head of Chen's Taichiquan. Later, he became the disciple of Master Chen and as the 12th Generation Successor of Chen style Taijiquan.
Lawrence has won a number of gold medals in Hong Kong International Wushu Competition. Lawrence became a Taichi coach in 2013. In 2018 he took up the position as the President of Hong Kong Branch of Chen Xiaowang World Taijiquan Association.
We very much look forward to welcoming Lawrence back in the future and bringing us more Taichi exercise.
Visit Lawrence's YouTube channel
If you would like to find out more about Taichi, you can contact Lawrence via email: lawrencewong383@hotmail.com.
Back to: Alumni