Sloman Loungers return to Liverpool for their 2022 reunion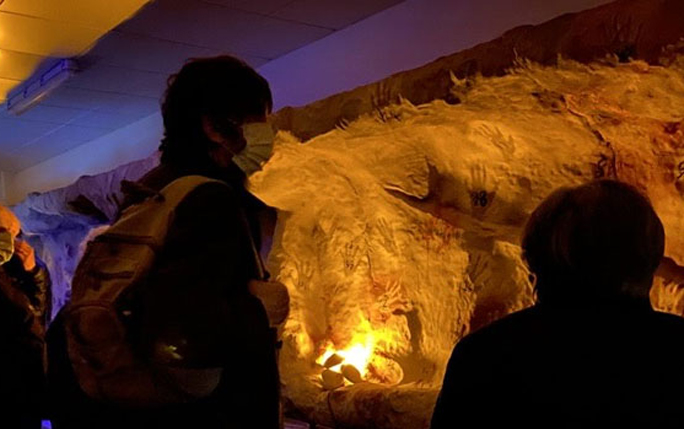 This spring, the University welcomed back the 'Sloman Loungers', a group of Physics alumni from the 1960's, who named themselves after spending time as students in the Sloman Lounge of the Guild of Students while undertaking their studies.
After meeting in the Waterhouse Café in the Victoria Gallery & Museum for lunch, the group headed over to the Central Teaching Laboratories where Dr Peter Hommel from the Department of Classics, Archaeology and Egyptology gave them a tour of the Palaeolithic cave and showcased the equipment that students use for rock art analysis. The visit left an impression on the group and – quite literally – on the walls, as alumni were given the chance to leave their own handprints in the cave, which students will be able to use in their future analysis work.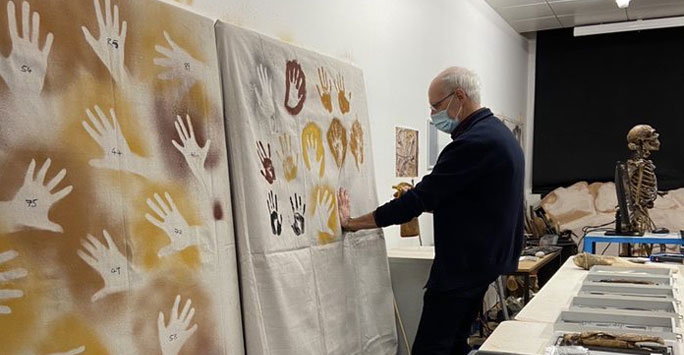 Afterwards, the group visited the departmental buildings on Abercromby Square, where they were also joined by laboratory manager Dr Peter Gethin. The tour included a visit to the various laboratories used by students and staff, as well as an introduction to flint-knapping. Members of the group were given protective equipment and tried their hand at sharpening flints; an activity that alumni found interesting although more challenging than it looks – one of the attendees noted: "Our efforts during our flint-knapping tutorial showed that we are perhaps better at physics than we are at flint-knapping!"
The group thoroughly enjoyed their visit and attendees provided some great comments about the day: "Yet again our visit to a different part of the University has shown how things have changed since our 1960s undergraduate days. Perhaps even more importantly, it highlights the broad scope of work and research that the University of Liverpool delivers."
The reunion gave them the opportunity to explore an area of the University that they were not familiar with, but more importantly it was also a chance to get together and reminisce. Another member of the group said: "My University days were such a transformative experience for me that it's really nice to be able to envisage them again in the company of some of the people I shared them with."
The Sloman Loungers enjoyed other activities together during their reunion in Liverpool, including a tour of the Liver Building, where they relished the spectacular views. Finally, they concluded their reunion with an evening gig at The Cambridge Pub in Abercromby Square, where one of the graduates played with his band. The closing number, "The Leaving of Liverpool", was aptly chosen to mark the end of another successful reunion.
Are you in still in regular contact with peers from your year? If so, let us know! We want to hear your stories about staying connected since your time at the University of Liverpool. Get in touch with the Alumni team via: alumni@liverpool.ac.uk.