Operatic Soprano Joan Rodgers returns to Liverpool to deliver a Music Masterclass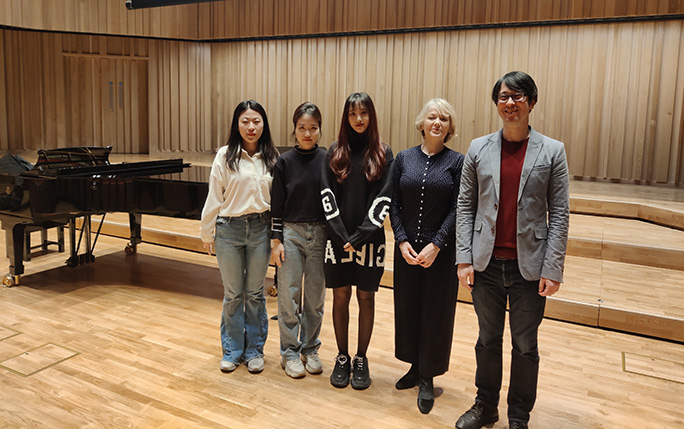 University of Liverpool alumna Dr Joan Rodgers CBE (BA Hons Russian 1978, Hon DMus 2005) returned to Liverpool this spring to deliver a day of music masterclasses to six Liverpool singers in the new Tung Auditorium, in the Yoko Ono Lennon Centre.
Joan spent the morning with three third year student singers, Llinos Price, Emily Flynn and Amy Goodwin, who subsequently participated in a lunchtime concert showcasing some highlights from Music Department performance modules. In the afternoon Joan offered her thoughts and advice to three MMus students: Xiaoyi Ding, Jiana Li, Jiadi Zhang (pictured with Dr Joan Rodgers and Dr Lee Tsang in the auditorium).
Joan said: "It was a real pleasure to come and give something back to my alma mater, and I was very impressed with the quality and passion of the performers. I loved to sing when I was at Liverpool and I'm so glad to see that tradition continues and grows with these young singers."
Dr Lee Tsang, Head of Classical Music Performance said: "Joan was very warm and generous and of course full of wonderful insights that are so helpful to the students. It is fantastic to have someone of Joan's calibre and experience working with them."
Joan Rodgers was a Campaign Ambassador for the Yoko Ono Lennon Centre fundraising campaign, and is an acclaimed opera and concert soprano, who has appeared in concert with conductors including Solti, Barenboim, Mehta, Harnoncourt, Mackerras, Ashkenazy, Salonen and Rattle, and is a regular guest at the BBC Proms.
She was awarded Royal Philharmonic Society Singer of the Year in 1997, and given the 1997 Evening Standard Award for outstanding performance in opera for her performance as the Governess in the Royal Opera's production of The Turn of the Screw. She was made an Honorary Doctorate of Music from the University of Liverpool in July 2005. In 2001, Joan Rodgers was awarded a CBE in the New Year's Honours List.
To find out more about The Tung Auditorium, visit their website.