Graduate and former Guild Officer's start-up business success
Posted on: 7 March 2023 by Careers and Employability team in 2023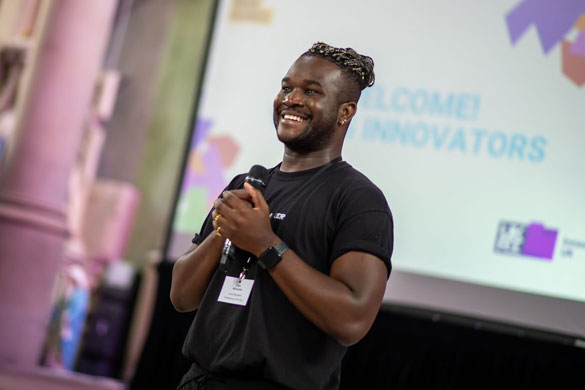 The Careers and Employability team spoke to graduate and former Guild Officer, Oba Akinwale about life after university, setting up his own business, overcoming obstacles his advice for anyone looking to bring their business idea to life.
Please tell us about your company – what you do and what inspired you to set up your own business
Loud Speaker was set up as a side-hustle back in December 2019 by myself, Oba Akinwale, and my best friend Calvin Eden – little did we know what was to come in March 2020!
We deliver unique, high-energy workshops that give learners the tools that enable them to speak professionally and leave them confident enough to take up opportunities. Across our 4 headline workshops, we cover topics such as public speaking, confidence building, personal storytelling, teamwork, leadership and so much more.
The workshops are full of huge icebreakers, social activities, disco anthems and loads of energy! We currently have 3 full-time staff, a part-time videographer and 20 casual staff dotted all around the country who support our workshop delivery.
We also have a sister company called Speak Easy that delivers similar workshop topics but for corporate clients and University students.
I'd love to tell you that the reason we set up Loud Speaker was that we saw that young people around the country were really struggling with self-confidence and maximising opportunities, but it was actually because public speaking was the only talent we had – so when our employers at the time offered us the opportunity to create a side hustle, we decided to try and pass on that skill to the young people we already worked with.
It was only through delivering the workshop that we realised just how powerful a tool public speaking is for building every young person's confidence, and that this was our opportunity to make a difference in what is a real systemic issue.
How do your Loud Speaker sessions work – what messages do you hope to get across to the young people you're working with?
We have three strategic aims that cover all of our workshops. Firstly, we aim to teach tangible skills that will be valuable in participants' career journeys and in their wider lives post-education. Secondly, we want all of our workshops to be enjoyable and memorable experiences. Lastly, we simply aim to build young people's confidence.
Our workshops are usually full-day events lasting around six hours, and our shortest workshops are typically half-day events lasting around three hours. This is because we aim to achieve a lot of difficult things through our workshops, and this takes time.
Our style of workshop delivery requires a delicate balance between super-fun, high-energy moments and the more hard-hitting, emotional parts. This is one of the most challenging aspects of our workshops, but it's also what makes them a unique and memorable experience. Our coaches work incredibly hard to find this balance and deliver a workshop that achieves our strategic aims while being fun and engaging for all participants.
Why did you decide to stay in Liverpool to build your business?
Both Calvin and I came to the university in Liverpool a few years apart and fell in love with the city. As soon as I arrived, I knew this was the city for me, and Calvin felt the same way.
My favourite thing about Liverpool is its size – it's small enough to get around with no stress but big enough that there's always something new to do.
Loud Speaker has established a decent presence in Liverpool, working with institutions like Hugh Baird College, Childwall Sports & Science Academy, and Deyes High School. However, we would love to expand our reach and work with more schools and colleges across the entire city region.
Did you face any barriers or obstacles along the way, and how did you overcome them?
Four months into starting the business, Covid lockdowns began, which meant that delivering face-to-face workshops was no longer possible, and we had to pivot to digital delivery.
Being a small business, we were able to adapt quickly, and we learned everything we needed to in order to deliver engaging workshops through digital platforms.
This allowed us to gain a reputation for delivering impactful workshops, even without the in-person element that makes them so memorable.
Just as we were getting to grips with things, I was unfortunately made redundant during the second lockdown, but we used the extra time to run an online public speaking competition for young people in the north west called "The Big Speak," which helped us spread public speaking skills to hundreds of young people for free and raised our profile.
The combination of these factors meant that when we were able to deliver face-to-face workshops again, we received more enquiries and bookings than we ever expected.
What are you plans for the future – next steps for your business?
The current plan is to really master the art of sales and marketing so we can work with as many schools and colleges as possible. We have just taken on a full-time Business Development Executive and we hope to bring in a Marketing Coordinator sooner rather than later.
Other than that, we really want to grow our Speak Easy brand to a similar scale to Loud Speaker, so if you know any companies or Universities looking to train up their staff/students, give us a shout!
Do you have any top tips to share with students who are looking to bring their business idea to life?
The first tip is to build a business in something that you are passionate about and enjoy. Long nights and weekends are often a part of building a business, especially in the early days, but having a true passion for what you are doing makes it feel less like work.
The second tip is to surround yourself with people you enjoy working with and who have different strengths and weaknesses than you. Calvin and I couldn't have built Loud Speaker without each other, and having great people around you is essential for success.
Lastly, it is important to learn everything you can about sales and marketing. Even if you have the best product or service in the world, it won't matter if you don't know how to tell people about it. While there is always more to learn, it's important to start learning now to give yourself a head start.
Make things happen with our enterprise programmes
The University of Liverpool Enterprise Fund offers students and recent graduates the chance to apply for awards varying from £500-£5,000 to support the development of an existing enterprise or early-stage business idea.
If you are looking to start a new enterprise or build entrepreneurial skills to be used in employment, then our Careers & Employability team can help you along the way.
Click here to find out more about the support available, and sign-up to the enterprise Green Room to keep up to date with all the latest news and events.
---