John Flamson: Reunion Memory, Class of 1973 Geography alumni find their way back to Liverpool
Posted on: 30 August 2023 by John Flamson in 2023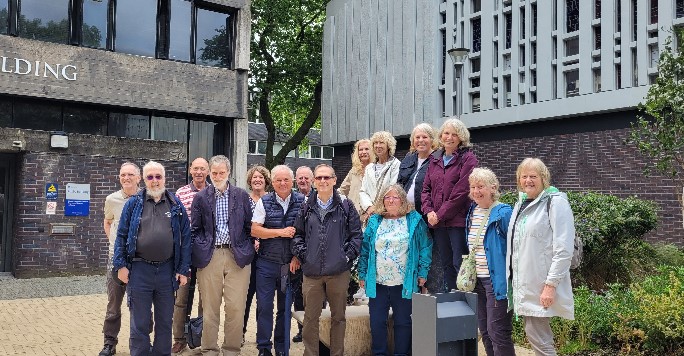 On 12 July 1973, fresh faced and enthusiastic, they graduated in BA (Hons) and BSc (Hons) Geography. Now, fifty years later, twenty of these graduates – a little less fresh faced but equally enthusiastic – known as Geoggers 73, made their way back to Liverpool to celebrate this significant anniversary.
A few of them had met up over the years and they have recently created mail and WhatsApp groups to keep in touch, but this was a milestone that attracted a greater number for this two-day reunion.
The rendezvous for the first day was the Walker Art Gallery, which set the tone for a walking tour of the city centre taking in some of Liverpool Biennial 2023 installations at St John's Gardens, the World Museum and Bluecoat. As one wisecrack put it, "This is art, but not as we know it"! In the evening they were treated to a capacious tasting banquet in Lunya on Hanover Street, where many stories of yesteryear were dished out as freely as the tapas.
On the second day they were given a guided tour of the University's impressive Garstang Museum by the effervescent student volunteers. This was followed by a walk around the campus conducted by two engaging Student Ambassadors, including an obligatory group photo outside the Roxby Building where they had all spent so much time. Much was the same on the campus as they remembered but the numerous new buildings demonstrated how the University had grown over the years. There were no cocktails in the Sphinx bar in their day though!
Their time was rounded off with a magnificent afternoon tea in the Victoria Gallery and Museum, where doggy-bags were in order, such was the quantity of goodies.
A number were staying in the city for a second night and decided to relive their youth in the Cavern. They were not disappointed.
Indeed, the whole group thoroughly enjoyed their return to the city and the University. "The city has changed, for the better". "All the big buildings like St George's Hall were black when we were here – now look at them". "And Church Street still had cars running down it".
All were impressed with the University, the help they had received from the Alumni Office, the continuing sense of purpose and the impact it was having on people's lives and the image of the city. In their closing time at the VGM, the Geoggers reflected on the University's mission, 'For Advancement of Learning and Ennoblement of Life'. All agreed that the University had created enduring friendships and enriched their lives.
Another put it less philosophically, "Fifty years eh? The hairs are greyer and the knees a bit dodgier – but we're all still 21 in our heads!"
---