The power of Reunion Giving
Posted on: 26 September 2023 in 2023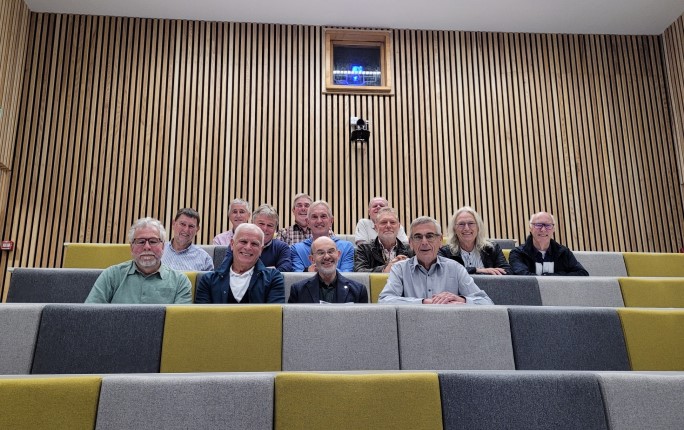 Reunion giving is one of the many ways that alumni help to support current students.
"I made a donation because I wanted others to share the experience and opportunities I was given", Andy Braithwaite, Class of 1975 Civil Engineering alumni reunion organiser.
By making a reunion class gift, or an individual gift, our alumni and friends are helping to ensure that struggling students gain the Liverpool experience they deserve. A gift, no matter the size, can ensure that no one is left behind.
The University has welcomed back many reunions over the years, such as the Class of 1975 Civil Engineering alumni. Andrew Grime, an attendee of the reunion, shared why he gave and believes giving is so important.
"I am Andrew Grime, I began studying at the University of Liverpool in 1972, studying Civil Engineering at the ripe old age of 17. My first thought was that I might be the youngest there, only to find someone even younger on my course, who resided just two doors from me in the newly opened – all male and definitely no en-suite - Rankine Hall on the Carnatic Site. We became good friends and decided that after 50 years we should try and arrange a reunion at the university for the 1972 intake on our course. I provided much encouragement and support but confess that my friend, Andy Braithwaite did all the work, using publicly available university records, social media and an amazing memory.
The main purpose of the event was to see the university, swap experiences and have a great time. The university teaching and support staff ensured a fascinating visit and splendid hospitality. I struggled at times to absorb just how much change had occurred to better equip today's graduates with the skills required, although I had an inkling of this as my daughter had recently graduated in Architecture from the University of Liverpool.
I think it is fair to say that we all reminisced fondly about Liverpool and our time at university there. Living and studying in Liverpool was a great experience and an eye-opener for many of us. This experience stood us in good stead for the future. The course content is now broader and the diversity of intake much better, but the bunch of grey-haired old men who joined the course in 1972 all appeared grateful for the start that the University of Liverpool gave us.
With that in mind, all on the visit were encouraged to give a little back in the form of a donation to one of the many schemes publicised on the University of Liverpool website. The schemes provide assistance to prospective or existing students who may be struggling to realise their ambitions and fulfil their potential. The decision was down to personal choice, but I do believe that our reunion will have made a real difference and similar reunions could do the same.
You may wonder where my degree in Civil Engineering from the University of Liverpool took me. Bolstered by a later MBA from the University of Westminster, I enjoyed an early career in the water industry, founded my own consultancy business in 1996 and have been heavily involved as governor/director/trustee of independent and maintained schools and a large Housing Trust. I 'blame' the University of Liverpool for this interesting and rewarding career!
My message to existing or prospective undergraduates is that the skills, friendships and experiences that you will take away from your time at the University of Liverpool will stand you in good stead for the future and probably, like myself, result in you doing things that you might never have contemplated. Most importantly, enjoy the experience and make sure you try out one or more of the clubs and societies on offer to make your time there complete."
Are you in still in regular contact with peers from your year? If so, let us know! We want to hear your stories about staying connected since your time at the University of Liverpool. Get in touch with the Alumni team via: alumni@liverpool.ac.uk. To find out more about giving, or if you would like to make a donation, please see here.
---