Volunteer spotlight: Jen Kehlenbeck
Posted on: 30 May 2023 by Development and Alumni Relations team in 2023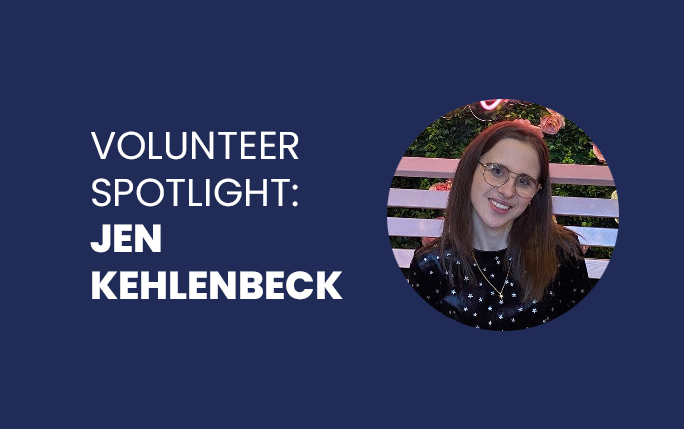 Since graduating with an MA in English Literature in 2022, Jen has been involved in volunteering activities at the University. In this Volunteer Spotlight, she reflects on the 'Your Futures' panel event she took part in earlier this year, where she shared her insight and advice as a recent graduate entering the job market with current students.
How was your experience of being involved in the event and supporting current students?
"I'm not going to lie, when I was first approached to speak on a panel, I was bricking it. Even though I have previously spoken to much bigger crowds, I had to mildly force myself to say yes and then I mentally thought up multiple reasons to cancel it. However, I can't explain how glad I am to have agreed to speak. Not only did I love sharing the highs and lows of starting full time work, but I am still reaping the benefits of the event weeks later – on the back of this event I have been invited to speak at an online webinar promoting graduate peer support. I'm somehow now the go-to gal for all things early careers. What an honour!"
What inspired you to give your time to the University community?
"This will 100% sound cheesy, but it's easy to give time to a University that has given you so much time. The University Careers and Employability Department (in particular, the LCR Graduate Scheme) has massively helped me. They helped me master job interviews, secure employment in the Liverpool City Region, and still offer career guidance now that I have completed my training. Their helpfulness makes me want to help. The University of Liverpool can be a great support if you engage with them."
What is your favourite memory of your time at the University?
"My favourite memory from university has to be my MA graduation. When I graduated from my undergraduate degree, I did not take the time to appreciate myself and my own hard work. But when it came to my master's, I knew I worked hard and that I deserved a day to unashamedly celebrate myself. This is why, I agreed to speak at my graduation. It is the scariest thing I have ever done, but it was 100% for me. […] Celebrating with my family (who let me move back in with them) and my friends (or comrades who battled alongside me) is a moment I will never forget.
"I am also really proud of my dissertation. I am genuinely passionate about the presentation of ghosts in contemporary literature, and I wrote an amazing dissertation exploring this."
Looking back, can you name one thing that you gained from your course that has helped you in your career so far?
"As an English Literature graduate, I do not use most of my degree knowledge on the daily. Today, I actually had to censor myself because a joke about A Room With A View was certainly not the best fit for our target audience of garage owners. Yet, I do use the skills from my degree all the time. In fact, it saved me this morning. I used my copy writing skills to edit my social media copy. Instead of writing perhaps the most niche joke about modernist literature, I connected our garage yard to gardens to write 'who doesn't love a yard with a view?'. This will certainly land better.
"I am so glad that I had to write public-facing assignments (like articles, posters etc), as this massively helped me in the working world (even if they were the bane of my existence at the time). In essays you develop your own voice, but when working in marketing you need to develop your company's voice. My degree more than prepared me for this."
From the University, we'd like to send a big thank you to Jen and all recent graduates who come back to share their insight and advice with current students.
---