Science and academia

Charles Barkla
BSc (Hons) Mathematics 1898, MSc 1901, Hon LLD 1931
Awarded the Nobel Prize in Physics in 1917 for discovering the electromagnetic properties of X-rays.

Dr Jaclyn Bell
BSc (Hons) Mathematics 2010, MA Mathematical Sciences 2011, PhD 2016
Theoretical particle physicist, athlete and aspiring astronaut. Read an interview with Jackie in our Alumni magazine.

Dr Frank Duckworth MBE
BSc (Hons) Physics 1961, PhD 1965
Statistician, developed the Duckworth–Lewis method in cricket (pictured left, with Anthony Lewis).

Professor Datin Paduka Dr Aini Ideris
MSc Veterinary Science 1981
Vice-Chancellor of Universiti Putra Malaysia and prolific researcher in the field of veterinary science.

Professor Har Gobind Khorana
PhD 1948, Hon DSci 1971
Awarded the Nobel Prize in Physiology & Medicine in 1968 for his work on the interpretation of the genetic code and its function in protein synthesis.

Rodney Porter
BSc (Hons) Biochemistry 1938, Hon DSci 1973
Awarded the Nobel Prize in Physiology & Medicine in 1972 for his discovery of the structure of antibodies.

Dr Matt Taylor
MPhys 1997
Project scientist for the European Space Agency's Rosetta mission. Watch a recording of Matt's lecture on the Rosetta Mission.
‌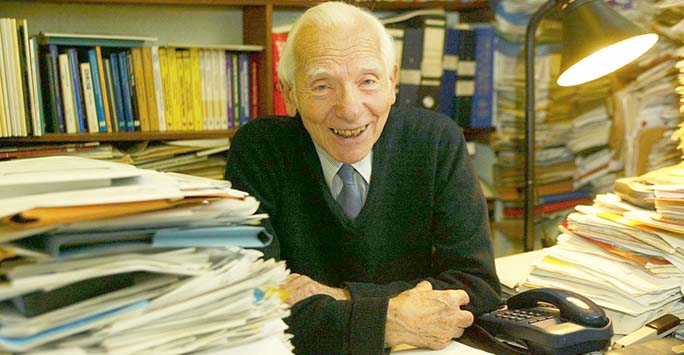 Professor Sir Joseph Rotblat CBE KCMG
PhD 1950, Hon DSci 1989
Awarded the Nobel Peace Prize in 1995 for his efforts with nuclear disarmament.

Dr Bob Thomas
BSc 1959
Dr Bob Thomas (pictured above, far right) was awarded the Nobel Peace Prize as part of the team from the Intergovernmental Panel on Climate Change (IPCC) along with former US Vice-President Al Gore for their work on climate change and global warming.