Winner of vote announced for renamed Hall of Residence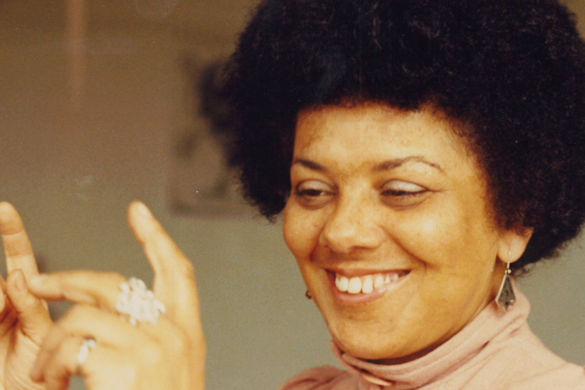 Students at the University have voted to rename our Hall of Residence at Greenbank Student Village after the race equality campaigner, Dorothy Kuya.
The name came out on top from a shortlist of four following a nomination process which was open to all students and staff.
The newly renamed hall will now be known as the Dorothy Kuya Hall of Residence. A plaque will be installed before the new academic year begins, detailing her achievements and the history of the hall naming process.
More than 4,000 votes were cast in the preferendum conducted by Liverpool Guild of Students alongside their annual Student Officer election process, which represents a 16% turnout of the student body.
Dorothy Kuya (1932-2013) was born and brought up in Liverpool and was a tireless campaigner for racial equality throughout her life. She was the city's first community relations officer, was a driving force in establishing Liverpool's International Slavery Museum in 2007, and in instituting the annual Slavery Remembrance Day. National Museums Liverpool have also honoured her name in their annual Dorothy Kuya Slavery Remembrance Memorial Lecture.
Why is the name of the Hall being changed?
The decision to change the name of the former Gladstone Hall of Residence, which has recently been rebuilt as part of our Greenbank Village student accommodation, came after a series of discussions initiated by our Guild of Students in October 2017. It was made in recognition of the strength of feeling evoked in our student community by the Gladstone family's historic ownership of enslaved people, and their profiting from the transatlantic trade in enslaved people.
It is important that the names used within the University, including our Halls of Residence, reflect the values of openness, transparency and respect that underpin our work.
Commenting on the outcome of the vote, Pro-Vice-Chancellor for Cultural Engagement Professor Dinah Birch, said: "Our shortlist was a credit to all of the staff and students who were involved in this process. A great deal of thought went into the nominations, all with a connection to Liverpool and surrounding region and the theme of racial equality. On behalf of the whole committee, I'd like to thank everybody who helped us to choose our new name for this building.
"Now that the Dorothy Kuya Hall of Residence has its new name, we look forward to starting work on the next phase of this project, which will introduce a new Naming Framework at the University. The Framework will ensure that our naming practice remains fit for purpose, whether that is in agreeing new naming opportunities or reviewing existing names."
As a building which has become home to many of our students, and a process which was successfully campaigned for by our Guild of Students, it felt right that the renaming of this particular Hall of Residence was led and decided by our student community. However, from this point forwards all naming opportunities will be run via the new Framework, and we are looking forward to having the involvement of our alumni community in helping to shape that.
Keep an eye on our website for more details about our new Naming Framework and how you can share your feedback. The Framework, which will launch later this month following the conclusion of a large-scale audit, will help us to consider carefully how we can use the names on our campus to create a truly inclusive space that provides belonging for each and every member of our University community by:
Celebrating the heritage and current identity of the University and the Liverpool city region
Representing the society that we serve
Creating a culture of openness, transparency, and respect
Image above shows Dorothy Kuya, with many thanks to her nephew Paul Ogolo for permission to use the photograph