1980s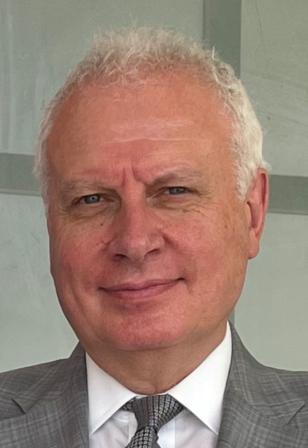 Professor James Kingsland OBE (MBChB 1984) (pictured above) is a former Senior Partner in a nationally renowned, award-winning general practice in Wallasey and a clinical professor in the School of Medicine at the University of Central Lancashire. He has designed and led major national and international service transformation projects during a distinguished career spanning 39 years. He received an OBE for services to medicine in 2012. He now teaches clinical practice, national and international advisory roles and serving on NHS boards. He spent 22 years with the BBC and his previous roles include Chair and President of the National Association of Primary Care, Advisor to the UK Department of Health and non-executive director on the board of three hospitals.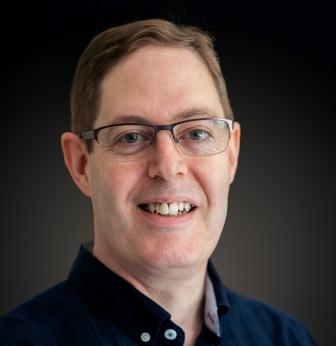 Dr Stuart Penn (BSc Hons Physics 1988, PhD Physics 1991) (pictured above) works as a Visual Effects Supervisor at Framestore in London, creating VFX for film and TV including Avengers: Endgame, Moon Knight and Gravity. He is a member of BAFTA.
Steve Cottier (BA Hons Engineering Science and Industrial Management 1980) worked at BAe in Preston after university, but left after a band he was singing with was signed to Pye records. After a couple of minor hits, he drifted back into engineering which resulted in him setting up his own company, Falcon Lift Trucks. He sold the company in 2006 and retrained in Vibration Analysis which comes under the banner of engineering reliability. Still doing that today, will retire in 2025…hopefully!
Dr Peter Derham (BDS 1981) worked in Labrador, Canada for five years in an underserved area and completed his Canadian licensure. From there he moved to Ottawa and eventually built his own practice, selling just before COVID hit. Since retiring from his practice, he keeps involved in teaching at the local college and putting his time into various licensing bodies, visiting Liverpool periodically to watch some soccer.
Professor Dr. Zohreh Abdi Daneshpour (PhD in Urban & Regional Planning 1983) followed her father to Liverpool, who had obtained his BA in Economics and Commerce in 1937. Professor Daneshpour got her PhD in Urban and Regional Planning in 1983. She was a professor in the Department of Urban and Regional Planning, Shahid Beheshti University in Tehran, Iran, attending international conferences and writing papers in English and Farsi including seven books in Farsi and a chapter in book published by University of Warsaw, Poland. She retired in 2014.
Mrs Elizabeth Davis nee North (BSc Hons Mathematics 1986) worked for 18 months for The Post Office in London before moving back to Preston where she worked for 32 years in IT for Guardian Royal Exchange/Guardian/AXA Insurance, finishing as an IT Project Manager. She took early retirement in 2020 and enjoys spending time with her grandchildren. She still keeps in touch with people from University Hall where she lived in her first year at Liverpool.
Mrs Shelley Steijger (BA Hons Archaeology 1983) is Head of International Engagement for the Department of Work and Pensions, where she has been privileged to represent the UK at G7 and G20 meetings about employment rights in Indonesia last year and India this year. Closer to home she attended the Governing Body and annual conference of the International Labour Organisation in Geneva speaking for the UK against efforts by some member states who wish to halt the work of the ILO tackling discrimination against LGBTI workers, and supporting ILO action to achieve a just transition to a green economy.
Mrs Jools Abrams-Humphries (BA Combined Hons 1988, PGCE 1992) graduated twice from Liverpool, working in the arts, then teaching, before becoming a full-time writer. She is a prolific ghost writer of memoir, award-winning short stories and features published by Walker Books, Mslexia and Wasafiri. Her novel, Girl in the Mirror, came out last year, and she is working on her memoir about her experience growing up with an autistic brother. Liverpool remains her heart city; the friends she made in her final year are as close as family, and she married a Scouse PhD student! They have a seat dedication in the Yoko Ono Lennon Centre.
Dr Marianne Clarkson (MBChB 1989) completed her GP training and worked for three years as a civilian doctor with the British Armed Forces in Germany before emigrating to Townsville, Australia in 1998. She married an Aussie in 2000, and worked as a GP in various places around Far North Queensland (Townsville, Atherton Tablelands, Magnetic Island and Cairns) before undertaking further study and gaining a PhD in Archaeology in 2016. She makes the long trip back to the UK many times to see family and friends, but has never regretted her decision to emigrate. She retired from work last year and is now living the dream in tropical Townsville, with her husband and two dogs, and enjoy spending time with grandkids, painting, travelling, going to the gym and drinking wine!
Gareth Davies (Bsc Physical Geography and Geology 1980) left the UK in July 1980 and so far, hasn't returned. He now lives in the Philippines and is currently working for a satellite company in Papua New Guinea.
Dr Mark Long (Masters in Civic Design 1980, PhD 1986) retired as Head of Investment and Employment at Sefton MBC in 2017 after 30 years in local government, economic development and urban regeneration. He was fortunate that his line of work didn't require him to travel far and wide to get professional experience - one of everything successive governments threw at the inner cities landed in Merseyside! In retirement he has been pleased to publish an appreciation of his friend and colleague Des McConaghy, pioneer of expenditure-based planning in the UK (see Town Planning Review 2019). He would be delighted to renew contact with any MCD graduates from his year.
Martin Cranidge (BEng Hons Civil Engineering 1981) graduated alongside Gary Holt and Graham Evans, who all went to Israel in 1981 where they found work. He worked in many areas of the UK in structural engineering on some prestigious buildings, and worked in Singapore in 1994. He moved to Paris in 1995 where he took French nationality, and worked in many areas of France in structural engineering. He is married with two children and now retired. He is still in touch with Gary and Graham and has been back to the UK for holidays but France is now his home.
Husam Zayed (BEng Electrical and Electronics 1981) started his professional career in Kuwait from 1981 until 1990 in the field of electrical contracting. In 1991 he moved to the USA where he worked on the maintenance of civilian aircrafts electrical systems and moved to work in the same field in a maintenance facility in the Kingdom of Jordan where he still resides and works.
Dr Pauline McKibbin Rada (PhD 1982) graduated with a PhD from the Department of Veterinary Science later becoming a post-doctoral fellow at the University of Saskatchewan, Western College of Veterinary Medicine. She later returned to the University of Liverpool as a research associate in the Department of Medicine and the Department of Psychiatry. She also worked for ICI Central Toxicology, Alderley Edge, Cheshire and the Pain Relief Foundation as a senior scientist. Pauline was elected as Councillor for Woolton Ward, Liverpool City Council in 1987 and served eight years. She moved to the USA in 1996 and is an active member of the Democratic Party, a former member of the Democratic Central Committee of the State of Maryland and now a committee member of the Orange County Democrats in Orlando, Florida.
Dr Andrew Hamilton (BSc Hons Marine Biology 1983) is 'sort-of'-retired and living blissfully in the South Island of New Zealand where he runs the social media for his wife's jewellery business. He still manages to get a couple of dive trips overseas in each year and is in regular contact with Don Smith, Mark Pearson and Warren Turner from MB course.
Dr Ian Rowley (BA Economics 1983) completed an MSc in economics and econometrics at Southampton University. He then went on to complete a PhD in financial economics at the London Business School. He has had a career in investment management heading strategy and research and running mainly global equity investments at UBS and Merrill Lynch, where he was a Managing Director for both. He was based in Zurich and Singapore for 10 years and his last City job was at Aerion Fund Management. He has represented Marylebone as a councillor on Westminster City Council for 16 years. He also chaired the education committee of his livery company, the Worshipful Company of Painter Stainers which sponsors scholarships and fellowships in the arts and ran the Lynn Painter Stainers art exhibition. He has been married to Giovania, a Brazilian, for the last 36 years.
Andrew Bridgewater (BA Hons Social Studies 1983) travelled the world for a year after graduation which included selling typewriters in Sydney! He had jobs in accountancy, IT, project management and organisational change before travelling the world again in 1995 and deciding to retrain as a Chartered Psychologist. He qualified 10 years later and loves what he does; working with individuals and organisations to help them fulfil their potential. He completed further qualifications after Liverpool including an MBA from Aston University in 1990, Postgrad Diploma in Psychology at the Open University in 1997 and an MSc in Organisational Psychology from Bristol University in 1999. He is so grateful to Liverpool for a wonderful start. Thank you!
Stephen Taylor (LLB 1983) retired after 36 years in legal practice in London, and is now playing more online chess and making unannounced visits to his two children who are doing post grad and under grad work at universities.
Professor Jon Gluyas (PhD 1981) was one of four geologists completing a PhD between 1978 and 1981 in what was the Department of Geology. Like many UK geoscientists at the time, he joined the oil industry. Twenty-eight years later he became an academic and instead of producing carbon from the ground started to tried to shove it back in again - carbon capture and storage. He also led in the UK on geothermal energy, helium and hydrogen exploration and currently heads up the Durham Energy Institute, part of Durham University.
Dr Edward Liam Boyle (BSc Chemistry 1984) is currently Vice Dean for Student Experience at the School of Dentistry, University of Liverpool.
Gordon Warner (Master of Civic Design 1985) studied in the department of Urban and Regional Planning at the University of Liverpool from 1983 to 1985, where he greatly enjoyed his time and made some good friends. Field trips to derelict industrial sites (where he prepared proposals for regeneration) were particularly satisfying. He also has fond memories of a field trip to Glasgow University, which was very educational and great fun, with some wonderful pubs there! Graduating in 1985, he discovered that finding suitable employment in planning was difficult. The local authorities in his home country of Ireland were not recruiting very often and opportunities in the private section were practically non-existent. He really wanted to stay in Ireland but his only opportunities for employment were limited to returning to his previous career, as an architectural technician. Eventually, however, when the economy picked up in the late 1990s, he struck out on his own and opened a small practice providing consultation services on planning matters. He has been working as a private planning consultant now since 1999.
Robin Hargreaves (BVsc 1985) took semi-retirement in October 2022 after 37 years in full time general veterinary practice, mostly in Pendle in East Lancashire. He now does one day of clinical work per week and another day working for a pet insurance company. In 2013-14 he was honoured to be President of the British Veterinary Association. He is currently chair of the University of Liverpool Veterinary Alumni Association and sits on the council of the Royal Veterinary College, London. He is married to Lorna and they have two grown up children and one granddaughter.
Nicolas Cartwright (LLB Hons 1985) had a fabulous time at Liverpool and somehow ended up as a criminal barrister with a family and then on the bench. While it all seems so grown up, inside he still feels like the 19-year-old undergraduate starting out on adulthood with an amazing group of friends in an exciting city.
Hilary Green (BEd Hons 1986) is now a published author with over 20 historical novels to her name.
Elaine Tailby (BA Hons Economic History 1986) lived in Carnatic Morton House in 1983-4 for the first year and, having switched from Business Studies, studied Economic History graduating in 1986.
Amrik Manku (BEng Hons 1987) is currently the Growth Manager for Cherwell & West at Oxfordshire County Council and has been working in the transport & highways local government sector since graduation.
Colin Harrison (BSc Hons Computer Science 1988) became an accountant after graduation and found himself doing an increasing amount of systems accountancy, then analytics, BI and even some data warehousing so jumped ship to the decision support team. He and his family moved to New Zealand in 2009, to provide a better environment for their young son to grow up in. Their son is expecting to graduate this year himself and the family is very pleased they made the move. Colin has been working for a US-based health software company for the past nine years as a data engineer, whose mission is to positively impact the lives of healthcare professionals.
Graham Birtwell (MEd 1989) attend university part time over three years from 1986 until 1989 when he gained an MEd in Special Education. His final role was Principal of Peterhouse School, a day and residential school in Southport for students with Autism aged 5 to 19.
Dr Joanne Ellis (BSc Hons Chemistry 1989) worked several roles using chemistry and then branched out into operational research in Government.
Edward Robertson (BA Hons Modern History and Politics 1989) started with single honours politics in 1986 and switched to joint honours in 1987. His group of friends included David Perrin, David Fearnhead and Daren Carpmail. He undertook the postgraduate course in careers guidance at Reading University after graduating and had a very enjoyable career as a career's adviser at Liverpool John Moores University from 1991 to 2000. He was unemployed and claiming benefits in 1986 and it is fair to say that his studies at Liverpool University changed his life for the better and gave him a real purpose. He made some very good friends who he is still in contact with and has never once regretted his decision to apply to Liverpool University.
Dr Paul Barry (BSc Hons Biochemistry 1984, PhD Biochemistry 1988) moved to London after completing his PhD where he lived for a short period. He then decided to study Medicine at Leeds Medical School. He recently retired from a General Practice on Merseyside.
Dr Than Bil Luai (Dip. Tropical Child Health 1990) returned to Myanmar after graduation and continued working at Wesley Hospital. The hospital grew from 12 beds capacity to 100 beds capacity by 1999. In 2008 he studied in Heidelberg University in Germany and earned Master of Science in International Health. Wesley Hospital has been registered as a private general hospital under the private hospital law of Myanmar since 2010. It is now a fairly well-equipped general hospital which serves people particularly in low income groups. He very often recalls his days in the Liverpool School of Tropical Medicine but doesn't remember the names of his classmates except Dr Mark Baggott and Dr John Knowles. He has visited LSTM at least twice where he agrees everything has changed for the better. The second time was in October 2018 when his daughter was conferred FRCS at St George's Hall.
Alyson Ayland (BA Hons Political Theory and Institutions 1988) trained as a journalist after university, working as a reporter on newspapers in South Wales before moving into PR and media relations with Gloucestershire and Gwent Police forces. In between raising a family, she spent time in corporate comms in the private, public and third sector. At GE Healthcare she worked with the Welsh Government to promote the research and development of stem cell technology. Alyson re-retrained as a counsellor and psychotherapist in 2014 and now works in the NHS.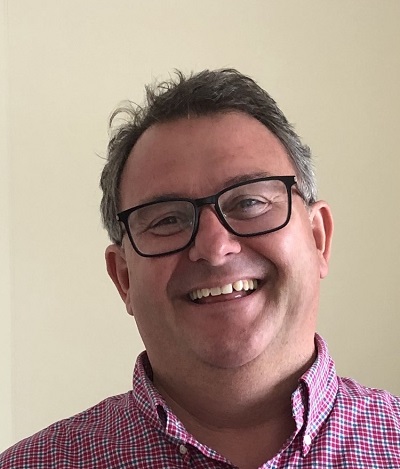 Bruce Hatton (LLB Hons 1987, pictured above) went to Chester College of Law then had articles at Canter Levin & Berg where he became a partner and stayed for ten years. In 2001 he started his own practice, Hattons Solicitors in St Helens. He was appointed a Deputy District Judge in 2013.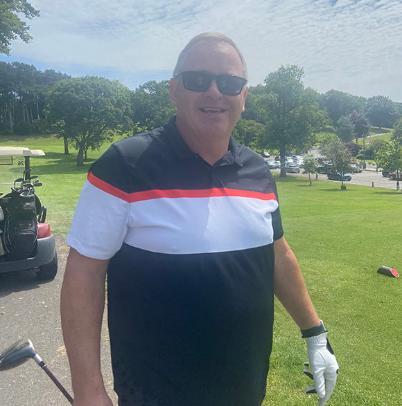 Steve Jones (BSc Hons Biochemistry 1985, pictured above) had a career spanning 11 years in manufacturing operations in OTC and pharmaceuticals before completing a Masters in Strategic HRD and moving into Human Resources focusing on Development, OD, Talent Management Org effectiveness and recruiting. He has worked for a number of blue-chip companies in vaccines, medical devices and technology, and is currently Vice President Talent Management & OD and acting CHRO for a global photonics technology business. He is still based in Liverpool, married with 3 grown up children.
Kevin McManus (BA Hons Economic History 1984) was writing on a freelance basis for NME while completing his degree and continued to write for NME and other music and cultural publications such as The Face, ID, and Mixmag until the early 90s. Continuing with the music theme he was back at the Uni working at the Institute of Popular Music between 1990-1994. Since then he has largely worked in the public sector providing support to creative industries. His current role is Head of UNESCO City of Music based at Culture Liverpool. Prior to taking on that role he was the Curator at the British Music Experience-the UK's national museum of rock and pop music.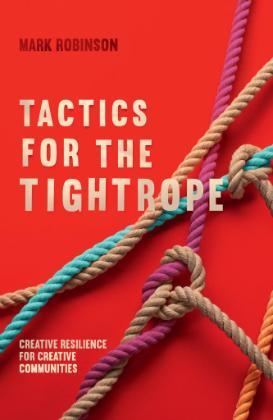 Mark Robinson (BA Hons English Literature and French 1987, pictured above) now runs an arts consultancy Thinking Practice. He has published a new book about the arts and cultural sector, resilience and creative community. Tactics for the Tightrope was published by Future Arts Centres in 2021. Part manifesto, part toolkit for a more equitable and resilience cultural sector, the book brings together reflections, arguments and research on creative resilience, leadership and what's needed for a creative life and community.
Julie Abrams-Humphries (BA Combined hons 1988, PGCE, 1991) is now an award-winning life writer and prolific ghost writer. Her first novel, Girl in the Mirror (pictured above), is out in March 2022. She can be contacted for life stories through Story Terrace. She is looking forward to coming back to Liverpool for the opening of The Tung Auditorium, where she has named a seat!
Peter Cutting (BSc Computer Science 1988) is working from home as a front-end developer, living in Malmö, Sweden with his wife, 2 kids and a dog. Oh, and a JS3 RES. He says he is dreaming of summer.
Professor Aidan Dodson (BA Hons Archaeology of the Eastern Mediterranean 1985) managed to publish two books during 2021. One was on his 'home' subject of Egyptology: 'The First Pharaohs: their lives and afterlives' (American University in Cairo Press). The other was on his 'other' research interest, naval history: 'The Kaiser's Cruisers, 1871-1918', with Dirk Nottelmann (Seaforth Publishing). He also managed to contribute to a number of TV programmes in the 'Ancient Engineering' series, which are now being shown on Channel 5.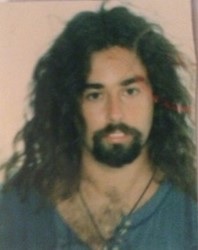 Alex Fovargue (BSc Geography 1989. pictured above) has now retired after a career working with Data, Analytics and Artificial Intelligence, stimulated by his course in GIS back on his degree. He is spending time with family, living in the Cotswolds and re-developing his wanderlust that all Geographers seem to have.
Lesley Houfe (Bsc Hons Chemistry 1986) is now at the University of Warwick working as interim HR Engagement Director within the HR Team. She says it is a busy, varied job and there's never a dull moment in HE!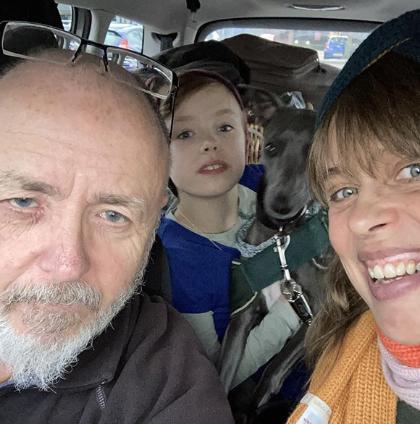 Martin Lee (BA Hons French 1981, pictured above) is living in Sussex with his wife Catherine and 9-year-old daughter Martha. He would love to get in touch with people from his Liverpool University days!
Anita Morris nee Clitheroe (BDS 1981) retired in 2017 and is living in Wilmslow. Her daughter Helen qualified from Leeds Dental School in 2014 where she met her husband and now has 2 children. Her son Richard is working as an IT manager and gets married in May. She is glad to have given up all the pressures of running a dental practice, and is now working in the COVID clinics where she says everyone wants an injection (??!!). Anita is still playing lots of tennis and golf, although she says she is not getting any better. Anita is still married to Bob who has now become a professional Elvis impersonator in his spare time.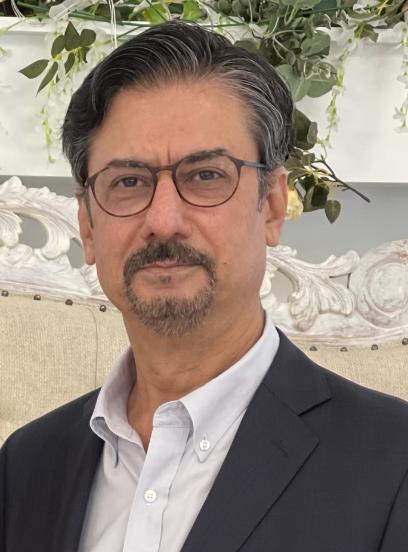 Mamoon Rashif (BEng 1981, pictured above) has now formed a strategic advisory company after a very exciting and successful career in the semiconductor industry. His primary focus is helping small technology companies scale their revenue by refining their strategy and aligning their operating structure. His career has allowed him to travel globally; working with amazing people along the way. Mamoon enjoyed living in Japan for three and a half years leading a large semiconductor operation. He says: "The foundation laid during my time at Uni of Liverpool helped set me up for success".
Keith Reedy (LLB Hons 1981) has worked in Finance since graduation, primarily in the City of London but also in the US and Asia and a number of European cities. For the last decade or so, he has worked for a Global Bank financing aircraft for commercial airlines and leasing companies. Recently retired, he lives in SE London and, when warm, Lot et Garonne, France. He met his wife Michele in 1988 who is a UCD Graduate and they have a son and daughter who also live in SE London.