1970s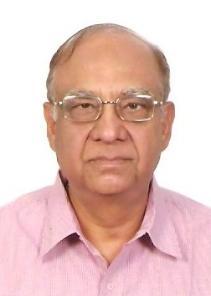 Muhammad Nusrat (MEng Power Plants and Related Studies 1972) (pictured above) has enjoyed a career spanning 56 years. Following his undergraduate degree at Mech Karachi University (NED Engineering College) he was a lecturer between 1967-68 and part-time teacher at the College where he taught Production Engineering, Meteorology & Nuclear Power. He was a trainee drilling engineer for an oil and gas development corporation later joining Karachi Port Trust workshop and Dry Dock where he was an assistant mechanical engineer between 1968-73. While on leave, he completed his Master's at Liverpool. Between 1973-81 he worked at Special Steels of Pak (Peoples Steel Ltd) and trained in Japan in Special Steel Production. Between 1981-2012 he worked for the Government of Abu Dhabi in the water and electricity sector, where he focused on fuel control, power projects, planning analysis, control, inspection and approvals. He also wrote a number of articles and papers during this time. Since 2012 he was been CEO/Director/Advisor/Owner of Cangulf Engineering FZC in Sharjah UAE, where he works in multi-disciplinary fields.
Dr Elizabeth Fennell (BDS 1973) and Dr Frank Fennell (BDS 1973) have spent 42 happy years in a large group practice in North Wales. Having raised three children, one daughter Katherine, a lawyer and two sons, Dominic, founder of a tech start-up and Alexander, a patent attorney, Elizabeth and Frank have now been retired for eight years. They spend half the week caring for their five (soon to be six) grandchildren in and around London. The rest of the week is spent socialising, holidaying and looking after the family home in North Wales. They are looking forward to seeing everyone at the reunion in September.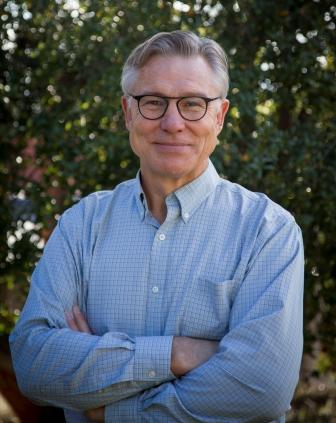 Dr Simon Bare (BSc Hons Chemistry 1979, PhD Chemistry 1982) (pictured above) is a Distinguished Scientist at SLAC National Accelerator Laboratory's Stanford Synchrotron Radiation Lightsource, and Adjunct Professor in Chemical Engineering at University of California, Davis. After graduating, he held postdoctoral positions at Cornell University and Lawrence Berkeley National Laboratory. He transitioned to industrial R&D and spent 10 years in research at Dow Chemical, and 19 years in research at UOP LLC, a Honeywell Company. He started a new career at SLAC in 2016, where he leads his own research group using synchrotron X-ray methods to probe the structure of catalysts. He has over 180 publications and holds 10 US patents.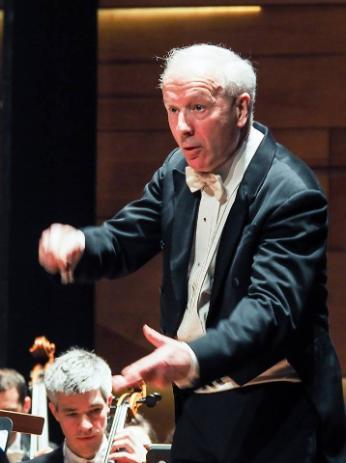 Howard Williams (BMus 1970) (pictured above) was appointed Director of Music at Queen Mary London University following graduation. In 1975 he joined English National Opera as a music staff member, then Chorus Master before leaving in 1981 pursue a conducting career, working with orchestras throughout the UK and Europe and with the Royal Ballet. In 1989 he was appointed Chief Conductor and Artistic Director of the Symphonic Orchestra of Pécs, Hungary (renamed the Pannon Philharmonic). From 2000-2006 he was Head of Conducting at the Royal Welsh College of Music and Drama, and is now Professor of Conducting at the Royal College of Music in London.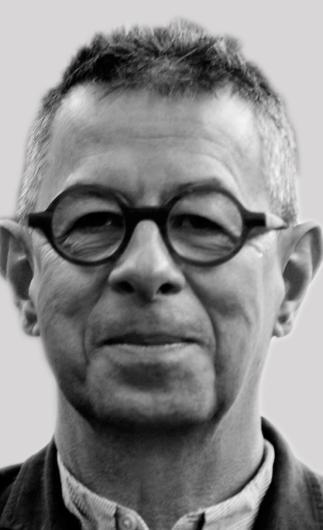 Michael Williams (BA Hons English Language and Literature 1970) (pictured above) started his career working on the student newspaper Guild Gazette, before going on to a graduate traineeship with the Liverpool Echo, progressing through regional newspapers including the Birmingham Post to Fleet Street. He was a founding editor of Today, Britain's first colour national newspaper, the Head of News and Features at the Sunday Times and the Executive Editor of the independent. He went on to be Deputy Editor of the Independent on Sunday. He enjoyed an academic career as Senior Lecturer in Journalism at the University of Central Lancashire, where he taught postgraduate students. He now writes best-selling books for Penguin Random house as well as being a freelance journalist and broadcaster.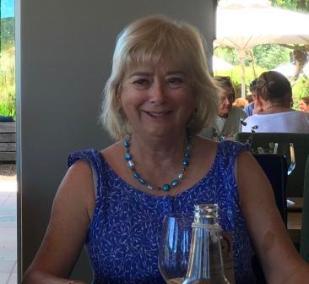 Avril Bateman (BA Hons English 1972) (pictured above) completed a PGCE in drama at Goldsmiths, London, working as an English teacher in Cheshire before moving to France in 1975. She spent most of her working life teaching in an International Lycee in Fontainebleau near Paris. She fulfilled her great interest for theatre by directing several school plays and musicals. She married a Frenchman, has two sons and four grandchildren, and is now retired after 40 years of teaching. She is still in touch with a couple of friends from university days including Helena Levy who was on her course and would love to hear about other class mates.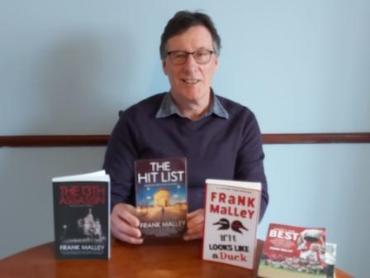 Frank Malley (BA Hons Sociology 1976) (pictured above) is an author and has also worked as a columnist with the Daily Express and chief writer with the Press Association, covering the Olympic Games, World Cups in football, cricket and rugby, as well as other top sporting events. He has written three non-fiction books, including a memoir entitled Living on the Deadline. He currently writes novels, including two murder mysteries and two spy thrillers, the most recent, The Hit List, was published in March 2023. Royalties for all his books go to the Primrose Car Service, an ambulance charity he volunteers for, transporting cancer patients to radiotherapy treatment in Cambridge.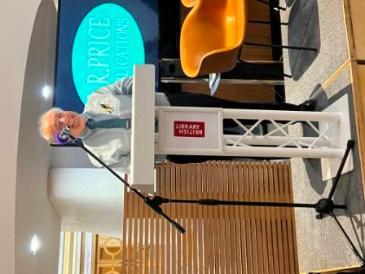 Michael Drapan (BA Hons History and Politics 1977) (pictured above) went into education and finished his career as a Headteacher after completing his studies and training at Leeds and Huddersfield Universities and the National College for School Leadership. He has recently launched a book at the British Library under the title Home from Home which describes the history of the Ukrainian Community in Huddersfield from 1948-2018. He is currently employed as an interpreter/translator for Ukrainian refugees and has been involved in several television, radio and book presentations regarding the invasion of Ukraine by Russia.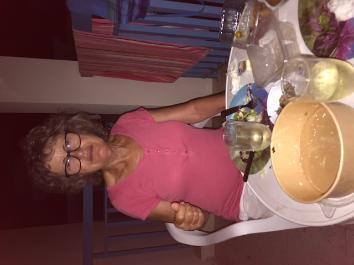 Padrayla Holdsworth (BA Hons Medieval & Modern History 1970) (pictured above) went to live in Robin Hood's Bay, North Yorkshire after graduation, with husband Patrick and daughter Gulden. Their son Michael was born in 1974. Since 1982 she has been an antique dealer and has lectured on the subject and written articles on antiques for numerous local and national publications. She wrote the advice pages for Antiques Info Magazine.
Mike Smith (BA Hons Philosophy and Politics 1970) worked for six years as a reporter on local newspapers in the North East before joining the Trades Union Congress as a member of staff in 1976, working initially in the press office, which he headed from 1987 to 1994, and then in the general secretary's office where he stayed until retiring in 2013. During his time in London he lived in Walthamstow where he was a Labour Party agent from 2002 to 2009. He now lives in Settle, North Yorkshire where he is involved in a number of local organisations helping run the local tennis club and community swimming pool.
Dr Trevor Higgins (BSc Hons Biochemistry 1971, PhD 1974) completed his post-doctoral research at Penn State University, College of Medicine, then in 1975 joined the Research dept of ICI pharmaceuticals, later transferring to Medical Affairs Dept ICI, then Zeneca, then AstraZeneca. He retired as Medical Affairs Manager, Oncology Division in 2006. On retirement he became a magistrate and a volunteer in the NHS. He married and had two children, though was sadly widowed in 2017.
Rod Noble (BA Hons Economics 1972) completed a PGCE at Bristol University in 1973 and went on to teach Economics and Geography at St Nicholas Grammar School, Northwood between 1973-76. He taught Economics and Business Studies at Enfield Grammar School from 1976-2008 where he was Head of Department. He became Head of Faculty and retired as Assistant Head after a successful and rewarding career. He is married with twins, both of whom work for the NHS. He often reflects on his time at Liverpool. 1969-72 was not an easy time for students. His first year was in digs in Birkenhead, followed by a house in Wavertree in his second year and third year at Rathbone Hall. What he does agree is Liverpool very different now!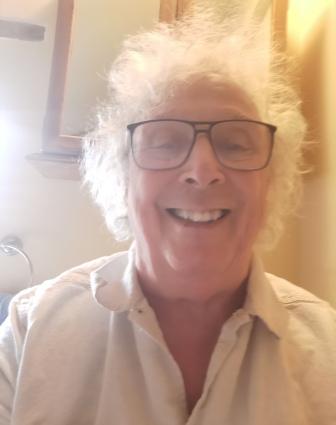 Michael Sims MRCVS (BVSc Hons 1972) (pictured above) retired in March 2020 after being furloughed at the start of the COVID pandemic. He had been practising for 48 years and was 74 years old. He feels immensely fortunate and privileged to have been part of the veterinary profession during its evolution from prefab back garden surgeries to high tech hospital quality premises being the norm. "Our service puts the medical profession to shame."
Robert Hockley (BA Hons Economics 1972) went into accountancy in the oil and gas industry following graduation, initially working for an American oil company in the UK. He then worked for a Finnish oil company for 12 years, the last five of which were spent living in Dubai. On returning from Dubai he then went into training, again with the focus on the oil and gas industry. Most of the courses that he delivered were overseas which involved a lot of international travel to some very interesting places. He is now mainly retired but still delivers some training courses when the location is somewhere pleasant or interesting. He still visits Liverpool regularly to attend football matches and occasionally spend the weekend in the city.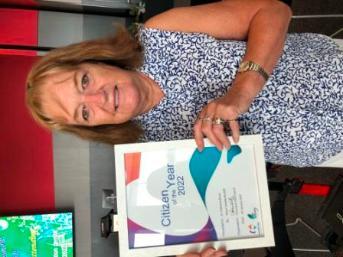 Dr Catherine J Broun nee Gray (MBChB 1972) (pictured above) worked for 12 months, after qualifying, at the David Lewis Northern Hospital as House Officer in surgery (Beattie and Mansfield) and medicine. She then became SHO at the Women's Hospital in Catharine St for one year. After unsuccessfully applying to do paediatrics at Alder Hey and Whiston, she was attracted to a Resident Medical Officer position at a hospital in Tasmania, Australia for 12 months. Once there, she met and married an Orchardist (apples) and had four children. She continued working as a GP throughout, and is still a GP today. In 2022, she was awarded Devonport Citizen of the Year (Devonport is a city or approx 25,000 inhabitants). She appreciates everything Australia and Tasmania has offered and given her, and has no regrets. The weather is so much better too!
John Swansbury (BSc Hons Genetics 1973) says that when he was an undergraduate, human genetics did not form a major part of the course as it was thought to have limited career opportunities. However, it has subsequently acquired significance in many branches of medicine, and it proved to be a great career for him as a clinical scientist at the Royal Marsden Hospital, resulting in an FRCPath through research publications.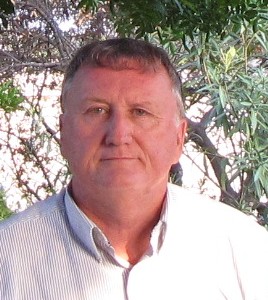 David Madeley (BSc Gen 1972, BSc Hons Physics with Materials Science 1973) (pictured above) worked as a materials engineer on the construction of the M5 motorway between 1973-1975. He then moved to Marconi as materials engineer/manager on 'Space' projects followed by BAE to work on the 'Olympus' satellite. Between 1985-86 he was Product Assurance Consultant in Space Research at Utrecht, Holland, working on the 'Hipparcos' satellite. He emigrated to Canada in 1987, initially undertaking satellite equipment work for Canadian Astronautics in Ottawa. In 1990 he joined the Canadian Space Agency in Ottawa followed by Montreal as Product Assurance Engineer (later manager) on the Canadian Space Station contribution (Robotic Arm), where he also met his future wife Beverley. They married in 1999. In 1998 he joined the Canadian National Defence Headquarters in Ottawa as Systems Engineering Policy Engineer. He retired in 2010, but returned for several short projects as a casual employee until 2013.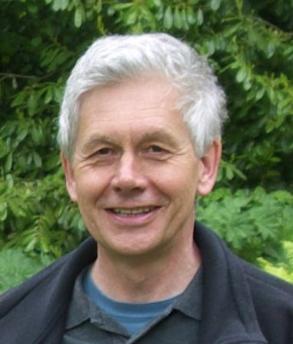 Dr Allan Jones (BEng Hons 1974) (pictured above) has spent almost his entire working life at The Open University in Milton Keynes. Initially he worked as an editor, editing course material on various subjects including technology, music, philosophy and physics, and occasionally writing course material himself. In 2001, he became an academic member of staff, producing course material on communications, electronics and music, and researching the history of science and technology. He retired in 2021. He continues to do consultancies for the Open University and he continues to play timpani in the university orchestra. He is on a committee of the British Society for the History of Science.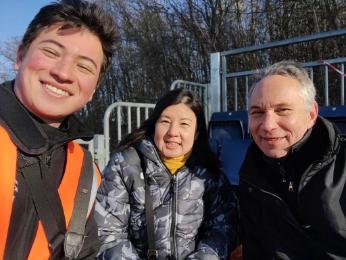 Jon (Jonathan) Gilbert (BA Hons Computational & Statistical Science 1974, PGCE Physical Education & Mathematics 1975) (pictured above, right) started his career as a PE/Maths teacher in Tunbridge Wells, then as swimming coach at Bracknell Sports Centre, also participating in It's A Knockout. He then became a Programmer Analyst with Honeywell, before spending 14 years in Ottawa, enjoying Computer Consulting projects across Canada and in Washington DC, Nepal, and Papua New Guinea. A TESOL Certificate took him to Tokyo for 6 years teaching English and Business Communication Skills, returning to the UK in 2003 with a Japanese wife, Maki, and their son, Daniel. Conquering the Inca Trail to Machu Picchu fulfilled a lifetime dream. He is currently a Global Business English/Cross-Cultural Trainer, he now lives in Hindhead, Surrey.
Geoffrey Fishwick (BA Hons Hispanic Studies 1976) retired to Brazil in 2002 following 19 years in Citibank in London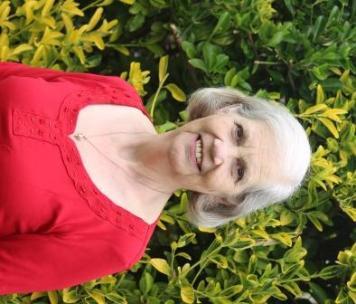 Dr Jacqueline Harrett nee Montgomery (BEd Hons 1976) moving to Wales after getting married and enjoyed 40 years of teaching. She taught in secondary and primary schools before undertaking further study gaining a MEd and PhD before becoming a Senior Lecturer at the University of Glamorgan. Jacqueline started publishing her work in the mid-90s, and published articles in TES, a mini-book on storytelling (UKLA) and an award-winning book for teachers called Exciting Writing (Sage). Her crime novels, The Nesting Place and The Whispering Trees were published in 2021 and 2022 by Diamond Books UK. A third book, What Lies Between Them, co-authored with her former tutor, Janet Laugharne, was published by Dixi Books. Life continues to be active and busy.
Professor Emeritus Mark RD Johnson (PhD Geography 1977) is technically retired from running the UK 'Mary Seacole Research Centre' and 'Centre for Evidence in Ethnicity Health & Diversity' (which he created) at De Montfort University, but still finds some outlet for his interest or commitment to 'ethnic inequalities' – which he believes was buttressed by his time at Liverpool, living in Toxteth. He is still asked to examine PhD theses, review papers, and give conference keynotes about health inequalities associated with 'race', ethnicity & diversity. He hopes one day we shall see change and this will be less necessary, but for the time being he aims to continue while he can.
Margaret Slaiding nee Gray (BA Hons English Language and Literature 1977, PGCE 1978) lived in Italy and then in the Paris suburbs teaching English in a French lycee for 26 years. She returned to the UK and is now living in London close to her two sons and granddaughters. While it was a big change, she believes it was the right one , and she is currently training to be a Childline counsellor, renovating her Victorian house and garden and enjoying London.
David Dunkley (BSc Hons Zoology 1977) went back to the Freshwater Laboratory to study population dynamics of the Atlantic salmon in the North Esk. He was a member of the North Atlantic Salmon Working Group of lCES, and part of the EU team at NASCO. He then took up the post of Inspector of Salmon and Freshwater Fisheries for Scotland, later combining that post with the Head of Policy for Salmon and Freshwater Fisheries for Scotland. He retired in 2008, and was awarded an OBE in the 2009 New Year Honours List. He would love to hear from 1977 Hons Zoology classmates.
Dr Dave Baglee (BEng Hons Electronics 1975, PhD Electronics 1978) retired in 2013 from Intel Corp where he was Vice President (Manufacturing). He has been married for 43 years & lives in Albuquerque, New Mexico.
Dr Alison Hooper nee Hawthorne (BSc Hons Mathematics 1978) studied Mathematics at the University between 1975-1978. She married Stuart Hooper, a fellow student on the same course at Liverpool. After graduation, she did a PhD in Fluid Dynamics at Bristol University, graduating in 1982. She was a Research Fellow at Melbourne University, Australia from 1983-1985. She moved to the University of the West of England (UWE) in 1992 where she was Head of Department in Mathematics and Statistics for a number of years. She retired in 2017. She has two children and is single again after becoming divorced in 2003.
Roger Perkins (BA Hons Modern History 1978) recently retired as Reader in Digital News & Media at the University of Buckingham. After an entertaining career in print, broadcast, online and mobile journalism he launched successful degree programmes that latterly encompassed AI, animation and user experience but invariably involved shouting at young people about apostrophes. He is currently an extra in the latest series of The Crown.
Dr Denise (Dee) Rawsthorne nee Heslop (BSc Zoology 1978) left Liverpool with a 2.1 to take up a PhD at Reading in Plant Nematology, where she met my plant biochemist husband Steve & went to Cornell, NY for a postdoc. Returning to the John Innes Centre, Norwich in 1986, she traded the bench for an office, working in science policy, conference organisation, communications & public engagement, retiring in 2015. Highlights included organising policy dinners in the House of Commons & taking a GM stand to the Cheltenham Science Festival at the request of the then Science Minister & developing Science in Norwich Day which is now the Norwich Science Festival.
Wendy Preston (BSc Nursing and Life Sciences 1978) has spent the last 40 years as an NHS nurse and Midwife.
Frank Harris (PhD History 1978) served in the US Army from 1968 to 1972 before coming to the University of Liverpool. He began his studies under Professor David Beers Quinn at the University in 1973 where he graduated in absentia in 1978. He subsequently obtained a law degree in the United States and was admitted to the bar of the State of New York where he was hired as a prosecutor by the office of the Nassau County District Attorney from which he later retired in 2002. On a vacation trip to Russia, he met and later married my wife Lidia Petrovna Harris and they have two sons.
Mr Colin Sutlieff (BSc Electrical and Electronic Engineering 1979) started work at Racal Microelectronics in Reading designing the artwork that is sent to the "foundry" (the chip manufacturer) for the production of silicon chips. Since then, he has moved on from various companies in the area of chip design. He is, finally, at the largest firm in the world implementing products with self-designed chips. Perhaps you have heard of them? They design products with the prefix "i" implementing phones, tablets, watches and (who knows what's coming next)...
David Jackson (Hons Chemistry 1979) did not end up working in Chemistry as he got a job as a programmer with a company writing software for the BBC micro and later for the Archimedes and Risc PC. The company moved into building Windows PCs and he did some conversion work on some of their software. He then joined a company producing software for retail and wholesale food companies, initially on the help desk and then as a developer using Progress 4GL. There he met the woman who became his wife. He worked there until December 2021 when he retired.
Andrew Rumsey (BA Hons History 1979) has spent his career teaching secondary school history, A level and GCSE, latterly also politics and government. He still lives in south west Essex where he is semi-retired and now works part-time. Not has not mellowed politically mellowed and remains very proud of his service to comprehensive education. His children are a spectrum of scientists and teachers and he occasionally returns to Liverpool as he married a Scouser.
Professor Chris Phillips (BSc General Science 1971, BSc Hons Computational and Statistical Science 1972, MSc 1974, PhD 1977) worked at the University of Liverpool following his PhD as a Demonstrator and Research Assistant until he moved to Hull University in 1979 to take up his first lectureship. Five years later he moved to Newcastle University where he remained until retirement in 2018, apart from 18 months sabbatical back in Liverpool. He was a Dean for five years before taking up a secondment for nearly two years to Newcastle's branch campus in Singapore in 2015 as Head of Academic Operations. He now holds a Professor Emeritus position from Newcastle and continues to engage with the University in various activities from time to time, as well as doing some occasional teaching for Cranfield University. During his career he worked with a number of overseas institutions, notably in Ukraine and Kazakhstan. He is the proud father of four daughters (and father-in-law to their husbands) and five grandchildren. Outside of work he has climbed all the Munros and Corbetts in Scotland.
Gill Miller (BSc Hons Geography 1975, MA International Development 2005) enjoyed a career in education teaching geography. She was Deputy Head of a Cheshire high school, teacher trainer in North Wales and senior lecturer leading the International Development degree at Chester University. Along the way she was Chief Examiner of A level Geography, then Chief Examiner of A level World Development. This led to many CPD events, and textbook writing. Her most significant publications have been Emerging Superpowers published by the Geographical Association, and the Atlas for Wales (2007), a bilingual publication for the Welsh Assembly. Between 2019-20 she was President of the Geographical Association, and currently works as consultant with Qualifications Wales on the new qualifications.
Dr Linda Courage (BSc Hons Botany 1979, PhD 1984) enjoyed a great career in nursing that took her to a shanty town in Jamaica, through a variety of teaching and writing posts, a brief non-executive director's post in a Primary Care Trust and ended with a fabulous staff nurse post in an outpatients' department. More recently she has been involved with the expressive arts and spirituality, giving retreats online and in York.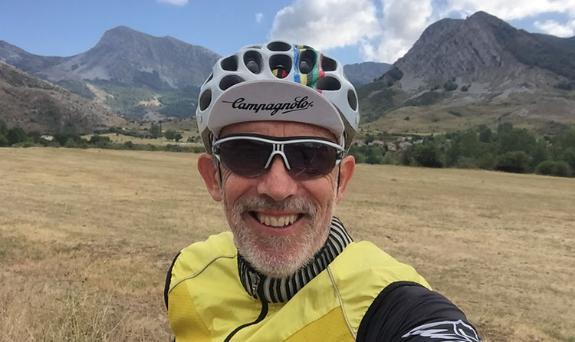 Richard Barcan (LLB Hons 1973, pictured above) qualified as a solicitor in 1979. Shortly after this, Richard and his wife Helen (nee Goldstein, also a Liverpool alumna) took a gap year, cycling through Europe and working on an Israeli kibbutz. On their return to the UK they moved to Bristol which has been home ever since. Richard was a founding partner of Barcan Woodward (now Barcan Kirby) Solicitors in 1992. His area of expertise was Claimant Clinical Negligence with Chambers and Legal 500 top tier ranking until his retirement in 2020. He now volunteers for Bristol Refugee Rights and cycling still features heavily his life, as does the said Helen!
Dr Pamela Melding (MB ChB 1970) specialised first in Anaesthesia (1975) in London and second in Psychiatry (1988) in New Zealand. She developed the first Community and Inpatient Psychogeriatric Services in Auckland and later became the inaugural Chair of the Faculty of Psychiatry of Old Age of the Royal Australian and New Zealand College of Psychiatrists (2000-2004). She also served as a General Councillor of the RANZCP and as Board Member of the International Psychogeriatric Association. She edited two Textbooks for OUP and contributed to many more on her chosen field of Psychogeriatics. She was a Senior Lecturer for the DMHS of University of Auckland and was made an Officer of the New Zealand Order of Merit in the 2006 New Year's Honours List.
Dr Wayne Phillips (MB ChB 1976, pictured above) chairs Ovarian Cancer Action which supports and funds research and awareness into this lethal cancer. He has been married for 37 years with a son and daughter and two grandsons, but the University of Liverpool still evokes fond memories. After three different careers, a short time as a physician in the NHS, a longer time in the Pharma industry, and an even longer time running his own Pharmaceutical research consultancy, he's now glad to have time to reflect, travel, keep fit, be involved in an important charity, and enjoy family life. He has had many health ups and downs but is now almost 70. Wayne sends all the best to the Class of 1976 at Liverpool Med School.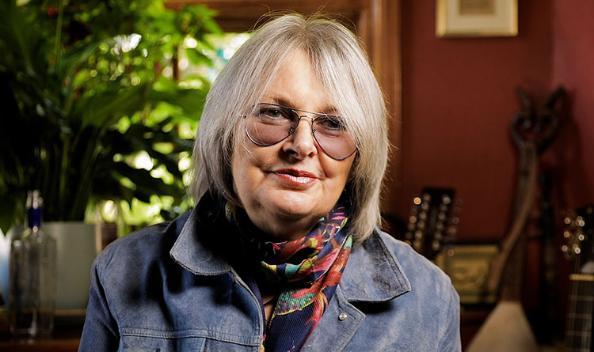 Elizabeth (Liz) Thomson (BA Hons Music 1979, pictured above) is a London-based journalist and broadcaster who has contributed articles and interviews to newspapers and magazines around the world. A contributor to The New Grove Dictionary of Music & Musicians, she is the award-winning author of Joan Baez: The Last Leaf, the revising editor of Robert Shelton's seminal biography Bob Dylan: No Direction Home, and the co-editor of quasi-academic studies of John Lennon, Bob Dylan and David Bowie. Liz is the "visionary" founder and executive producer of The Village Trip, a festival celebrating the history and heritage of New York's Greenwich Village, now in its fifth year.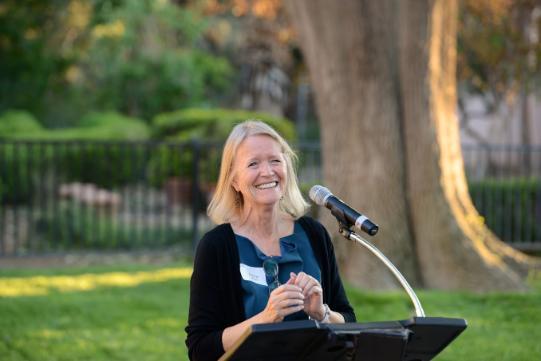 Professor Ameae Walker (BSc Hons Biochemistry 1973, PhD in Histology and Cell Biology 1976, pictured above) did a 3-year postdoc at Yale and then took a faculty position at the University of California where she has spent her career teaching histology/histopathology and working on two interlinked projects: role of prolactin in a variety of cancers, including prostate, breast, ovarian, and B lymphomas, and sexual dimorphism in the immune system. She is emerita but still working in the lab after stepping down from her position as Vice Provost. She has a husband, four children, one grandchild and another on the way.
Associate Professor Mark Wells (BA Hons Political Theory and Institutions 1976) has worked to establish journalism as a discipline with the Department of Politics, Philosophy, Language and Communications Studies at the University of East Anglia for the past 10 years, securing industry recognition and accreditation. He retired 31 December 2021, and is now in the Caribbean aboard the yacht he is restoring. He plans to return to UEA from time to time as an Honorary Fellow.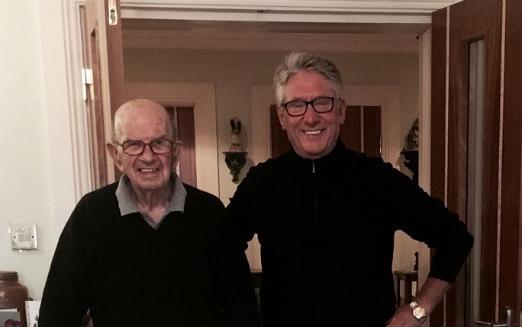 Professor John Brian Boyd (MBChB 1972, MD 1980, picutred above left) recently celebrated his 50-year reunion in Liverpool where half the year turned up! He says he owes his career to Mr. David Maisels, a Liverpool plastic surgeon, now retired and living in Edinburgh, aged 96. He has enjoyed a varied life: general surgery training in Liverpool, plastic surgery residency in Toronto and faculty positions at Toronto General, Cleveland Clinic Florida and now UCLA. He met his wife, anaesthetist, Jeanette Derdemezi in Liverpool, and has two daughters, one a neurologist and the other an attorney.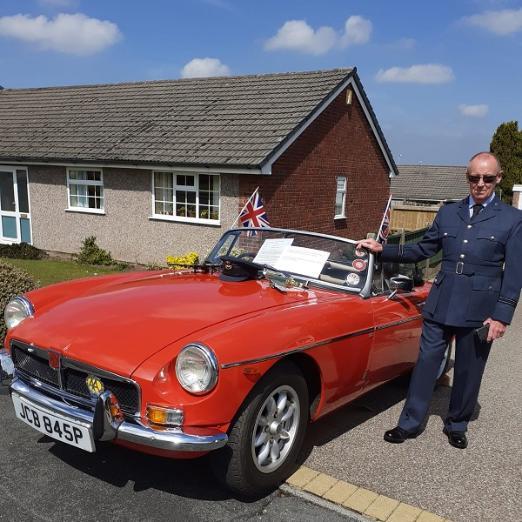 David Crossley (BEng Building Engineering 1977, pictured above) retired in 2017 after over 40 years in the construction industry. His hobbies include field archery, classic cars (1975 MGB Roadster), being Parish Councillor, and amateur astronomy.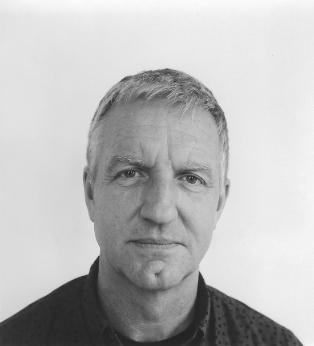 Professor Christopher Fox (BA Hons Music 1976, pictured above) was elected to be a member of Akademie der Künste, Berlin in November 2021. The Akademie was founded in 1696 and is one of the oldest cultural institutes in Europe. He says: "It is great honour to become part of this international community of just under 400 artists and I am one of just four British members."
Jane Mitchell (BA Hons German 1976, PGCE 1977) will be marking 50 years in 2022 since she started her degree. Since leaving teaching, she has greeted guests from all over the world to her bed and breakfast near Chester. She still plays tennis and is an avid bridge fan.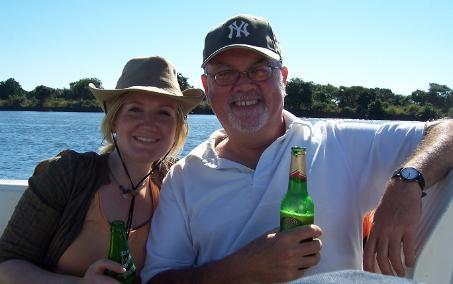 Dr Kevin Murphy (BSc Hons Sci 1976; PhD 1980, pictured above with his ex-PhD student Pauline Lang on the Zambezi River in Zambia) met his wife of 43 years at Liverpool. He went on to a Lectureship at Reading in 1981, then moved to Glasgow University in 1983 where he stayed. After supervising 30-odd PhDs, he retired from Glasgow for health reasons in 2013 but is still working on writing up papers, and having fun with international colleagues in his field. He says he is thankful to George Russell and John Eaton in the Botany Dept at Liverpool; they had a massive influence on him and his subsequent career.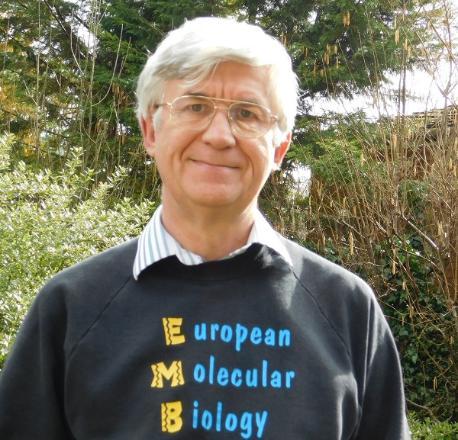 Peter Rice (BSc Hons Biochemistry 1976, pictured above) has been writing and maintaining open source software for medics and biologists (tranSMART and EMBOSS), via London, Heidelberg and Cambridge, with no plans to retire yet. As a challenge, he tracked down all but 10 of the 1976 Biochemists in time for a reunion at the department's centenary. Peter is still playing chess after he was Lancs correspondence champion as a student, and he recently became a correspondence chess International Master and is now playing for England.
Andrew Rumsey (BA Hons History 1979) is in his 40th year of teaching History; always in schools in West Essex where he is considered to be an outstanding teacher and trainer. Andrew is still connected to Liverpool as his partner is a Liverpudlian, and he sometimes teaches in one of his Liverpool University ties. He sends his best regards to his peers!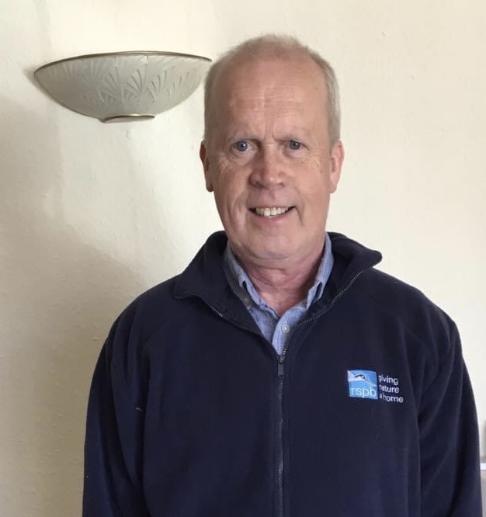 Malcolm Slee (BSc Hons Mathematics 1974, pictured above) spent 43 years in an actuarial career, qualifying as an actuary in 1980. Twenty-nine years were based in Lytham including a six-month secondment to Australia and then 14 years based in York. He has done considerable volunteering for the actuarial profession, in particular chairing their Professional Skills sub-committee for 10 years, producing and presenting material reminding actuaries of the requirement to be professional and ethical at all times, and being a member of the IFoA council for eight years. He is now a volunteer at his local RSPB centre at Fairhaven Lake, Lytham.
Dr Maurice Smith (MBChb 1979) had a fulfilling career as a Consultant Physician in Geriatric Medicine in NE London, latterly accepting senior positions in Medical Education locally, at the Barts and London Medical School and The American University of the Caribbean. When partially retired, he chaired the local Organ Donation Committee. In his last days of scheduled work, he caught Covid-19, and was extremely ill for 10 days in his local hospital. He had Long Covid for 6 months, but is now happily retired and busy grandparenting. He watches cricket at Lords, and still follows Liverpool.
Michael Ter-Berg (BCom Hons 1975) said that his adult life, so far, is bookended (hopefully not permanently) with the University of Liverpool. He met his wife, Naomi, at Liverpool (a lecturer at UCL's Institute of Education) and they have 4 daughters, 3 of whom are professional musicians. Last summer he stepped down from 10 years' involvement with the University of Liverpool's tech investment spin out and licensing activities, first chairing the University's Commercial Board and later as a member of the successor Enterprise Board. He was asked to become involved after having led UCL's most successful spin out company (medical software) after an earlier career in investment in information software, education and media companies, mainly in the UK, Europe, USA and India. Quite a while back, he also survived a gruelling, but great year, graduating fairly sane from London Business School's Sloan Fellowship and Masters programme. Today, he runs another medical software company which he co-founded and is a trustee of Future First, an education charity, which he earlier chaired.