Fundraising: Spotlight on Dr Michael Cearns, Kevin O'Riordan Brain Cancer Research Fellow
Posted on: 15 November 2022 by Michael Cearns in 2022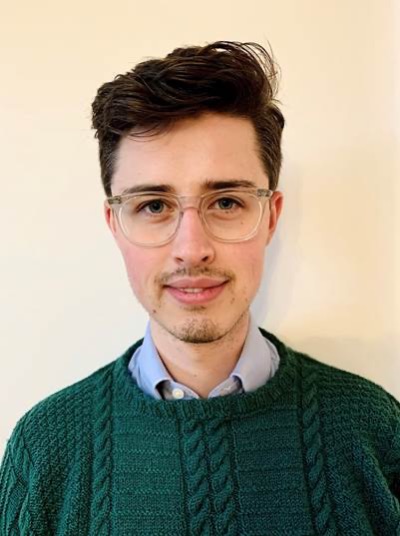 Michael recently took up his new post as PhD Fellow for the University's ground-breaking immunotherapy research which is investigating potential new treatments for glioblastoma, the most common type of primary brain cancer.
The PhD is named for Kevin O'Riordan who sadly died from brain cancer in 2020. Kevin's wife Maria Gisbert Sorolla and family are raising funds as part of their Seven4Kevin campaign, alongside other families affected by brain cancer who are fundraising for the glioblastoma fund.
Immunotherapy is a new type of treatment that manipulates the body's own immune system into fighting cancer. Michael will be working alongside researchers at the University of Liverpool and The Walton Centre NHS Foundation Trust to study the response in long-term survivors and compare the results with those patients who do not respond to treatment.
We chatted with Michael to gain an insight into the research he will be undertaking, discuss what drew him to neurosurgery and find out how music helps him decompress from the day-to-day stresses of his job.
Q. Congratulations on your appointment as the Kevin O'Riordan Brain Cancer Research Fellow. Can you tell us a little more about the project and the research you'll be undertaking?
This research is in the field of immunotherapy, which is a series of treatments that aim to use the body's immune system to fight cancer. Immunotherapies have been used very successfully in other cancers, such as skin cancer, but when it has been trialled in brain cancer, results have been very disappointing. We know that if you look at a cancerous brain tumour such as glioblastoma under the microscope, at least 30% of it is made up of the body's immune cells – and the cancer has ways of switching these off so they don't attack it. In this project I'll be taking samples of brain tumours from our patients who have surgery, and I'll be trying to learn about how these immune cells behave. If we can understand what types of immune cell exist where in the tumour, we're hopeful that we can find ways of exploiting them to attack the tumour, and can eventually trial these treatments in our patients.
Q. What led you to a career in neurosurgery?
I was always fascinated by the brain being the 'seat of the soul', containing the essence of everything it is to be who we are. I think diseases that affect the brain take something very powerful away something from you, and I felt driven to help people affected by those problems. During my medical training I came to realise how much I enjoyed practical tasks, and that I might have an affinity for surgery. Neurosurgery combined all this together and gives me the ability to do something that is endlessly fascinating and really affects people.
Q. Are you able to say a little more about immunotherapy as a treatment and how it could help patients?
Immunotherapy is a catch-all term for a lot of types of treatment that can target the immune system in cancer. There are drugs called PD-1 blockers that aim to prevent the cancer from 'switching off' immune cells – these haven't shown great results so far in brain tumours. But there are lots of other approaches – like modifying people's immune cells so they attack the cancer, or making anti-cancer vaccines. We need this more than ever in brain cancer – the best treatments we have for glioblastoma have been in place for nearly 20 years and on average patients don't survive much more than a year after diagnosis. If we could find a way of making an immunotherapy work for glioblastoma, this would have huge implications for these patients and their families.
Q. What excites you about the research?
When someone has glioblastoma, surgery is really important but can only take them so far. The hardest part of my job is communicating the realities of this disease to my patients, its terrible prognosis – it makes me feel powerless to help them. I'm excited for a time when there can be some options for these patients. If we could even create some hope, that would be truly rewarding.
Q. Aside from your day job, you're an accomplished musician, is that right? What do you enjoy about music?
That's right – I was classically trained to begin with, but for the most part I'm a jazz pianist nowadays. I also play in a band that does more popular stuff for weddings and other private events. I'm a bit of a nerd when it comes to music and I'm drawn to the technical aspects of how music works, but I love seeing a crowd get a kick out of my playing too. So many people value music in one form or another that I end up connecting with my patients about it all the time. I know Kevin was really into music – it sounds like something we have in common.
Q. A number of our medical alumni have described the way in which music has helped them decompress from their stressful clinical careers. Has that been the case for you?
Definitely – it feels like a completely different world from my day job. Neurosurgical training isn't easy – long shifts, high-stress emergency operations, delivering life-altering news to people, getting home and still feeling 'switched on'. Getting on a piano or up on stage is a way to get perspective on all that and find ways of expressing what's going on. I think it's really important to have something like that.
Q. And finally, is there anything you're looking forward to doing while you're in Liverpool?
I already know Liverpool to be a great and historic city, having grown up not too far away. I'm looking forward to rediscovering it and seeing how it's changed. From a research point of view, I'm quite hopeful I can make the links and collaborations I need to carry on this good work for the benefit of patients in the future.
Find out more about our Glioblastoma campaign, and read Kevin O'Riordan's story as well as stories from other families affected by brain cancer.
---