Profile for Pain Awareness Month: Fran Downing BVSc MSc DipECVAA MAcadMEd MRCVS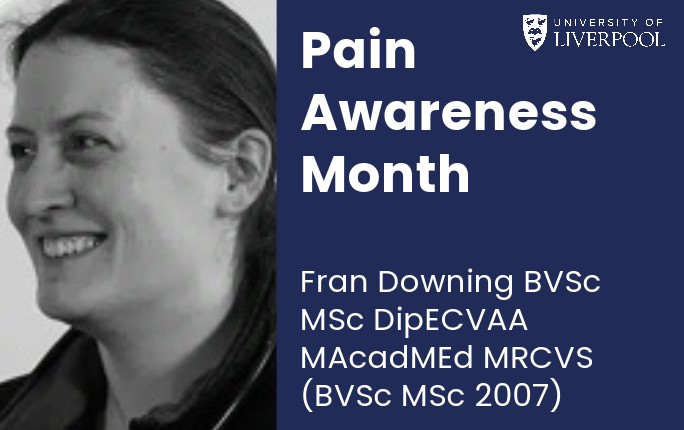 September is Pain Awareness Month and the University of Liverpool Veterinary Alumni Association caught up with alumnus Fran Downing, neé Reed (BVSc MSc 2007), Royal College of Veterinary Surgeons and European Specialist in Veterinary Anaesthesia and Analgesia and Head of Anaesthesia at Davies Veterinary Specialists in Hertfordshire.
During her veterinary degree, Fran intercalated, doing an MSc in Veterinary Infection and Disease Control. After graduating from the University of Liverpool in 2007, Fran spent two years working in mixed practice. She then returned to Liverpool to undertake an internship in Small Animal Anaesthesia. Fran went on to complete a residency in Veterinary Anaesthesia and spent time as a Lecturer at the Royal (Dick) School of Veterinary Studies in Edinburgh.
Did anyone inspire you while you were a student?
There are so many people who have inspired me over the years, but Alex Dugdale and Mark Senior were the first to get me hooked on anaesthesia – it is hard not to be inspired when you are taught by people who are passionate about their subject!
When did you know you wanted to specialise in anaesthesia and analgesia?
Anaesthesia was my very first clinical rotation in 4th year – I found it both terrifying and fascinating! However, it was the combination of my anaesthesia elective in final year and anaesthesia internship (at Liverpool) that really cemented the fact that I wanted to specialise.
What advice would you give to someone who wants to follow in your footsteps?
Firstly, don't feel the need to rush into specialising – focus on developing your general clinical skills and experience. Also, consider joining the Association of Veterinary Anaesthetists – we are a friendly bunch.
What is your top tip for your fellow alumni this Pain Awareness Month?
There is no "one size fits all" approach to pain management in veterinary patients – always look at the needs of the individual patient. Also, get the whole veterinary team involved in pain assessment and management, including owners.
How can alumni follow what you're doing?
You can contact me through LinkedIn and at Davies Veterinary Specialists (www.vetspecialists.co.uk)
Thank you, Fran, for helping us celebrate our alumni with careers in anaesthesia and analgesia for Pain Awareness Month.
Have you got an update you would like to share with your fellow alumni? Send your updates to ulvaa@liverpool.ac.uk.