Alumna and CEO of IBM UK and Ireland visits campus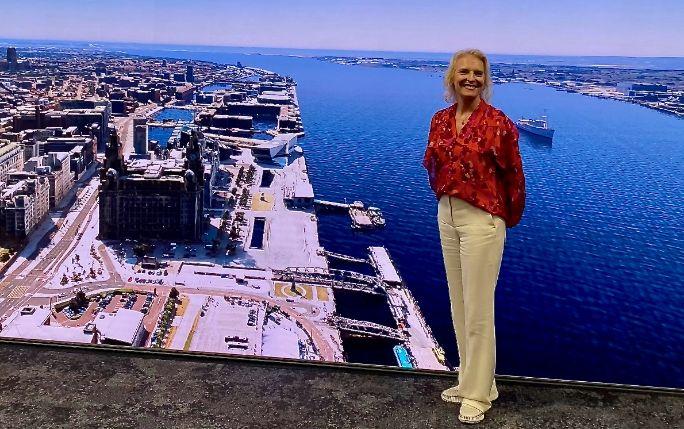 Dr Nicola Hodson (BSc Hons Chemistry with Materials Science 1988, PhD Mechanical Engineering 1992), Chief Executive of IBM UK and Ireland, returned to her alma mater recently to meet with the Vice-Chancellor, Professor Tim Jones, and Pro-Vice-Chancellor for Research & Impact, Professor Anthony Hollander, during which she also visited her former Faculty.
Dr Hodson, who became the first female Chief Executive at IBM UK and Ireland in January this year, met with colleagues involved in the strategic relationship the University has with IBM and was given a tour of the Faculty of Mechanical Engineering by Professor Matt Murphy, with whom she shared an office when they were both postgraduate students completing their PhDs. Dr Hodson was delighted to discover that a metallographic specimen and metal powder delivery system designed by her as part of her PhD research and manufactured by Andy Snaylam, who is a Technician in our School of Engineering, had been carefully stored and brought out to show her during her visit. Dr Hodson also enjoyed a tour of the Digital Innovation Facility (DIF), viewing a variety of projects including Meta Cities and VR headsets used in dog response training.
Dr Hodson said: "I have very fond memories of my time at Liverpool. Every Monday morning, I would walk up Mount Pleasant towards campus and go past a second-hand book shop. I liked to go in and pick up a book, any book, on the far left of the top shelf. I guess you could say I have a natural curiosity about the world and a fascination for learning which was definitely nurtured during my time at Liverpool."

Last year, Dr Hodson took part in our Liverpool Leaders programme, where she gave an inspiring talk to students and alumni, giving attendees an insight into how her time at Liverpool, and her journey since graduating, has led her to work for some of the world's leading organisations.