Profile for Pain Awareness Month: Carl Bradbrook BVSc CertVA DipECVAA FRCVS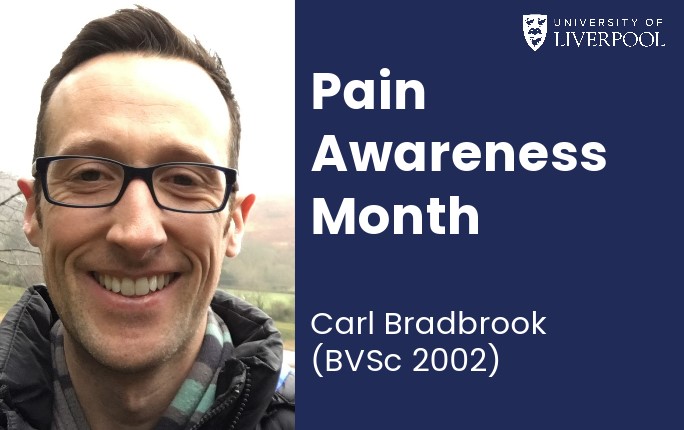 September is Pain Awareness Month and the University of Liverpool Veterinary Alumni Association caught up with alumnus Carl Bradbrook (BVSc 2002), European Specialist in Veterinary Anaesthesia and Analgesia and Senior Vice President of the Association of Veterinary Anaesthetists.
Carl is a co-founder of Zero Pain Philosophy and works at Anderson Moores Veterinary Specialists. Carl was awarded the Fellowship of the Royal College of Veterinary Surgeons for Meritorious Contribution to Clinical Practice in 2020.
Did anyone inspire you while you were a student?
My journey into anaesthesia was very much inspired by two of the Liverpool anaesthetists of that time; Alex Dugdale and Mark Senior and the amazing experiences I had in the equine hospital.
When did you know you wanted to specialise in anaesthesia and analgesia?
My journey started with my anaesthesia final year elective and developed further during my time in mixed practice. After a few years in practice I could see that a greater depth of understanding of anaesthesia and pain management was the direction my career was going to take and a residency was the way to go.
What advice would you give to someone who wants to follow in your footsteps?
Go for it! Spend some time at your local referral centre to get hands-on experience of an anaesthetist's day.
What is your top tip for your fellow alumni this Pain Awareness Month?
Owner education is such an important part of pain recognition. Equipping the whole clinical team to listen to owner concerns and raise awareness is a fantastic place to start.
How can alumni follow what you're doing?
Sign up to Zero Pain Philosophy and encourage your teams at work to do the same. Our aim is to help vet professionals worldwide achieve analgesic excellence. For Animal Pain Awareness Month we have launched our Big Pain Survey. We will use the results from this to produce a report to the profession, plus it will help us direct our resources to help vet professionals in the future.
The link is here https://www.zeropainphilosophy.com/post/our-big-pain-survey-is-live
Thank you, Carl, for helping us celebrate our alumni with careers in anaesthesia and analgesia for Pain Awareness Month.
Have you got an update you would like to share with your fellow alumni? Send your updates to ulvaa@liverpool.ac.uk.