Profile for Pain Awareness Month: Professor Eddie Clutton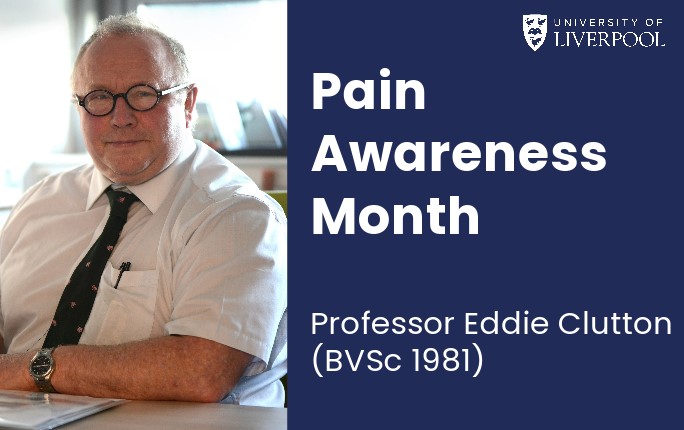 September is Pain Awareness Month and the University of Liverpool Veterinary Alumni Association caught up with alumnus Professor Eddie Clutton (BVSc 1981), Chair of Veterinary Anaesthesiology at the University of Edinburgh.
Eddie became a Diplomate of the European College of Veterinary Anaesthesia in 1996. Eddie received the Morpheus Award from the European College of Veterinary Anaesthesia and Analgesia in recognition of his impact in his field.
Did anyone inspire you while you were a student?
Many lecturers inspired me throughout my (great) time at Liverpool: Tony King (Anatomy), Don Kelly (Pathology), Ed Jones (Small Animal Medicine), Paul Neil (Large Animal Surgery), Harry Ritchie (Large Animal Medicine), Roger Ewbank (Animal Welfare), J.O.L. King (Animal Husbandry), Avril Watermann (Anaesthesia) but of course the most important was Ron Jones (Anaesthesia).
When did you know you wanted to specialise in anaesthesia and analgesia?
The spring term of final year, when Ron encouraged me to (successfully) pursue a Scholarship from the Horserace Betting Levy Board.
What advice would you give to someone who wants to follow in your footsteps?
Love, live and breathe the specialty for what it really is, i.e., devoted to the relief of animal suffering. Secondary reasons are knowing its sound practice relies on a full knowledge of most other clinical, e.g., medicine, surgery, and pre-clinical specialties, e.g., physiology, pharmacology, biochemistry, while allowing forays into biophysics and ethics.
What is your top tip for your fellow alumni this Pain Awareness Month?
The best way to control animal pain is to prevent people doing painful things to them that are not necessary for their long-term benefit. [To this end, Eddie is currently preparing an MSc course on the Ethics of Animal Research.]
How can alumni follow what you're doing?
Eddie is happy to be contacted by fellow alumni via e-mail, and you can find a list of his research publications here: https://www.ed.ac.uk/profile/prof-eddie-clutton
Thank you, Eddie, for helping us celebrate our alumni with careers in anaesthesia and analgesia for Pain Awareness Month.
Have you got an update you would like to share with your fellow alumni? Send your updates to ulvaa@liverpool.ac.uk.