Profile for Pain Awareness Month: Professor Mark Senior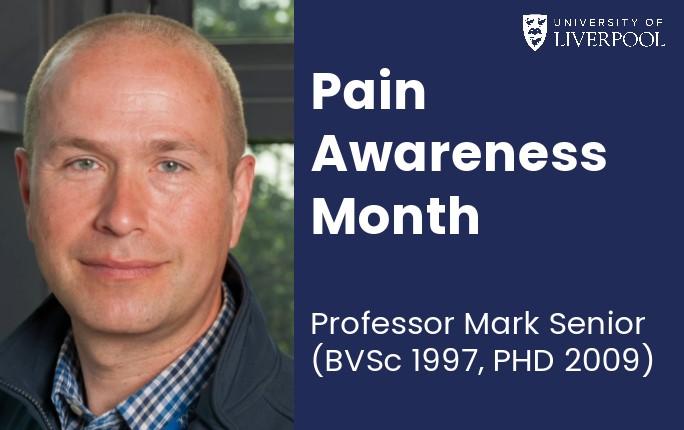 September is Pain Awareness Month and the University of Liverpool Veterinary Alumni Association caught up with alumnus Professor Mark Senior (BVSc 1997 , PhD 2009), European Specialist in Veterinary Anaesthesia and Analgesia and RCVS recognised specialist in Veterinary Anaesthesia and Analgesia.
Mark is Head of Department of Equine Clinical Science and Professor in Equine Anaesthesia at the University of Liverpool.
Did anyone inspire you while you were a student?
Many people inspired me, particularly many of the staff, but I really enjoyed anaesthesia rotations. Liz Leece was probably the biggest influence on me at that stage of my career, as she was on both my rotation weeks and in the elective.
When did you know you wanted to specialise in anaesthesia and analgesia?
Good question. I started my residency in Equine Anaesthesia and Cardiology in 1999 fully intending to go back into practice at the end of the residency, but within six months, I realised I loved being back at Leahurst and in academia and actually enjoyed teaching, so maybe around the year 2000.
What advice would you give to someone who wants to follow in your footsteps?
I always wanted to be a farm vet, but life and opportunities mean that your 'plans' may not turn out… so my advice would be: Don't be afraid to change your plans and take advantage of any opportunities to expand your horizons.
What is your top tip for your fellow alumni this Pain Awareness Month?
If you're not doing it already, start to employ 'pain scoring' in your clinical practice, particularly for hospitalised cases - and yes; there are ones for horses too!
How can alumni follow what you're doing?
I am currently Head of Department for Equine Clinical Science at Leahurst and our webpage here is where you can keep track of all our activities.
Thank you Mark for helping us celebrate our alumni with careers in anaesthesia and analgesia for Pain Awareness Month.
Have you got an update you would like to share with your fellow alumni? Send your updates to ulvaa@liverpool.ac.uk.