Staff Spotlight: Professor Carri Wesgarth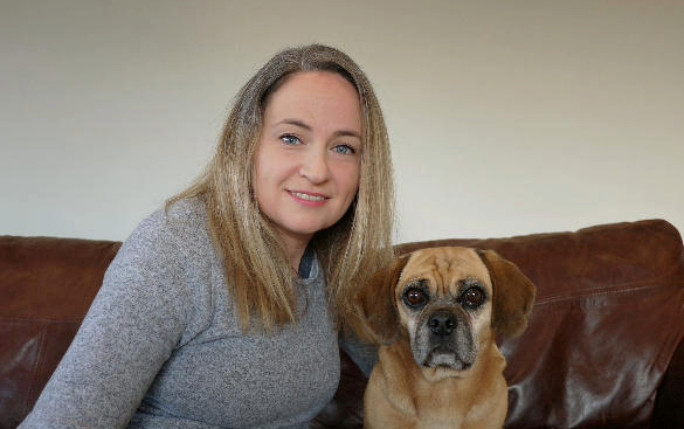 The University of Liverpool Veterinary Alumni Association caught up with Carri to find out more about her work as well as how alumni can engage with her research group's current study on canine obesity. Carri is Chair in Human-Animal Interaction at the University of Liverpool Department of Livestock and One Health in the Institute of Infection, Veterinary and Ecological Sciences, and she is the author of 'The Happy Dog Owner: Finding health and happiness with the help of your dog'.
What do you teach current vet students?
I teach veterinary epidemiology, statistics, the human-animal bond and companion animal welfare. Quite a mix!
What does a typical day at work look like for you?
Lots of meetings, for example with the Head of Department (as I am Deputy Head), PhD students, undergraduate project supervision, or relating to university initiatives I lead, such as wellbeing. Around this, I try to book time to crack on with my own data analysis or grant proposals to fund new research ideas. Many days I am also squeezing in a TV or radio interview, or at least talking to a journalist.
How did you become interested in human-animal interaction?
I've always been fascinated with the relationships we have with our pets, especially dogs, as it doesn't make a lot of logical sense. They cost a lot and stress us out, but we seem to find it fun! I originally wanted to be a vet but didn't get any vet school offers despite having the grades, so I studied Zoology and Genetics instead here at Liverpool and moved into dog behaviour from there, and ended up at the vet school anyway!
Is there anything you wish you had known about the field before you started?
How important human psychology and sociology is to everything related to animals and the ways we interact with them. At school and university those subjects were not presented to me in a way that made them sound useful so I didn't study them, but now I realise it is fundamental to everything we do in veterinary science! All animals have owners/carers and that's who our real clients are.
What are some highlights of your career so far?
I'm really proud of the Merseyside Dog Safety Partnership I lead, bringing together stakeholders to work together on campaigns and interventions to prevent dog bites. Also sitting on the BBC Breakfast sofa with a postal worker explaining the seriousness of dog bites and how best to prevent our dear lovable pets ending up in that situation. They do great hair and make-up on that show, I've never looked that good since!
What piece of advice would you give to someone considering a career in academia?
Learn from rejection but try not to let it upset you too much. Academia can look like success but there is a lot of hidden instances where journals or funders tell you no, after you put a lot of hard work in and believe passionately in the research. Try to find a balance between what you want to work on and find really interesting, and what is fundable. There is a sweet spot in the middle where you get to research really cool things still.
Are there any research projects alumni can get involved with currently?
Canine obesity is arguably the most common canine welfare problem of today. Alumni can direct owners who would like support managing their canine companion's weight to get involved with a UK-wide research study. Participants will be some of the first dog owners testing a new weight management guide developed by our experts at the University of Liverpool. Those interested in participating can find out more here.
Do you have fond memories of clinicians and teaching staff from your time at Liverpool? We'd love to hear them, or you can nominate a staff member to be featured in a future "Staff Spotlight" by e-mailing ulvaa@liverpool.ac.uk.