Rhiannon Brown receives the John Tandy Final Year Student Award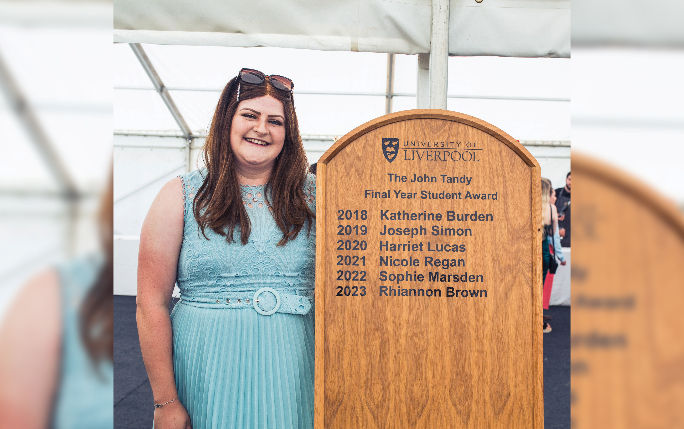 This year the John Tandy Final Year Student Award was awarded to Rhiannon Brown (BVSc 2023).
The award, launched in 2018 as the University of Liverpool Veterinary Alumni Association Final Year Student Award, was renamed this year to commemorate John Tandy (BVSc 1957). John was an enthusiastic supporter of the School of Veterinary Science and its students, and a constant on the ULVAA Committee until just before his death. Nominations are submitted by peers in recognition of the outstanding contribution made by a final year student to life at Liverpool's School of Veterinary Science. The criteria for the John Tandy Final Year Student Award embody what John was all about: a student whom colleagues feel has contributed most to the student community.
On winning the award, Rhiannon said: "A whirlwind! Receiving the John Tandy Final Year Student Award has been an absolute honour and has truly been the highlight of my vet school experience. I feel overcome with emotion that so many of my peers took the time to nominate me for this award.
"From my three consecutive years as a year rep, my classmates have always been the most important part of all my planning. I have always strived to organise and deliver events that were inclusive to all and tried to take on board everything my cohort could have wanted. I have always felt incredibly passionate about ensuring the student voice is heard, and that is what compelled me to take up the position of School representative alongside my fifth-year representative role. All of these positions have taught me the importance of networking and communication, and I would encourage everyone to seize the opportunities available to them and make the most of your colleagues' knowledge and expertise around you.
"I couldn't have done all I set out to achieve if it wasn't for my incredible support network, from my amazing co-reps each year, my incredibly supportive friends and family, and all my classmates for making all the hard work worthwhile.
"The next step for me is into small animal practice in Newbury where I plan to fulfil my lifelong dream of being a veterinary surgeon.
"Congratulations to the Liverpool vets, Class of 2023. The veterinary world won't know what's hit them! You're all amazing."
The Veterinary Alumni Association is proud to recognise Rhiannon's valuable contributions. Rhiannon has had a hugely positive impact on the vet school and should be an inspiration to the rest of the student body. We look forward to receiving nominations in future years. Congratulations to the Class of 2023!