Medicine alumnus Keith Wilkinson leads student talk on a career in anaesthetics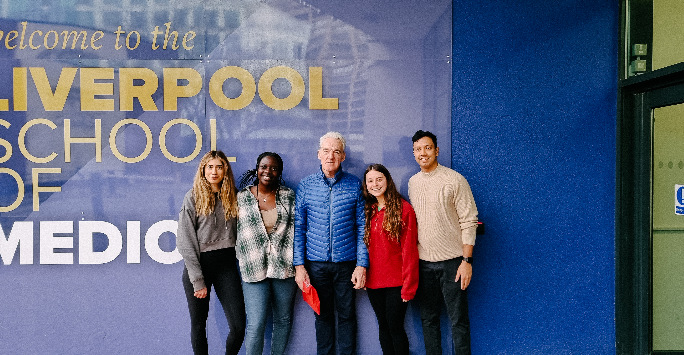 The School was delighted to welcome 1982 graduate Keith Wilkinson back to campus this February for a talk with students on an incredible career in anaesthetics.
Keith incorporated extracts from his memoir If In Doubt, which tracks his journey from boyhood through his University days here at Liverpool to voluntary cleft lip and palate work in Ecuador and the Philippines and his consultant anaesthetist post on the Isle of Man.
The talk was attended by student doctors eager to hear Keith's tales and tips. None more so than members of Liverpool Anaesthetics & Critical Care Society (LACCS) who hosted a round of Q&A where Keith dove deeper into his specialty, how it changed over the years and what might be in its near future.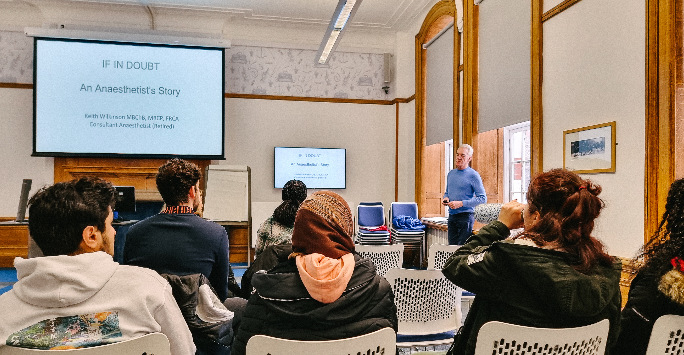 Aylin Bikim, LACCS President says,
Keith is a fantastic speaker who has a wealth of anaesthetic knowledge. He portrayed an anaesthetist's day-to-day life, giving us an overview of the real world. A big thank you to Keith for giving up us his time and sharing his enthusiasm!
Of his time at Liverpool Keith shares, "What has stuck with me the most after all these years is the friendships, sharing challenges together, the fun, the setbacks and the incredible moment after five years when I qualified!
You can read more about Keith's career in this 2022 article. His book If In Doubt is available to purchase from Amazon and other book stores, with all royalties donated to the NSPCC.