Catching up with the Medicine Class of 2022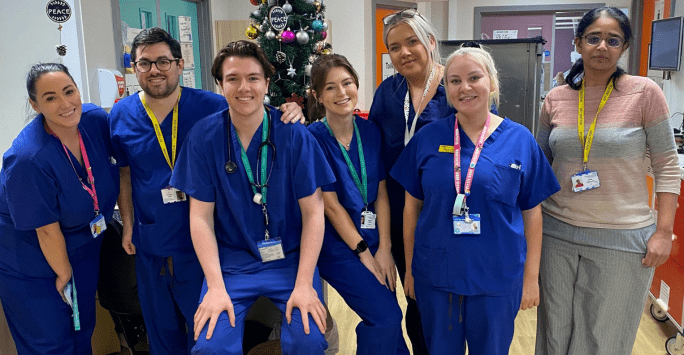 Looking beyond the somewhat gloomy headlines, we were delighted to catch up with 2022 graduates Bilal, Charlie, Shannon and Steven to hear about their first few months as FY1 doctors and the small moments that make it all worthwhile.
Dr Bilal Ali is based at the Royal Lancaster Infirmary on a foundation track that includes Geriatrics, Colorectal, General Surgery, Obstetrics & Gynaecology, GP and Intensive Care.
"At our trust, we had a very good and thorough induction which made the whole transition so much easier! We had basically started taking up the FY1 role (with support) days before our actual start date, so the first day didn't feel as scary as I would've originally thought. But, it is definitely a day where you pinch yourself and say, 'Wow, I am a doctor now!'.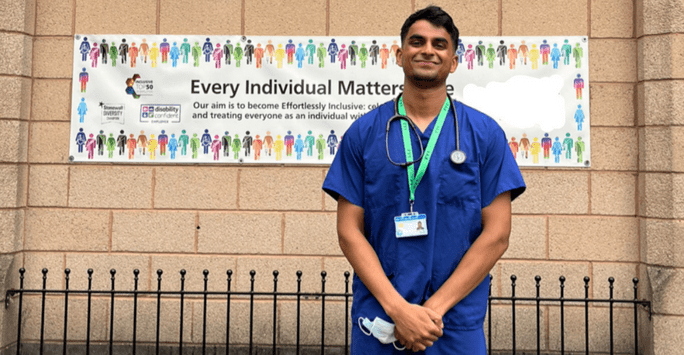 I really enjoy working with my fellow FY1 colleagues. You get really close to them and it is actually fun when you're bouncing around the ward doing jobs together. It's really satisfying when you figure and sort something out yourselves when you may have normally got senior help. Instead of being with your med school partner taking histories together, you are both managing a ward together! The people you work with really is one of the most enjoyable parts of the job (amongst many others!)
The feedback and response you get from patients and your colleagues goes a long way.
Whether it's when a consultant or senior praises you for something you've done, or when a patient holds your hand and tells you that they appreciate everything you've done for them. Situations like these really do put a smile on your face.
These are the things that counteract the remaining bits of imposter syndrome you may experience. It gives you a boost to keep doing what you're doing and helps keep your morale up. When you're lucky, you can get reaffirming moments like these quite regularly and it just makes your whole experience so much more positive.
You will find that not all of your good endeavours will be recognised, and that's okay. But when they do, it is a really satisfying part of the job!"
Dr Steven Toh brought the house down at the Class of 2022 graduation ceremony with a heart-warming tale about patient Grace. He's now touching more patients' lives as an FY1 doctor on the Specialised Foundation Programme in Newcastle.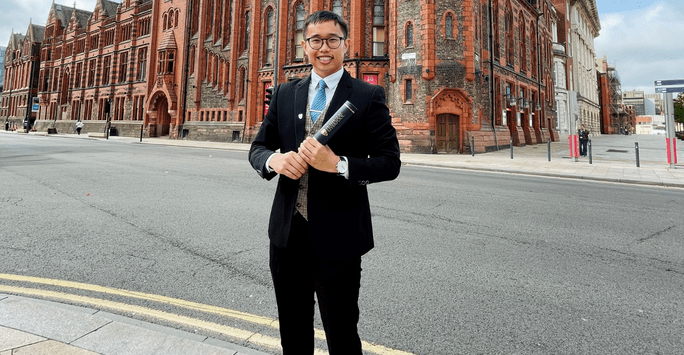 "The first day working and taking full responsibility for our patients was one of mixed excitement and apprehension. I feared being the first to the scene of a cardiopulmonary arrest, which would be indicated by red alarms blaring throughout the department. Thankfully, that did not happen to me!
Learning and performing more complicated practical procedures has definitely been the highlight of my foundation year so far.
Whether it be fascia iliaca hip blocks, chest drain insertion, or suturing of a head laceration, it is very satisfying as it provides instant relief to the patient as well!
It can be daunting when A&E waiting times hit 8-10 hours with winter pressures and nationwide strikes. At times I do feel stretched and worry about providing the best care to my patients.
One interaction which really touched my heart was when a patient remembered me from when I had treated her in A&E previously and was grateful for the care provided. Those are the moments where you realise that you have made a positive difference in another person's life."
Dr Charlie Hextall is taking his foundation training at Southport Hospital.
"The first time I walked onto the ward as a doctor was a surreal experience. On my first day shadowing, the doctor I was following wrote my name down and it was the first time I saw Dr Hextall written down at work! Seeing that definitely made me feel proud but also slightly terrified that I couldn't hide behind the grey scrubs anymore! It's a bit of a tradition among Liverpool Student Doctors to not wear your stethoscope around your neck until you qualify, so finally putting it round my neck as a doctor felt like completing a rite of passage.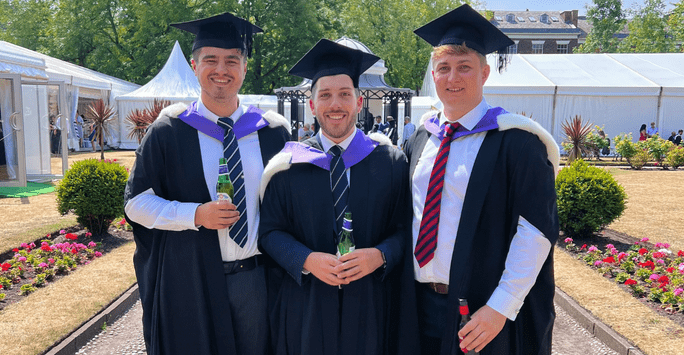 I've really enjoyed the time spent working with a group of people for a long period. At uni, we rotate so often that it can be difficult to get to know the team you work with, but four months in one place means you can really get to know the nursing staff and other members of the MDT.
The thing I'm most proud of is making it through my first set of nights.
Before I started, I tweeted for advice and luckily got some great tips (including from Professor Scott herself), which definitely helped me through my worries.
Being in hospital overnight and being the first person that the team call when someone is poorly is a scary thing to start off with, but I was proud of how focussed it made me feel to assess a patient then make a plan and discuss it with my seniors. It felt like all the training I had in my six years at Liverpool came to a culmination.
The additional responsibility was hard to get used to, especially when people are asking you questions on your first day that you may not know the answer to.
My second proudest achievement was winning Southport's Best Moustache in November!
I've been lucky to have worked with really great seniors, including Dr Daniel Murphy F2 and Dr Hafsa Shams-Khan IMT1 (both Liverpool Alumni) who always were happy to answer any questions I had. The added responsibility definitely makes you sharpen your focus and makes sure you double check what you do!"
Dr Shannon Collings is based at Warrington Hospital, where her first months on the job have taught her the value of teamwork, and a good cup of tea!
"Overall, I've really enjoyed the transition, and felt I was ready by the end of six years. It feels like much longer than six months since I qualified!
In some ways, nothing can prepare you for the long hours, new responsibility and NHS pressures, but I felt as prepared as I could be having been through ward shadowing and on-call shifts in Year 5. I've enjoyed having purpose to my days and working as part of a team.
It's rewarding finishing each shift knowing you've made a difference, particularly out of hours managing acutely unwell patients.
The appreciation from patients and their families brings me the most satisfaction.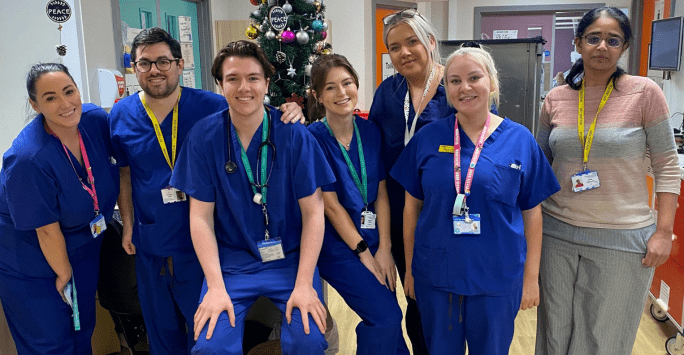 Building a good relationship with nurses and other MDT members is really important. When you have a three-page jobs list and are looking after multiple wards, sometimes just being offered a cup of tea or being asked if you need help with jobs such as cannulas or NG tubes can make the biggest difference.
Listen to them when they're concerned about a patient too; as doctors we often spend the least amount of time with patients and might miss things, so their insight is important."
Great to catch up with you! Browse through more tales from our past graduates over on the School of Medicine Alumni Stories page.