An incredible year for the LMSS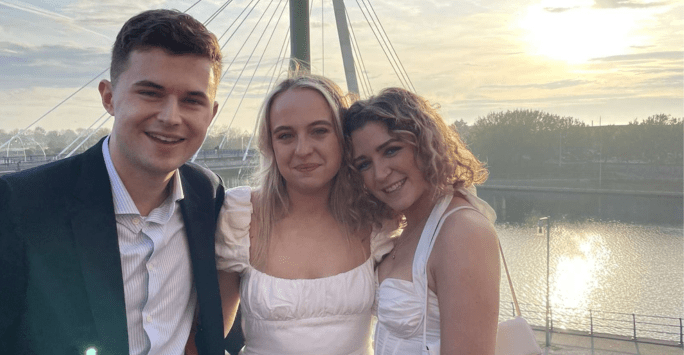 As Liverpool Medical Students Society (LMSS) gear up for a new academic year, newly appointed President Ella Bleasdale reflects on an amazing year of academic, sports and fundraising success for the society, not to mention heaps of fun too!
"As always, the start of the year was jam packed with great events such as our Welcome Back Party, Bus Tour and Mentor-Mentee activities for Year Ones and Charity Snowdonia 9 Peaks Challenge.
Fun-filled balls and dinners
November was just as busy, kicking off with a Mad Hatters themed Charity Dinner where the Devonshire was transformed into Alice's Wonderland and we raised over £400 for the Paper Cup Project. This was soon followed by our Annual Dinner and this year's theme of Diamonds Are Forever meant glamorous James Bond style decorations, including diamond filled martini glasses, and casino table entertainment. An amazing £1040 was raised for this year's chosen charity Zoe's Place Hospice.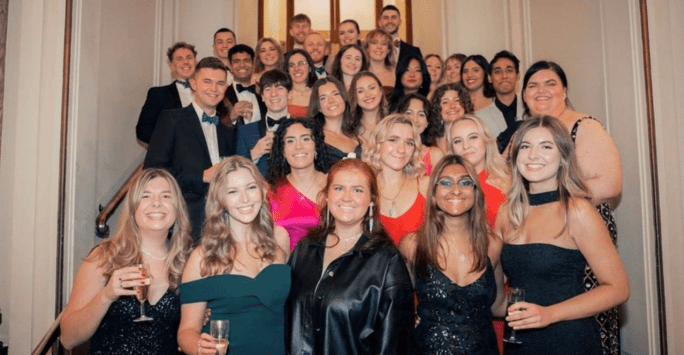 After that it wasn't long until everyone had to swap their party dresses for their fancy dress as it was time for the Grand Round 2022 where the fifth years were our overall winners.
After Winter Break, we were straight back at it with Welcome Back Party #2 and in late January were transported away from the sub-zero temperatures of Liverpool to the 'fun and sunshine' of the Adelphi for a Club Tropicana themed Annual Ball 2023. The night was a huge success and as usual we had a huge turnout from all year groups.
Next up was the big calendar event for our Charity Reps, Charity Strictly Come Dancing where six couples danced their hearts out to battle for the crown as Strictly Winners 2023, with Beth Conlon (Year 5) & Anish Bagalkote (Year 3) coming out on top.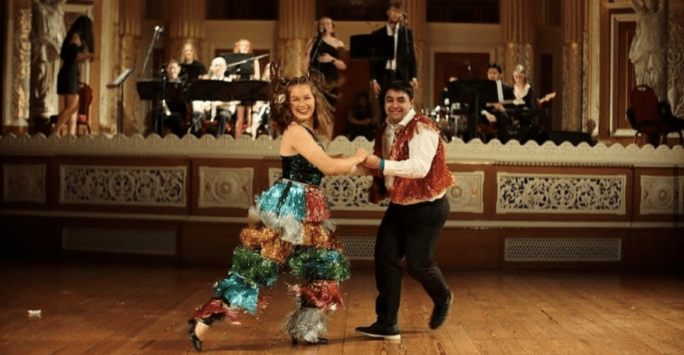 There's a lot of people to thank for their incredible work at this event including our 4 judges (LMSS President Freya Hollowood, Professor Hazel Scott, Clinical Skills Lecturer Justin Shanahan and Artefacts Co-Presidents Liv Heron and Katie Maxwell), Artefacts band (there'd be no dancing without the music!) and of course our incredible Charity Reps Hannah, Ioan and Reuben.
Their work didn't stop there though because they went straight back to training for their Sea2Sea Charity Cycle in April. 17 students set off on the challenge, cycling the 220km from Hull back to Liverpool in just two days. Despite four flat tyres and very tired legs over the peaks, they all made it back in one piece to an incredible welcome party at the Albert Dock. An enormous £4682 was raised for KIND Liverpool and Wirral Mind, what a way to end the year for our Charity Reps!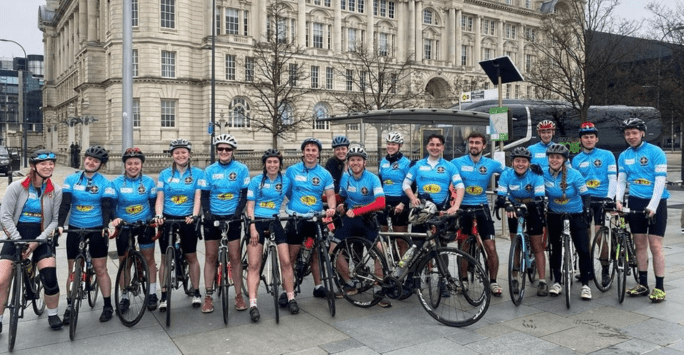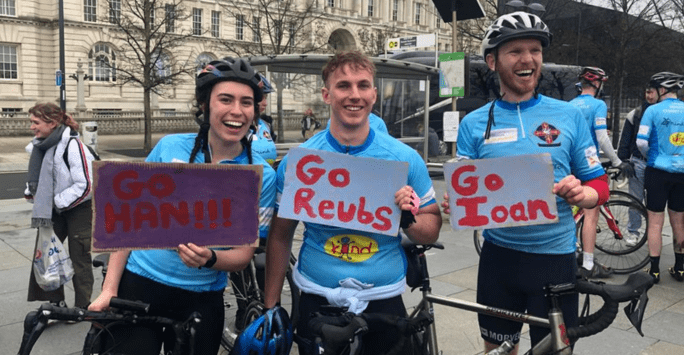 Inspirational talks and conferences
Alongside all of our incredible dinners, balls and parties we've also had some great academic sessions. Our 1st Ordinary Meeting in October welcomed Dr Dan Hawcutt who spoke on 'Clinical Academics - what are they and why might you want to be one?'.
At our 2nd Ordinary Meeting of the year in February we were very lucky to have our LMSS Honorary President Professor Louise Kenny give her Honorary President's Address, a very inspirational talk entitled 'Celebrating Failure and Other Things I've learned Since Medical School'.
Our LGBT+ Conference in March received great feedback and was attended by students from a range of healthcare courses besides Medicine. Our Surgical Case Presentation Evening and Decolonising Healthcare Conference were also some of our great academic successes this year.
Sporting success
In October, the medics dominated at the MDVP (Medics vs Dentists vs Vets vs Physios) Sports Day as overall winners. And we weren't the only winners - thanks to the huge generosity of everyone in attendance we managed to raise over £2k for South Liverpool Food Bank and collect more than 500 items.
Liverpool Medics Basketball Team were the new kids on the block this year but have been running training sessions since November and have already competed in several competitions. Exciting things to come next year as they enter their first NAMS competition!
Netball had great success in the NAMS tournament, with their first team coming third nationally. The second, third and fourth teams have also been doing incredibly well in their leagues and the club has also had plenty of fun off the court, going down to Bristol for a tour weekend and organising plenty of joint socials with some of our other sports teams.
Hockey have continued to have great attendance at weekly training sessions with 70+ students each week. They're currently in the running to win the NAMS Plate and we wish them luck in their final next month! They also hosted the NAMS Tournament where 250 medical students descended on Liverpool for two days of hockey games and socials. What an exciting final year it's been for the 5th year club captains!
Women's football have had record breaking numbers at training and the club just keeps on growing! They jetted off to Bordeaux for their tour weekend which looked amazing and ended the season with a big win at the Charity Netball Match, not bad considering they're not used to standing still with the ball!
The Rugby team have gone out with a bang with an extraordinary 50-0 win against Liverpool Engineers in the last match of the season! They have one last match to finish off their year which will be Doctors vs Students, with a whole host of alumni coming back from all over the country to play.
Tennis competed at their first NAMS tournament this year, finishing a respectable fourth place, and have seen a huge increase in membership. Men's Football, Cricket and Squash have also had great seasons and we hope this continues into next year!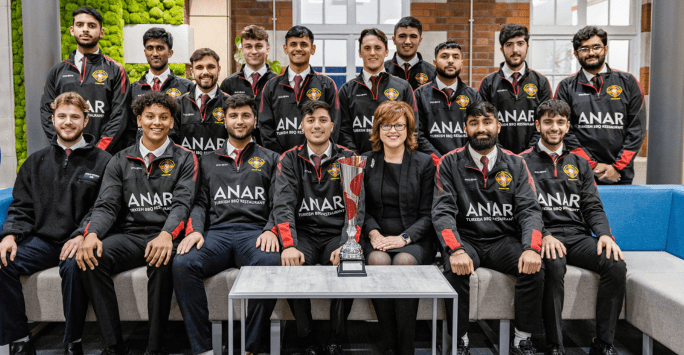 A special thank you goes to Dr John Hussey who very kindly helped to organise our recent Doctors vs Students Golf Day in April. It was a lovely day thoroughly enjoyed by all. Congratulations to the Doctors who won in 4 out of 5 of the pairings!
New beginnings
Our 2022-23 Officers have had an extraordinary year, making themselves, the society and its members incredibly proud. Freya (President), Emma (Secretary) & Pooja (Treasurer) have now passed the baton on to us, your LMSS Officers for 2023-24, Ella Bleasdale (President), Tom Cahill (Secretary) and Tia Durkin (Treasurer)! We're really looking forward to the year ahead and hope we can continue their amazing work. It's set to be a fabulous year, with our newly elected committee all ready and raring to go.
Our new History & Alumni Rep, Hannah Barnes, is already busy planning next year's alumni communications and events so it won't be too long until you hear from her. Keep any eye out on the LMSS social media channels (Facebook, Twitter, Instagram & TikTok) for our committee introductions to get to know who'll be responsible for our calendar of events next year. We hope to see you there!