Meet our Study UK Alumni Awards 2023 winners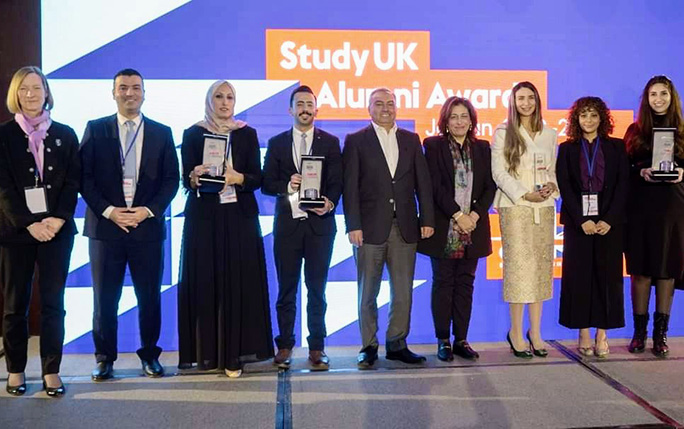 A number of Liverpool graduates were successful in receiving awards at the prestigious Study UK Alumni Awards 2023, held in March and April.
Hosted by the British Council, the awards celebrate the exceptional achievements of alumni who have studied higher education in the UK and have had a positive contribution to their professions and countries.
Our alumni winners include PhD in Engineering graduate, Dr Esraa Radi Tarawneh, who was recognised with the Science and Sustainability award in Jordan, PhD in Chemistry graduate Dr Aliya Sembayeva who won the Business and Innovation award in Kazakhstan and Professor Hani Alhadrami (English Language Course 2016) who was recognised with Science and Sustainability in Saudi Arabia award.
All three recipients were recognised for their outstanding work in their fields since graduation and we're really proud of them for being recognised with such prestigious awards.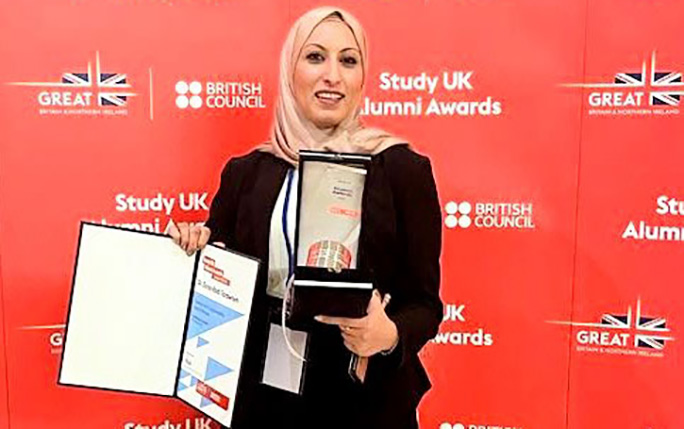 Esraa was recognised for her work in environmental engineering and researching environmental issues in Jordan. She is an Assistant Professor in the Civil and Environmental Engineering Department at Mutah University. She has a bachelor's degree in Civil Engineering, a Master's in Water and Environmental Engineering, both from Mutah University and PhD in Water and Environmental Engineering from the University of Liverpool. Her MSc and PhD thesis focused on pressing water and environmental issues in Jordan.
On winning her award, Esraa commented "Studying at the University of Liverpool was a life-changing experience for me, and winning this award is a testament to the world-class education and opportunities that the University provides and a recognition of the University's commitment to producing outstanding graduates who make a positive impact in their communities.
I'm grateful to the British Council for organizing the Study UK Alumni Award and providing a platform to recognize the achievements of the UK alumni from around the world. Winning this award has not only given me a great sense of pride but also provided an opportunity to highlight the important work being done in science and sustainability. The University's support has been instrumental in this achievement, and I'm honoured to be associated with an institution that values excellence and innovation."
Dr Aliya Semeyeva won her award in recognition of launching, with the support of both Embassies, a community of PhD experts from Kazakhstan who study in the UK, to bring their research expertise of collaboration between science, business, and government for sustainable development of the whole Central Asian region. She worked as a Director of the Innovation and Knowledge Department and head of the ESG Department at Samruk-Kazyna Fund, where she launched a new portfolio company and worked as the first CEO of the Center of Scientific and Technological Initiatives to develop applied science system in Kazakhstan.
Professor Hani Ahadrami who currently works at the Centre of Genomic Medicine Research and the Special Infectious Agent Unit BSL3 won his award for the world leading work he has done in researching COVID-19, which has had a remarkable impact worldwide in terms of detection and treatment. He is also the co-founder the Saudi Society of Molecular Biology & Biotechnology.
On behalf of the University of Liverpool we'd like to congratulate our talented award winners and wish them well for their future careers.
You can find out more about the awards and how to participate in next year's awards on the British Council website: https://study-uk.britishcouncil.org/alumni-awards