The year is off to a great start for the LMSS
Charlotte Patterson is Alumni Secretary for the Liverpool Medical Students Society (LMSS) for 2022-23. She reveals some of the society's biggest plans this academic year, including an Alumni Dinner at the Royal Liver Building next April.
"The LMSS is a big part of the medical student experience at Liverpool and is something that I have loved getting involved with!
"This year, we kicked off our events with a successful welcome back party. It was a wonderful way to start the year and get our members together for a fun-filled evening.
"The LMSS had a range of welcome events running, starting with the traditional prank-welcome lecture for Year One students. There is always a lot of shocked but relieved faces in the crowd when everyone realises that medical school isn't so scary and taking a break from the books is not only allowed but encouraged!
"The events continued with a bus tour, a mentor-mentee evening and a Liverpool city tour, followed by a trip to Baltic Market. It was lovely to see so many new faces and hopefully they had a fun introduction to what the LMSS has to offer.
"Our charities team, made up of Hannah, Ioan and Reuben, have chosen to support Wirral Mind and Kind Liverpool this year and began by taking 52 medical students to complete the Snowdonia 9 Peaks challenge, raising an amazing £6258. Well done to everyone who took part!
"We also recently took part in a Medics vs Dentists vs Vets vs Physios sports day in support of the South Liverpool food bank. It was a lovely day to get our sports teams together with a win overall for us!
"The LMSS also held its first Ordinary Meeting of the year, where Dr Dan Hawcutt delivered an interesting talk about clinical academics followed by a darts social event.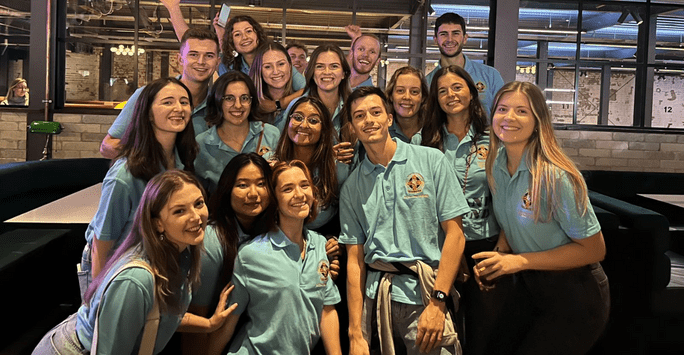 "Looking forward, preparations are underway for some exciting plans, including an Alumni Dinner at the Royal Liver Building on Saturday 1st April 2023. Keep an eye out for tickets on sale soon!
"It's safe to say that the year so far has been jam-packed with fun events for both new and existing members and we are looking forward to the rest of the year to come.
"To stay in the loop with all of our news and updates, please subscribe to our alumni mailing list or get in touch at alumni@lmssonline.co.uk. I am looking forward to connecting with you this year!"