Medicine alumni stories: celebrating 50 years since graduation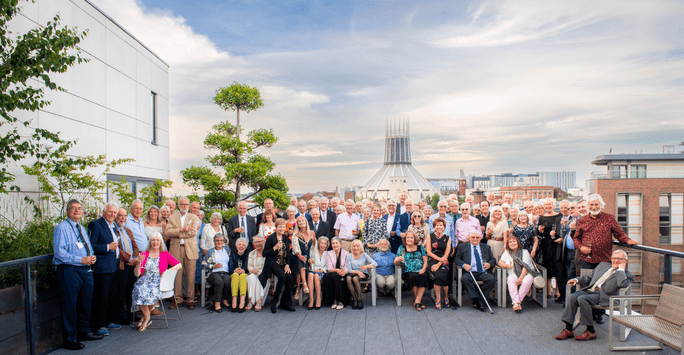 This June, the Class of 1972 came back to Liverpool for a host of reunion activities to mark an incredible milestone of 50 years since graduation.
Reunion organisers Dr Moya Duffy, Dr William Kenyon, Dr Neville Bradley and Professor Derek Gould put together a wonderful schedule of events, including afternoon tea with staff and students at Cedar House, a champagne reception at the Crypt at the Metropolitan Cathedral, visits to the Victoria Gallery and the Waterhouse Building - the old Liverpool Royal Infirmary, as well as a trip on the Magical Mystery Tour and dinner at the Hope Street Hotel.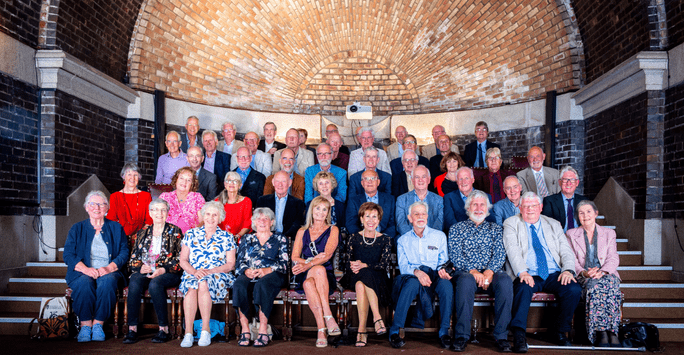 William shares, "The organisation took many months including tracking down contact details of fellow graduates. However, the effort was amply rewarded by the very favourable feedback from those who attended."
As part of the reunion festivities, many of the class kindly took the time to share reflections on their career trajectories from Liverpool to a host of different specialties, achievements and corners of the world. Their accounts, part of a new alumni stories catalogue, are a real inspiration to fellow clinicians and student doctors alike as they put down on paper learnings from 50 years of clinical practice.

Mrs Linda de Cossart CBE

Linda de Cossart was admitted into the Royal College of Surgeons (RCS) of England in 1978 at a time when there were few female surgeons. She went on to specialise in vascular surgery and became director of medical education at the Countess of Chester Hospital. Mrs de Cossart was elected vice president of the RCS in 2008 and was awarded a CBE in 2010.
In this video, she shares more on her wide-spanning medical career along with advice and wise words for today's student doctors who may aspire to follow in her footsteps.
Professor Brian Boyd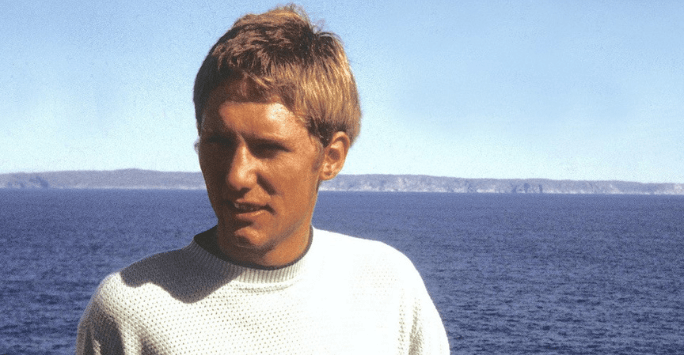 On graduation, Brian Boyd had no idea he would go into surgery and certainly no plans to end his career as Chief of Plastic Surgery and Health Sciences Clinical Professor of Surgery at UCLA.
"I was toying with the idea of psychiatry, reasoning that, as a specialty, it was under subscribed, and the career prospects would therefore be excellent. I am glad I did not follow this plan since it is no good spending your life doing something you do not enjoy, and I really did not enjoy psychiatry! Practicing a specialty that interests you, and working in a friendly environment, makes every day a holiday."
Dr Caroline Condon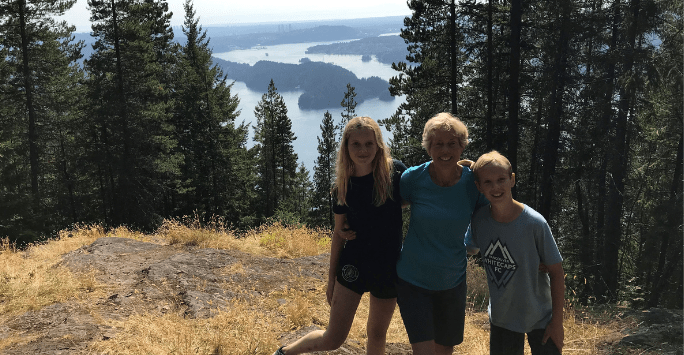 Caroline Condon was devastated when she failed her finals at the first attempt. Little did she know destiny was playing a hand and would set her on a course that would change her life and career.
"After qualifying at Christmas, I went to Ireland for my rotating internship at Limerick Regional Hospital and met my future husband Ed. We were married in May 1974 and emigrated to Canada in 1978. I started working as a busy GP and would see up to 70 patients a day, deliver all my own patients' babies and do one 24-hour stint in emergency each week. We had one resident surgeon who could do emergency C sections, otherwise no other specialists. It was definitely 'see one, assist in one, and do one' surgical learning! Initially we had no ultrasound, so dates were a guess, and I delivered a couple of sets of undiagnosed twins. It was a crazy 10 years but a wonderful learning experience."
Dr Harry Barrowclough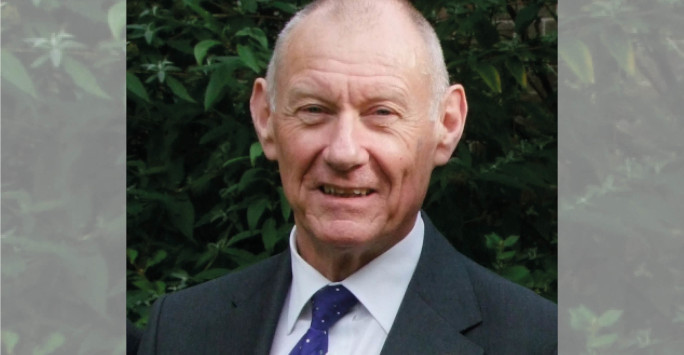 A move to the Netherlands in 1974 proved decisive for Harry Barrowclough in countless ways, giving him a fulfilling career in gynaecological pathology, a PhD at the University of Amsterdam and true love.
"On a holiday to the Netherlands, I found myself immediately attracted to the country and it was soon after this that I fell in love. In those days, being gay was by no means straightforward in our profession and I had had to be careful about revealing my sexuality. My trip to the Netherlands gave me more confidence since sexual orientation there seemed to be much less of an issue. My heart was stolen (actually I gave it away gladly) by a Scottish computer engineer who was working in - you guessed: the Netherlands. Suddenly all the pieces of my jigsaw puzzle began to fall into place."
Dr Catherine Broun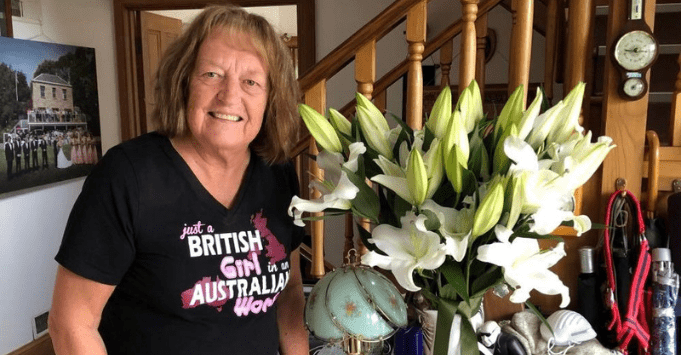 Catherine Broun is still practising as a GP in the small town of Devonport, where she was named Citizen of the Year in 2022 for her dedication to the local community.
Dr Broun dreamed of becoming a doctor since primary school and on graduation took the opportunity to leave her family and life in England behind and accept a 12-month contract at the Mersey Community Hospital in Tasmania, I.e., the other side of the world! Twelve months turned into almost five decades, as Dr Broun married and started a family, as well as working tirelessly for the Mersey Community Hospital and later the Devonport Outpatients Hospital, before going into General Practice where she continues to work to this day.
Dr Mike Beck
From dreams of being a doctor at sea through general medicine and neurology to dermatology, Mike Beck has found a way to fulfil his childhood dreams of travel, trusting in fate and the advice of his parents to guide his path.
From a very young age I had always intended to be a doctor. My parents would say to me that once qualified wherever I went in the world and whatever situation I found myself in, there would always be a need for my services. What a wonderful opportunity this was. I am by nature a fatalist and much of my career pathway and indeed life has been driven by providence. Wherever you think you are going might well not be where you end up! You only have one life so enjoy it. Take your time. There will always be somewhere for your services. What wise parents I had!"
Dr Lucille Abrahams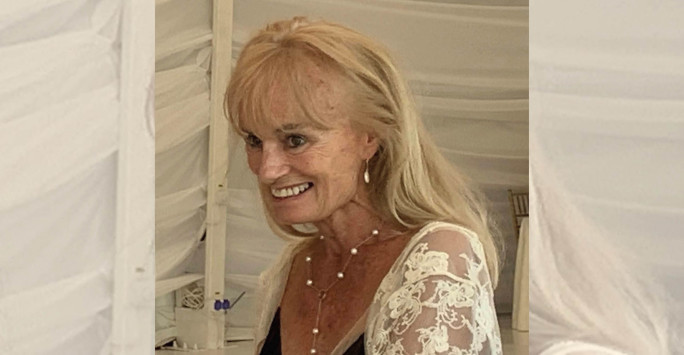 Lucille Abrahams believes in the importance of teamwork and interdisciplinary learning in shaping a medical career, whatever specialty you are considering going into.
"Being in the same practice still, after over 30 years, I have connections and have born witness to family events from birth to death through three generations. It is a humbling privilege. I believe it is important to introduce students early in their studies to teamwork, interdisciplinary learning, and general practice, which has the added benefit of being involved in the life history of patients over many years."
Dr Peter Kent
Peter Kent completed began his career as a GP before moving on to different chapters in Aviation Medicine and the Prison Medical Service.
"I joined the Royal Airforce as a squadron leader and was soon given my own station medical centre to run. I spent an enjoyable 6 months at RAF Farnborough learning Aviation Medicine and was made a Flight Medical Officer and given 20 hours of flying instruction on a Bulldog plane. I was Medical Officer for the Red Arrows Aerobatic Team for three years. My best posting was to RAF Akrotiri in Cyprus for three years, where the medical centre also acted as the accident and emergency centre."
An enormous thank you to the Class of 1972 for sharing these memories and insights with us, as well as generously donating their remaining reunion budget to support the student experience at the School. It is greatly appreciated and will be wisely spent!
Head over to the School of Medicine alumni stories catalogue for more inspirational tales.
If you are interested in organising a reunion celebration for your classmates, browse through these alumni reunion resources to get started and reach out to the Alumni team at alumni@liverpool.ac.uk.