Alumni who met at Liverpool celebrate son's graduation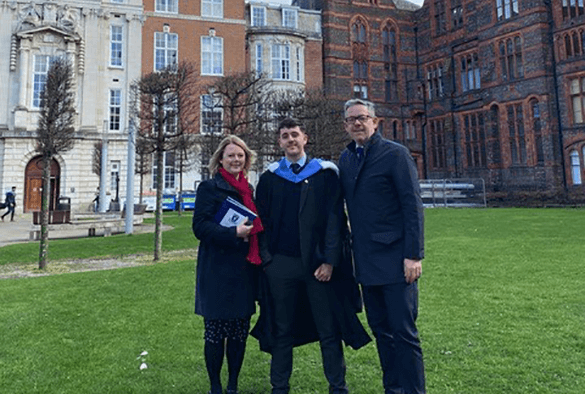 Alumni Richard and Jane Watkins met in1990 whilst Richard was studying for his Geology degree and Jane was reading for her degree in Hispanic Studies at the University of Liverpool. In March and July 2022, they returned to the campus with their son, Rhys, to celebrate his graduations.
This summer, the family shared this special experience not once, but twice as Rhys graduated at his delayed ceremony for his 2020 BSc degree in Geography and also his MSc in Environmental Science. Speaking about the occasions, Richard said: "Jane and I were so proud as we are both Liverpool alumni. We have fond memories of Liverpool, our studies and the lifelong friends we made. Rhys's graduation days felt particularly special for us as we both have fond memories of celebrating our graduations in Liverpool with family, so it was lovely to walk around the same buildings and locations with him to celebrate his achievements."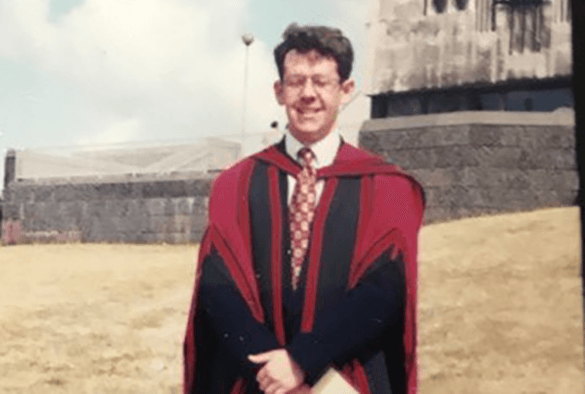 Richard graduated in 1991 with a degree in Geology and then again in 1996 with a PhD in Earth Sciences. On his journey since graduating, he said: "I now work as the research and evaluation lead for the Regional School Effectiveness and Improvement Service for North Wales, and also as an Honorary Senior Research Fellow at Bangor University where I help manage a range of education research projects. I have great memories of studies in Liverpool and the experiences I gained, but of course Liverpool will always remain a special place for us as the place where we first met and where we spent some of our formative years together in such a vibrant and historic city."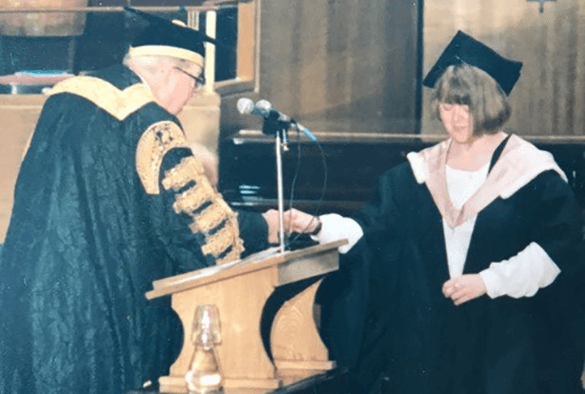 After graduating with a degree in Hispanic Studies in 1992 and then a Postgraduate Certificate in Education, Jane taught modern foreign languages in schools and further education colleges. She currently works as a Curriculum Development Coordinator for Adult Learning Wales where she coordinates a wide range of adult education and basic skills provision in Denbighshire. Reflecting on her time in Liverpool, she said: "I have great memories of my university days. I love the city and am still in touch with friends from my time there. During Rhys's time at the university, it's been interesting and fun to revisit some of the old haunts and see the amazing changes that have taken place in the city."
Rhys has already begun a successful career and currently works for an environmental company carrying out land and geophysical engineering surveys across the UK. Rhys said: "I enjoyed every minute of my time in Liverpool and I really couldn't have asked for a better city and university to spend the last four years. And, it's all been made even more special by following in the footsteps of mum and dad!"
We love to hear about alumni success stories that run through generations of Liverpool graduates, and wish Rhys the very best of luck with his career! Are you an alum with a story to tell? Get in touch: alumni@liverpool.ac.uk.