In memoriam: Brian Hugh Coles (BVSc 1956)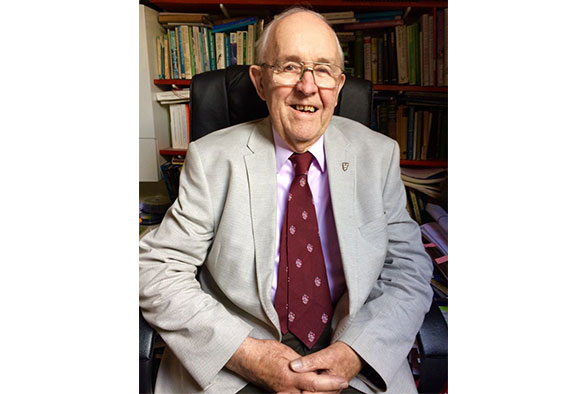 (b) 1927, (q) 1956, Died 4 August 2022
We are sad to report the death of Brian, 95 years, who qualified in 1956. He was a stalwart member of the Association regularly attending meetings, BSAVA conference drinks receptions, and enthusiastically joining trips to Chester Zoo over many years. He remained very active in his later life, writing a book Nature's Wings and Their Passengers when he was 92. This was designed for a lay readership, explaining the role of winged creatures (birds, bats and insects) in the transmission of infections – somewhat prescient in 2019.
Brian was born in Walsall, West Midlands, in March 1927. He grew up in London but was evacuated to North Wales during the war. After National Service in the RAF, he commenced his veterinary studies. On qualifying, he initially worked as an assistant in several practices. In 1961, he established a single-handed small animal practice in the rear of his house in Whitby, Ellesmere Port.
He was interested in all species: his garage housed a hand-built enclosure for a colony of chinchillas, which he had taken on after discovering they were homeless and facing euthanasia. There was also a resident ferret and a female mallard in the in-patient accommodation. He was a meticulous small animal practitioner.
The practice expanded with additional veterinary staff and the opening of a branch surgery in Neston. In the late 1960s, Brian developed an interest in the veterinary care of birds, initially birds of prey but widening to include other wild birds, exotic and zoological species. This was to become his passion.
Largely self-taught, he became an RCVS recognised specialist and was eventually awarded an Honorary Fellowship of the College. He published a book 'Avian Medicine and Surgery' in 1985, which ran to three editions, latterly Essentials of Avian Medicine and Surgery (2007), where he collaborated with a number of international authors. He had a very practical approach and passed on his ideas and experience in an article in JSAP (1984): 'Considerations when nursing birds on veterinary premises'.
Meanwhile the practice had moved to Childer Thornton with more spacious accommodation, known as Cranmore Veterinary Surgery. Brian was closely associated with Chester Zoo, sitting on the Council and Scientific Committee. He lectured to wildlife groups and was instrumental in setting up the Avian section of the European College of Zoological Medicine. He continued to act as an avian consultant after he retired in 1996.
Brian was also interested in art, architecture and photography. He was adept at line drawings, some of which he used to illustrate his books. He enjoyed a happy family life with his wife Daphne and their children Nigel and Helen. Sadly, Daphne pre-deceased him in 2015. In later life he ventured onto cruises to Russia, Jordan and along the Amazon River, relishing the opportunity for foreign travel and more wildlife experiences. He died on the 4 August 2022. His life-long commitment and interest in veterinary matters was inspirational. We extend our sympathy to Nigel, Helen and their families and to his friends.
Catherine Payne-Johnson BVSc (1977) FRCPath FRCVS