Egyptologist PhD graduate wins education award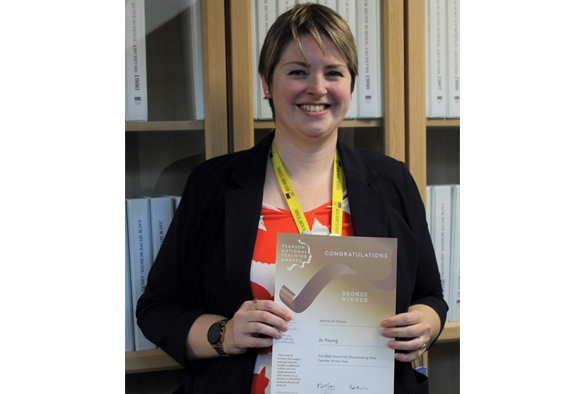 Liverpool graduate Dr Jo Young (PhD Egyptology 2009), has recently won a Pearson National Teaching Award for her outstanding contribution to teaching. The Awards recognise the exceptional work of teachers across the UK.
Jo was awarded the 2022 Bronze 'Outstanding New Teacher of the Year Award' only a year after she became an educator at a local school in Cambridgeshire.
After spending almost two decades working in archaeology, Jo made the transition into teaching through Now Teach, a charity helping late-stage career changers in England retrain as teachers.
On her training and her award, Jo said: "My journey into teaching has been filled with joy and terror in equal parts: joy at the satisfaction of supporting students through their education and terror that I would not be very good at teaching! This award adds to the joy side of the scale; I owe a huge amount to my school, my mentors and Now Teach who have been incredibly supportive and inspirational."
After graduating from the University with a PhD in Egyptology, Jo enjoyed a career in archaeology and digital learning. During this time, she founded HieroEducation, a UK digital Egyptology education platform and worked as a senior member of staff of the Egypt Exploration Society.
Reflecting on her time as a student at the University, Jo said: "I loved studying at Liverpool. Not only did I belong to a world-class department and have the privilege of being taught by some phenomenal people, I loved the city and felt entirely at home there throughout my degrees! Although Egyptology isn't the obvious degree choice for an English teacher, the quality of the linguistic programme at Liverpool has meant I have adapted well to teaching language analysis in English!"
For more on Jo's career and life, you can listen to her BBC Radio Cambridgeshire's 'Autobiography'.
On behalf of the whole University of Liverpool community, we send our congratulations to Jo for this excellent achievement.