Three generations of arts graduates in one family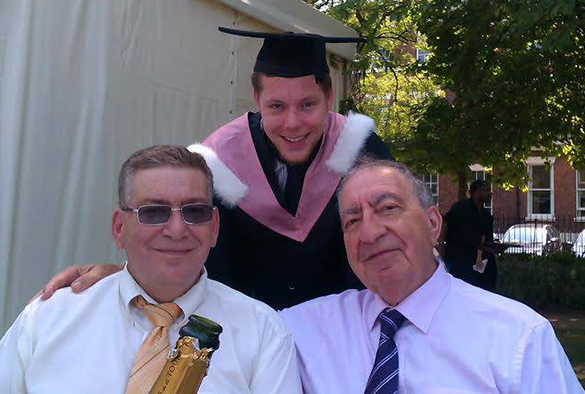 When Ian Miller graduated with a BA in English in 2013, he became the 3rd generation in his family to receive his degree from the University of Liverpool. He followed his father, Daniel and his grandfather, Franklyn who also graduated with an arts degree.
We spoke to proud father Daniel about his family's history and their experiences at Liverpool.
"My Dad was born in Liverpool in 1930 and after the war he returned to study for a Commerce degree based in the University's teaching facilities in Abercrombie Square. I understand that he achieved an Ordinary Degree (BA Commerce) in 1951. He later went on the own retail fashion businesses (my family had significant presence in Liverpool city centre for many years, including Bold Street). He retired in the mid-1990s and lived most of his life in the Wirral until passing away at 84 in 2014. Remarkably he used to say that Mathematics was the Religion of the Universe, and he lived for 1,010 months and 10 days (Binary 42... well, you know the rest).
"I was born in Liverpool in 1961 and was educated partly at Liverpool College (when we lived in Liverpool) - I also decided to choose Liverpool and took a Politics degree in 1979 (if you recall right in the midst of the Toxteth Riots). I graduated 2-2 in 1982 and subsequently joined the MoD becoming a Management Accountant before retiring to the Wirral more than a decade ago.
"My son, Ian, was born in Blackpool in 1987 and also chose to come to Liverpool making a hat trick of arts students in the family. He graduated in 2013 (improving on the pair of us with a 2-1) and going on to a varied career in which in which his literary skills are frequently to the fore.
"To date we have no grandson or granddaughter who might keep the tradition going (in 2044 perhaps!?)."
We love to hear about alumni success stories that run through generations of Liverpool graduates. Are you an alum with a story to tell? Get in touch: alumni@liverpool.ac.uk.