Progress your career with postgraduate study in January 2023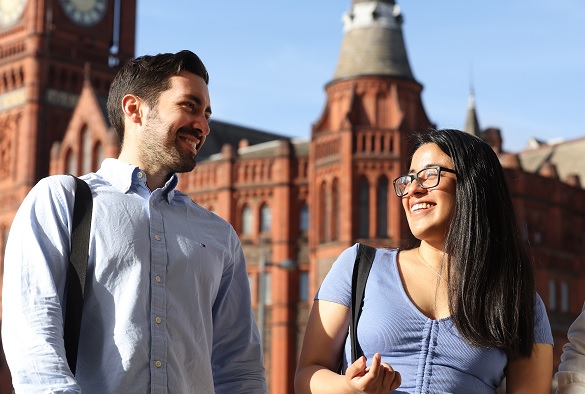 At the University of Liverpool, we recognise that big ambitions require world-class opportunities and our master's courses and continuing education courses offer you just that. Whether you're looking to take the next step in your current role, change career direction, or challenge yourself to explore a subject you're passionate about, there will be something for you. Read on for a preview of everything available to graduates for January 2023 entry.
New master's courses launching in January 2023
Clinical Anatomy with Education PGCert

The postgraduate certificate in Clinical Anatomy with Education provides detailed training in cutting edge clinical and pedagogical applications of anatomy. Delivered part-time over 8 months, each semester consists of 11 online weeks and 1 compulsory on-campus week. The programme is aimed at individuals from an anatomical or clinical background who have or are seeking a role with educational delivery or educational leadership responsibilities. Find out more.
Orthoptics (Pre-registration) MSc

One of just two master's programmes of its kind in the UK, with this two-year accelerated MSc programme you could qualify and start working as an Orthoptist in just 24 months. An Orthoptist diagnoses and treats a wide range of patients from infants to older adults presenting with disorders of vision and/or eye movements. While a scientific background or clinical experience is advantageous, the programme welcomes applications from graduates holding a minimum of a 2:2 classification from a range of disciplines. Find out more.
Please note that these new programmes are still in development and are subject to change, as well as University approval.


January start programmes 2023
In addition to the new programmes, several other courses remain open for a January 2023 start in Engineering, Medicine and Health Sciences subjects. This includes a number of pre-registration courses which provide the knowledge and experience you'll need to become a qualified practitioner in that field. These vocational programmes have been developed in response to skill shortage areas within the National Health Service, and as such it is highly likely that a job will be available upon qualification. You can find the full list of January start courses here.
As a graduate of the University of Liverpool, you may be eligible for the Postgraduate Progression Award, the Postgraduate Opportunity Bursary or the ULMS Progress to Postgraduate Award. Find out more about each of the Postgraduate Progression Awards available to you here.
Whether you're already considering master's study or haven't thought about your next steps yet, visit our website to find out to find out about all of the postgraduate courses available at the University of Liverpool. Alternatively, if you are interested in postgraduate research, you can find out more about studying a PhD at Liverpool on our postgraduate research page.


Continuing Education at Liverpool
The University of Liverpool has offered continuing education opportunities to its local and wider community for more than 100 years. The Continuing Education offer is open to all; whether studying for credit or for the sheer pleasure of learning, with no specific entrance qualifications required.
The programme covers a diverse range of subjects, and University of Liverpool alumni are eligible to a discounted fee for many of these courses, with a wide range of free events, lectures and courses also available. When choosing to book a course on the Continuing Education programme, alumni of the University can refer to the price marked as the 'Reduced Fee'.
To find out more about the Continuing Education courses, lectures and events available, please visit their website.
We've been welcoming ambitious postgraduate students for more than 140 years – helping them to build brighter futures, with postgrad programmes specifically geared towards professional aspirations. Find your place among them and start your journey to success. We would love to welcome you back.