Alumnus Dr Mark Christian receives prestigious RUSA award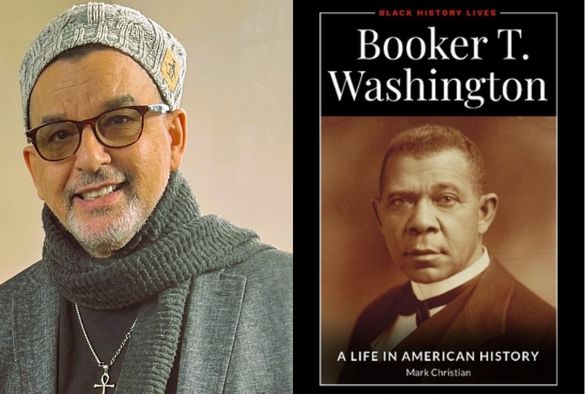 Alumnus Dr Mark Christian (BA American Studies and Sociology 1992) has won a 2022 RUSA Award for Outstanding Reference for his biography of Booker T. Washington, published in 2021.
The book, Booker T Washington: A Life in American History, received an award from the Reference and User Services Association division of the American Library Association for outstanding reference publications published in 2021 for small and medium-sized public and academic libraries.
Established in 1958, the titles selected by the Outstanding References Sources Committee come with a strong recommendation to be included in a library's reference collection. The awards are considered to be one of, if not, the highest awards honouring academic reference books or other media.
Considered an integral figure in mid-19th to early-20th century America, Booker T Washington survived enslavement and poverty to rise to a position among the Black elite. In his biography, Dr Christian highlights his contributions to the African and African American experience with a focus on his support of higher education for Black students.
After graduating from the University of Liverpool with a combined honours in Sociology and American Studies in 1992, Dr Christian now works as a Professor in the Department of Africana Studies at the City University of New York. In addition to his biography of Booker T Washington, Dr Christian has published, The 20th Century Civil Rights Movement: An Africana Studies Perspective (2021) and is currently working on a new book, Transatlantic Liverpool: Shades of the Black Atlantic, set to be published in October 2022.
Written within the perspective of Africana critical studies, this book presents a transatlantic voyage and the depths of historical Black experience in Liverpool, England. On Dr Christian's new book, Dr Molefi Kete Asante, distinguished professor at Temple University, said: "Using the backdrop of his ancestry as the tapestry of color, rhythm, and dance on which he placed the abiding issue of white racial supremacy, Christian makes the pitch for a more human and a more humane construction of culture. Mark Christian has asserted his dominance in the field of race and culture in Britain, with implications for the rest of the world."
On behalf of the University of Liverpool, we wish Dr Christian the best of luck with his upcoming publication. You can find out more and order Dr Christian's award-winning book about the life and legacy of Booker T. Washington here.