ULVAA picks 2022 Final Year Student Award winner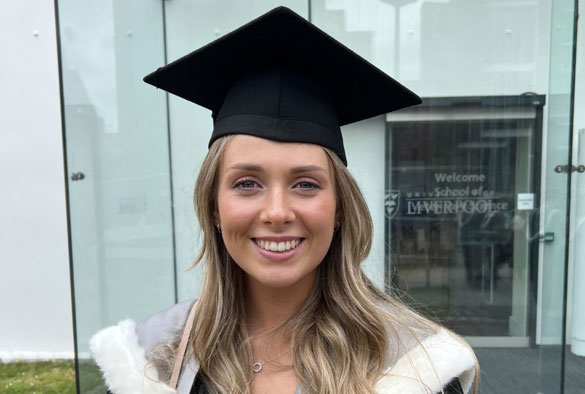 This year the University of Liverpool Veterinary Alumni Association Final Year Student Award was awarded to Sophie Marsden (BVSc 2022).
The award, launched in 2018, is intended to recognise the outstanding contribution made by a final year student to life at the School of Veterinary Science in Liverpool. This might be by providing help and support to fellow undergraduates; for example, through participating in student politics and organisation of events that benefit the students.
Sophie was nominated for this award by her fellow students. During her time at vet school Sophie served as second year representative, Vice-President of LUVS, President of LUVS (a position that she was elected to without contest) and played on the Vet Ladies Rugby team.
As second year rep, it was noted that Sophie worked tirelessly to get to know the individuals in her year and would always work to understand and help with any stress, worry or queries her peers had. This was all balanced with her role as social secretary for the rugby team, as Sophie was a firm believer in promoting the physical and mental health benefits of sport. Once Sophie became Vice-President, she began campaigning further to raise mental health awareness, to bring pre-clinical and clinical students together more often, and to expand the diversity of the different sub-societies.
Sophie's term as LUVS President was impacted by the pandemic, yet she only sought to consider what changes she could make to help support her peers through the unprecedented times. Sophie was instrumental in the implementation of "Buddy Families", a revamp of the Buddy System where a student from each year was grouped together to form "families of students".
What is clear throughout the nomination written by her peers is that Sophie always has time for her veterinary community, never forgetting to bring a cake for your birthday, ensuring social events had themes that would be enjoyed by all, and always having time for a chat over a cup of tea. Her nominators said, "We are so grateful for Sophie and the impact she has had on our time at Vet school and hope we can all carry forward the kindness she promotes into our veterinary careers."
On receiving the award Sophie said: "Receiving the ULVAA Final Year Student Award after graduating and being sworn in as MRCVS certainly made for one of the happiest and proudest days of my life. I feel honoured that my peers so thoughtfully recognised the time and effort I put in during my time at vet school to improve the experience of those around me.
"Liverpool Vet School has given me so many fantastic opportunities, and there have been many challenges along the way, most notably the pandemic, but I have thoroughly enjoyed my time here. To current and future students at the vet school, I encourage you to throw yourself into every aspect of university life. Being involved in LUVS, the sub-societies and sports teams were what enriched my experience and made the long hours in lecture theatres and practical classes even more worthwhile – the saying 'work hard, play harder' has certainly guided my journey to this point!
"I could not have achieved any of my success without the support of friends, family, vet school staff, fellow students, and the fantastic LUVS committee members and other organisations I have worked with over the years. I hope that despite my time at the University of Liverpool being over, the relationships I have formed will continue to grow and strengthen for years to come. Moving on from here, I am excited to start out in mixed practice in Yorkshire, whilst continuing to champion mental and physical wellbeing, diversity, and sustainability in a profession I am thrilled to be a part of.
"Congratulations Class of 2022, all the hard work paid off!"
The Veterinary Alumni Association is proud to recognise Sophie's valuable contributions, Sophie has had a hugely positive impact on the vet school and should be an inspiration to the rest of the student body. We look forward to receiving nominations in future years. Congratulations to the Class of 2022!