Veterinary alumni Class Notes, Summer 2022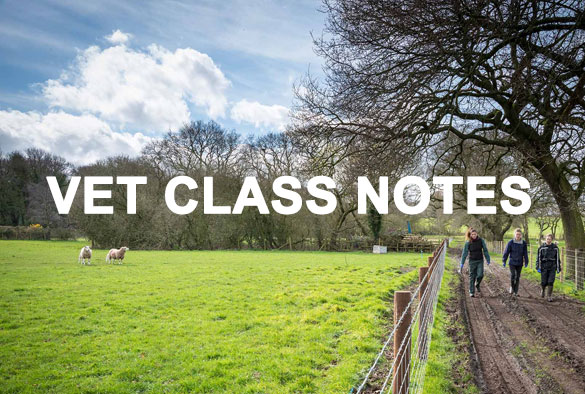 Ron Jones's Prize in Veterinary Anaesthesia goes to three joint winners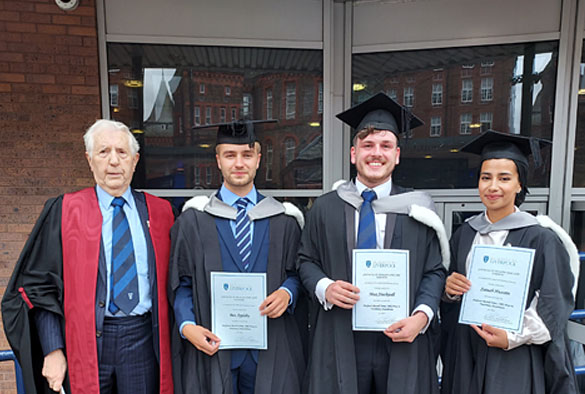 Last academic year Emeritus Professor Ron Jones, FRCVS OBE (BVSc 1960) made a generous donation to the University to set up a new prize for graduating vets: The Professor Ronald Jones, OBE Prize in Veterinary Anaesthesia, to be awarded to the final year student who has shown the best overall performance in Veterinary Anaesthesia. With three anaesthesia electives this year there were three truly outstanding candidates, so the prize was awarded to all of them. The School of Veterinary Sciences was delighted that Ron was able to attend the MRCVS swearing in ceremony in July to present the prize to the three graduates: Zainab Hussain, Ben Appleby and Max Stockwell.
Many congratulations to the three winners and a big thank you from staff and alumni to Ron for his support!
Egg-cellent work…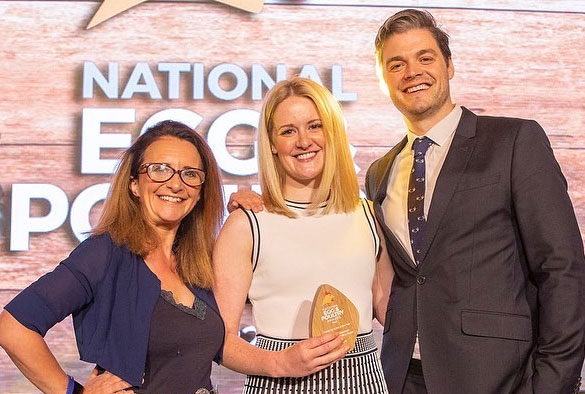 Charlotte Norman (BVSc 2019) has been awarded Young Farm Vet of the Year at the National Egg and Poultry Awards 2022. The award is sponsored by Zoetis and recognises that the relationship between a vet and a poultry producer has never been more crucial and emphasises the importance of attracting graduate vets to the industry. Charlotte said of winning the award: "A huge thank you to everyone at St David's Poultry Team and also to my clients for their ongoing support and teamwork".
Jasmin's latest "Fun Run"
Jasmin Paris (BVSc 2008), has done it again becoming the first woman in nine years to complete three loops at the Barkley Marathons. The Barkley Marathons is an ultramarathon trail race held each year in Tennessee. The course consists of five laps of an approximately 20-mile loop; the route is unmarked and so runners must navigate themselves using a map and watch with compass. Jasmin completed three loops (known as a "Fun Run") in 39 hours 49 minutes and 56 seconds!
Alumna becomes professional wildlife artist
Dr Pete Marshall nee Walton (BVSc 1966) after a busy veterinary life has changed horse to become a professional artist specialising in wildlife and environmental subjects. Pete has travelled the world to wild places and conservation projects, researching material for her art. She has been invited to the Board of The Atherton Tablelands Foundation, with the brief to develop a project entitled The Rainmaker Exhibition, featuring works by internationally and nationally acclaimed artists bringing to focus the amazing and little recognised significance, diversity and ecological importance, of the region. Pete is passionate that recognition and preservation in these uncertain days of climate change will secure a unique biodiversity bank of vital ecological value for future generations.
Former PhD student wins Humane Slaughter Association Award
Dr Carmen Gallo (PhD 1986) was awarded the Humane Slaughter Award 2021. This award recognises the contributions of individuals or organisations to major scientific advances in the welfare of livestock during transport, marketing and slaughter, or killing for disease control. Dr Gallo was presented with this award in recognition of her contribution to livestock welfare in Chile and Latin America. Carmen completed her PhD at the University of Liverpool following the establishment of a link between the University of Liverpool and the Veterinary Faculty at Universidad Austral de Chile. Her published work includes more than 100 articles directly related to animal welfare during transport, marketing and slaughter, and she founded the Animal Welfare Programme at the Universidad Austral de Chile.
Have you got an update you would like to share with your fellow alumni? Fill in the online form or send your updates to ulvaa@liverpool.ac.uk.