Liverpool alumnus Fragkoulis Kanavaris named Young Engineer of the Year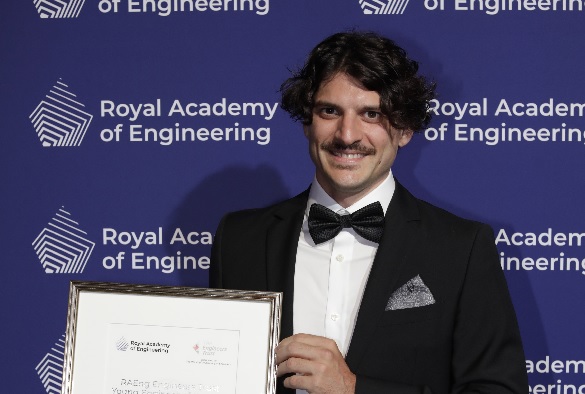 Liverpool graduate Dr Fragkoulis Kanavaris (MEng Civil and Structural Engineering 2013) has been named as Young Engineer of the Year by the Royal Academy of Engineering. The Academy makes five awards each year to UK engineers who have demonstrated excellence in the early stage of their career.
Specialising in concrete decarbonisation, durability, cracking and technology, Fragkoulis has worked on a variety of high-profile projects worldwide including Heathrow Airport and the Sagrada Familia in Barcelona. Through his pioneering methods to make construction greener, Fragkoulis is helping to reduce construction-related pollutants, delivering huge carbon savings for clients and finding ways to reduce waste.
Now working at Arup as their concrete materials specialist, he is currently leading on the High Speed 2 rail network. His work on HS2 has reduced the volume of cement send to landfill by about 30% and cut the proportion of Portland cement used by up to 70%.
On what it means to him to have been named Young Engineer of the Year by the Royal Academy of Engineering, Fragkoulis said: "It is a fantastic and simultaneously humbling recognition from the Royal Academy of Engineering that accentuates the importance of early-career engineers and scientists being ambitious, creative and ultimately, influential towards a sustainable development of our natural and built environment."
Fragkoulis added: "My time at the University of Liverpool was instrumental in me pursuing a creative and aspiring career in engineering. Completing an MEng degree in Civil and Structural Engineering, equipped me with engineering and research skills and introduced me to inspiring academics and colleagues with whom I continue to collaborate even 10 years after graduating from the university."
On behalf of the whole University of Liverpool community, we send our congratulations to Fragkoulis for this excellent achievement and look forward to seeing the results of his pioneering work in the future.