In Memoriam: John Lynton Price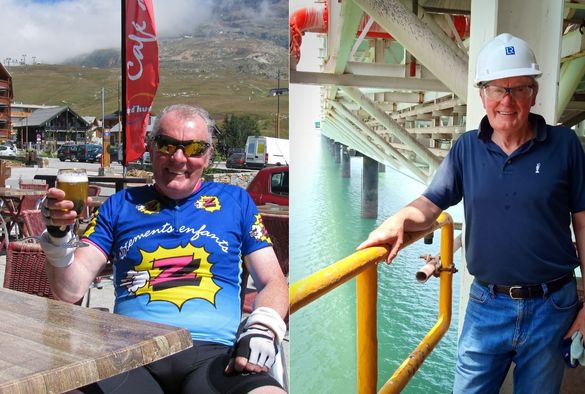 The University of Liverpool was saddened to learn of the passing of alumnus John Lynton Price (BEng 1970, MEng 1972), who passed away in June 2022.
Friend, John Harper details John's life and career based on contributions from many of his friends:
"John was born in Connahs Quay, North Wales, and grew up in Prestatyn with his Mum and Dad, and sister, Elizabeth. He attended St Asaph Grammar School where he was Head Boy, and in 1967 attended the University of Liverpool to study for a BEng in Civil Engineering. After gaining a First, John stayed on at the University to study for an MEng in Civil Engineering.
On completing his MEng in 1972, John moved to London to work for Wimpey Laboratories Limited. He was responsible for supervising and reporting on onshore and offshore site investigations as well as developing in-house computer software for geotechnical analyses.
In 1978, John joined the Offshore Engineering Division of Lloyd's Register of Shipping in London as a Senior Soil Mechanics Engineer where he happily stayed until 2002. Over that period, his knowledge and expertise took him all over the World, including Abu Dhabi, Australia, Brazil, Canada, China, Denmark, France, the Gabon, India, Italy, Iran, Libya, the Netherlands, Nigeria, and the UK.
Over this period, John was responsible for:
Foundation design appraisal of offshore structures including steel monopods, steel jacket and steel and concrete gravity base platforms, jack-up rigs, articulated loading columns, pipelines and anchor points for floating production and loading facilities,
Foundation design appraisal of Liquefied Natural Gas tanks, ship repair yard and jetty and linkspans,
The development of in-house computer software for foundation analyses
Acting as surveyor for Lloyd's Register on the offshore installation of the foundations for many piled steel jackets and mooring systems for floating units, and
Attending field-testing of laterally loaded bored piles, drag anchors, and suction installed anchors.
From 2003 to his last year, John worked as an independent geotechnical and civil engineering consultant for such companies as Lloyd's Register Inspection Limited and ISIS Energy Limited. This took him to new countries such as Norway and Azerbaijan.
His colleagues, who also became his friends, also recognised and acknowledged his so many fine qualities – his intelligence, knowledge, modesty, professionalism, and unselfishness.
However, John was not all work and no play. He was a staunch fan of Welsh rugby and football, were-ever he was. He would have loved to have cheered-on Wales in the forthcoming 2022 World Cup. As a Brentford FC season ticket holder, John was not well enough to see them play in the Premiership and FA Cup this year at Everton, another team that John supported. John was particularly talented at golf, tennis and squash, and competed strongly but always in a relaxed style and with a smile. Just ask one of his many tired friends who played against him!
In later life, John developed a passion for cycling and in 2016 decided to take part in a charity ride from London to Paris. It arrived in Paris the day before the Tour de France finished on the Champs-Elysees. John also went on a number of rides up some of the Mountain stages of the Tour de France.
As an alumnus, John kept supporting the University to the end. In fact his legacy lives on in The Tung Auditorium in the recently opened Yoko Ono Lennon Centre where he has sponsored two seats.
Above all, John was a real gentleman, and a very generous person, we shall all miss him."