Following in the footsteps: 70 years on for granddaughter and grandfather graduates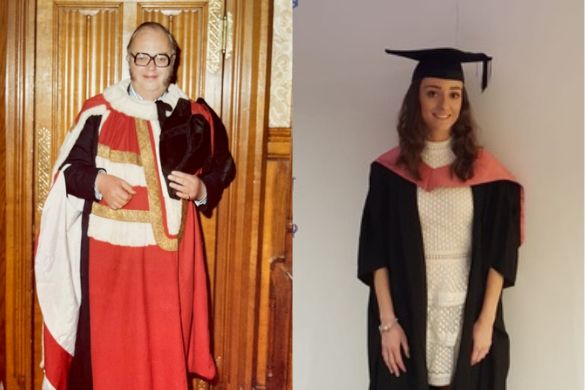 Alumnus Lord Gruff Evans of Claughton graduated with an LLB in Law in 1948 before going onto a successful career in politics. 70 years later, his granddaughter Lucy Johnson (MA Media Communication and Politics 2018) followed in his footsteps to graduate from the University of Liverpool, and begin her own career in politics. We spoke to Lucy about what it means to her to take after him all those years on.
"After graduating with an LLB in Law in 1948, my Grandfather was first elected as a local Councillor on Birkenhead County Borough Council in 1957, won a seat on Wirral Borough Council in 1973, and again on Merseyside Council in 1977 as Leader of the Liberal Group. As an active member of the Liberal Party, he rose up in the Party ranks to the position of Party President in 1977. In 1978 he was lucky enough to be made a Life Peer and took his seat in the House of Lords as Lord Evans of Claughton.
After graduating, I secured an internship with Tim Farron MP and the Westmorland and Lonsdale Liberal Democrats as the Youth and Campaigns Assistant. After a great 10 months in the role, my contract was extended, and I became part of the team (taking on the role of the MP's aide) who successfully kept the only Liberal Democrat seat in the North West of England in the 2019 snap General Election with an increased vote share.
I chose to study an MA in Media, Communication and Politics at the University of Liverpool as I had always been interested in the way in which the output from different media outlets affect the way we think politically. In particular, I find the relationship between women in politics and the media fascinating. This was the perfect course to allow me to delve deeper into subjects I am passionate about, and also enabled me to move back home to the Wirral while continuing to study at a top university.
Fast forward to 2022 and I am now back on the Wirral and work at Edge Hill University in the role of Student Communications Officer, while also working in local politics in a voluntary capacity. I'm really proud to be following in my Grandfather's footsteps as a University of Liverpool graduate and local politician. I might not have made it to Parliament yet, but I did stand as the Liberal Democrat candidate for Heswall and Gayton in the 2022 Local Elections, coming within 299 votes of overturning one of the largest Conservative majorities in Wirral with a 27% swing."
We love to hear about alumni success stories that run through generations of Liverpool graduates, and wish Lucy the very best of luck with her career! Are you an alum with a story to tell? Get in touch: alumni@liverpool.ac.uk