Student achievements to shout about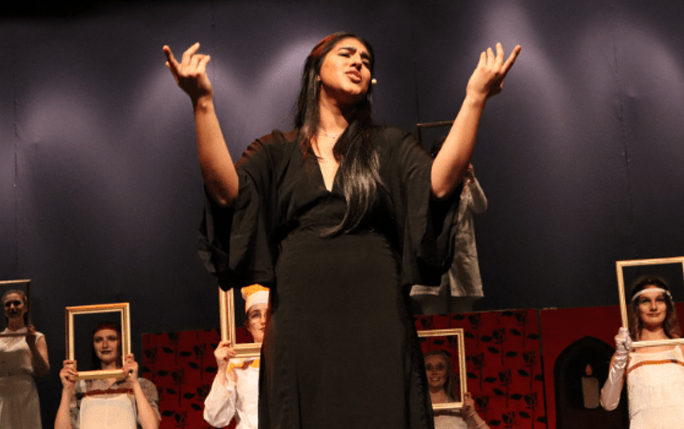 Liverpool Student Doctors have been excelling on and off campus in their extra-curricular, sporting and fundraising activities, as they wholeheartedly embrace a welcome return to in-person events.
One of the things our students most cherish about being a part of such a vibrant School community, is how much they are encouraged to pursue their interests and passions outside of medicine – and the vast range of opportunities available to them to do so.
Jazz hands!
The School's performing arts society Artefacts jumped back into face-to-face rehearsals with both feet and were thrilled to show off the fruits of their labours in a spectacular variety show at Mountford Hall
Artefacts Co-President Student Doctor Lily Jones said, "We have enjoyed welcoming talented first and second year students to our Artefacts family and for the Artefacts veterans who were members pre-pandemic, it's felt great to be together again, like nothing's changed. Our Annual Variety Show showcased our hard work from semester one to our friends and family. It was lovely to see so many of our wonderful alumni back in Liverpool supporting us too!"
The hard work continued and culminated in three knockout performances of The Addams Family Musical this spring, with an original score and a winning combination of talented actors, musicians and dancers.
Artefacts also played a huge role in a glitzy LMSS fundraising event at St George's Hall, which raised over £4000 for local charities Claire House and Wirral Mind. The Strictly Come Dancing evening saw six couples compete to be crowned the School's Strictly Champions.
Dean of the School, Professor Scott, was amongst the esteemed panel of judges on the night. She said, "This was my highlight of the month! A brilliant celebration of the energy, teamwork, courage, altruism and skill that Liverpool student doctors are renowned for."
Students have taken up many opportunities to raise money for causes close to their heart. Year One Student Rob Harris is preparing for the 2022 London Marathon, which he will run to raise funds for life-saving blood cancer charity Anthony Nolan, after donating 4.72 million stem cells to a patient living with blood cancer at the age of seventeen.
Rob said, "As blood cancer is the fifth most common cancer in the UK and most common childhood cancer, running a marathon allows me to put my enjoyment for running together with raising as much money as possible for a cause I am passionate about."
Alice Fortune has set herself the challenge of running a marathon in every city in England, all in aid of the Young Minds Trust.
Alice said, "This brilliant charity is campaigning to ensure that every young person in the UK gets the mental health support they need, when they need it, and to stop young their mental health reaching a crisis point. I've experienced myself how running can work absolute wonders for your mental health and am a huge advocate for encouraging others to experience this too."
International call up
Moving over to sports, Year One Student Doctor Matthew Deehan was thrilled to receive his first call-up for the Scotland rugby team to take part in the Under 20 Six Nations tournament this February.
Matt said, "It was a proud feeling being called up into the squad as it's the culmination of a lot of hard work over several years."
Student Doctor and Triple Jumper Emily Gargan won silver at the British Athletics Championships in Birmingham in March, ranking an impressive 3rd in Britain for 2022.
Oliver Wisbey and Jack Lockett are currently training intensely ahead of the Henley Royal Regatta, where they hope to represent the University of Liverpool in the world-renowned race along the River Thames.
Oliver Wisbey says, "I got into rowing at my local club while I was at school to stay fit, but it has become so much more important to me at university, with having the privilege of representing the University at a domestic level. Even more important however is how beneficial rowing has been for my wellbeing. It gives me an escape from work, giving my brain time away from medicine and helping me to destress."
Three of our student doctors represented the University at the BUCS Spring Triathlon, the first time the University of Liverpool has ever attended a BUCS triathlon competition. Mary Caddick, in Year Three, also noted the benefits the sport has brought to her mental, as well as physical, wellbeing.
"Competing at the BUCS Spring Triathlon is the proudest I have been in my life. I joined the Triathlon Society expecting it to be purely to improve speed, endurance, and skills. These were not the reasons why this sport has become so special for me and a handful of other medics. It provides a perfect escape to spend time socially doing different sports you love or want to develop."
Furry friends
Supporting our students' wellbeing is a key focus of the School and has never been more so than throughout the pandemic. Wellbeing services adapted to continue to offer support, with Wellbeing appointments operating at extended hours by phone and over Zoom.
This May, The School Wellbeing Team partnered with student society LivPsych to host a Wellbeing Wonderland event at Cedar House, featuring de-stress workshops, mindfulness sessions and crafty drop-ins. There were also dogs! Both VR and real (provided by Therapy Dogs Nationwide) which the students were delighted to interact with.
Director of MBChB Wellbeing Service Alison Threlfall said, "It was lovely to see so many students enjoying the activities and the food, and especially the live music by Artefacts, which created such a chilled atmosphere. It was a great way to get together, acknowledge the stress students feel at exam time, and promote how we can support each other."
As our students approach their end of year assessments and the last few weeks of term, we are already looking forward to seeing what the next academic year has in store!