Prestigious Polar Medal awarded to University of Liverpool alumnus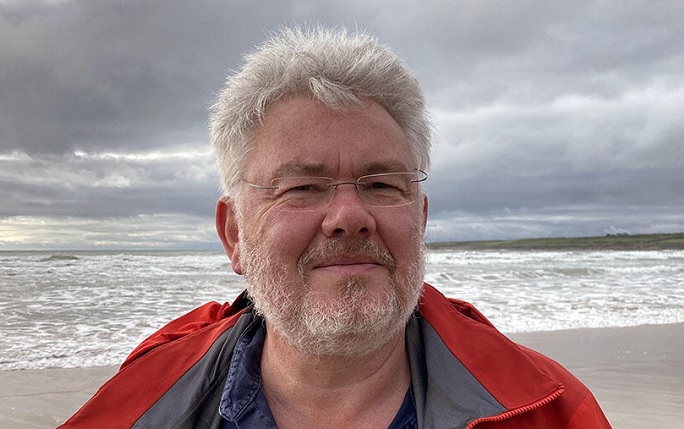 Earlier this year, University of Liverpool alumnus Professor David N Thomas (BSc Environmental Biology 1984; PhD Botany 1988) was awarded the Polar Medal by HM The Queen. The award was announced in The London Gazette on 28 January 2022.
The Polar Medal may by conferred on citizens of the United Kingdom of Great Britain and Northern Ireland who have personally made conspicuous contributions to the knowledge of Polar regions or who have rendered prolonged service of outstanding quality in support of acquisition of such knowledge.
This award is a recognition of David's research and leadership in both the Arctic and Antarctic, in which he has done much to enhance our understanding about the ecology and chemistry of the frozen realms of floating sea ice that dominate both the Antarctic and Arctic Oceans.
This latest award follows that in 2020 by The Government of the British Antarctic Territory who named an Antarctic glacier, Thomas Glacier (Palmer Land, Antarctic Peninsula), in recognition of the Antarctic aspects of his work.
After completing his PhD at the University of Liverpool, David started his polar research in the early 1990s at the Alfred Wegener Institute in Bremerhaven. Much of his field research took place in the 24 years David held various academic posts at Bangor University (1996 to 2020). In 2020 he moved to the University of Helsinki where he continues his Arctic Research as the Professor of Arctic Ecosystems Research.
In recent years David has helped lead two major UK research programmes for the Natural Environment Research Council (NERC). Both investigated the major environmental changes taking place in the Arctic resulting from climate change: The £15million Arctic Research Programme (2010-2016) and the £20million Changing Arctic Ocean Programme (2015-2021). The latter was in collaboration with the German Federal Ministry of Education and Research (BMBF).
Professor Claire Mahaffey, Professor of Ocean Science in the Department of Earth, Ocean and Ecological Sciences said: "I had the pleasure to attend David's lectures on Arctic Biology as an undergraduate student at Bangor University in the 1990s and more recently to experience his exceptional leadership through the NERC Changing Arctic Ocean Programme. David is a force to be reckoned with when it comes to polar science. I, alongside those who have been taught by or worked alongside David, were thrilled he was awarded the Polar Medal. So very well deserved."
The University of Liverpool congratulates Professor Thomas for this impressive and worthy recognition, and wishes him every success with his upcoming research on this vital theme.