From lockdown dream to rugby league team: Meet the Liverpool Lizards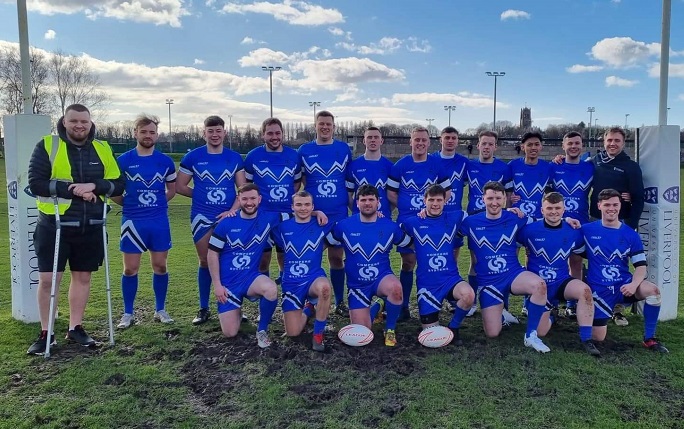 A new rugby league team has been created by a group of University of Liverpool graduates who wanted to get back to playing together regularly after graduation whilst helping to give current students at the University some more game time.
The team, known as the 'Liverpool Lizards', started playing in February 2022 after alumnus Stephen Fenney (MEng Computer Science & Electronical Engineering 2019) and his fellow graduates Angus Parkin (BA Architecture 2019), William Spencer (BEng Avionic Systems 2019) and Benjamin Mordey (MA History 2017) came up with the idea during lockdown. The group discussed not being able to play rugby league during the restrictions and thought that it would be a great opportunity to play with each other again once it was safe to do so.
With the help of staff at the University of Liverpool, the Liverpool Lizards now find themselves playing in the North West Men's Division 3 against teams across the region. The squad, which already has 35 members, is made up of 18 graduates, with the rest of the team made up by current students who are looking for game time as an aside from the University's main teams who play on a Wednesday. This allows graduates to play together again and to also give students the extra opportunity to help develop their games against different teams and abilities.
The team recently had their first couple of games, and although they narrowly lost their first two, Stephen and the team are confident they will become successful very soon. The team are coached by Stephen's father, Graham, who is also a graduate (BA Combined Honours 2006) of the University of Liverpool. Graham coached the University of Liverpool first team during Stephen's time at University and continues to do so today, combining this with coaching the brand-new Liverpool Lizards side. This allows both squads to train on a Monday evening, ensuring sessions are always well attended and competitive.
On setting up the team, Stephen said: "It started out as a bit of a joke between me and my mates during lockdown when no one was playing. However, we quickly realised it was fairly easy to set up a side and we wanted to give it a go to get back playing together, as well as helping to develop the current students' games. It's great to be back playing with familiar faces as well as some new ones."
"When I was playing as a student, my Dad ended up helping out with coaching one year and we went unbeaten, so he kind of had to stay and still coaches the University team as well as our new team. We've had great numbers attending training for such a new team and our inaugural social event was also really well attended, which was one of the main reasons for establishing the team. Staff at the University were helpful in helping establishing the team and were able to help secure our home ground at Wyncote. Most players are local graduates or current students but if there are any graduates returning to Liverpool looking for a game, please get in touch as we're always keen to welcome new players."
Stephen and his new team mates are hoping to emulate the recent success of the University of Liverpool first team, which during Stephen's time went unbeaten for two seasons, making it to the premier division of the University national league in the process. Stephen commented: "We had lots of fantastic moments during our time at University; beating Liverpool John Moores University in the last game of the season in a winner takes all game was probably the stand out moment. Both teams were unbeaten going into the last game so to beat our local rivals and go up as champions in the process was special. That success was another reason to start this new team, there is nothing better than winning games of rugby with your mates alongside you."
The Liverpool Lizards, who will be playing every Saturday with home games at Wyncote, will play 14 games in total, playing each team in the league twice. The top four will progress to the semi-finals with the two winning sides competing in a grand final in October to determine promotion. The team have also entered the NWML Trophy cup competition.
The University of Liverpool wish the Liverpool Lizards team the best of luck in their first season and beyond. You can check on their progress via their twitter account @lizards_rlfc and contact alumni@liverpool.ac.uk to enquire further about the team.