Artworks by Liverpool alumni to be auctioned in aid of local children's charity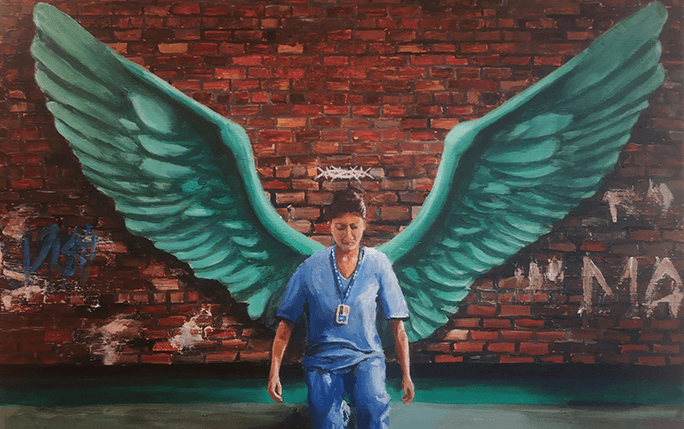 Local street artist and University of Liverpool alumnus Paul Curtis (BSc Hons Geology & Physical Geography 2000) and honorary graduates Yoko Ono Lennon (Hon LLD 2001) and Willy Russell (Hon LittD 1990) have all donated pieces to be auctioned in aid of Alder Hey Children's Charity later this month.
The Brighter Futures exhibition and online auction takes place at the Merseyside Maritime Museum on 12 & 13 March, and marks Alder Hey's first ever art event. It is open to the public and free to attend.
Paul Curtis, whose work Strength, Hope and Recovery was commissioned for the cover of the University's Alumni magazine last year, created his work in response to the COVID-19 pandemic.
Asked what inspired him to create his piece, Paul said: "The painting tries to sum up 2020. In the painting, the nurse represents those heroes. She is kneeling (a reference to another strong image from 2020, the Black Lives Matter movement), head bowed but undoubtedly in a posture of strength rather than defeat."
Paul explains, "I tried to position her so that she appears as though she is ready to take off. The wings have broken free of the wall [which] is symbolic of lockdown, and are now part of her. Together they represent recovery and hope."
More than 120 items will be displayed in the exhibition including I Love You Earth, a limited-edition screen print by artist and long-standing supporter of the University, Yoko Ono Lennon. This month also sees the official opening of the Yoko Ono Lennon Centre in the city.
Funds raised through the auction will supporter Alder Hey's 7 in 10 Children's Mental Health Appeal, which provides bespoke facilities to deliver care and mental health support for children and young people.
More details, including full auction catalogue, are available here: https://live.adampartridge.co.uk/m/view-auctions/catalog/id/290