Alumna Nicola Deeley's 2,215km challenge for Fibrous Dysplasia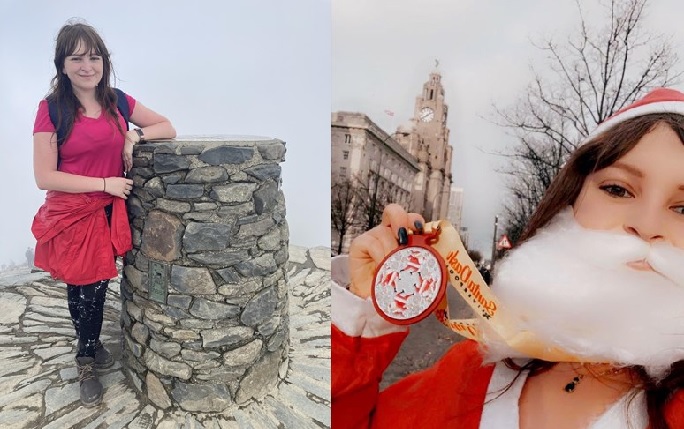 University of Liverpool graduate, Nicola Deeley (MChem in Medicinal Chemistry with Pharmacology 2019), has been raising money for the Fibrous Dysplasia Foundation through various physical challenges. Throughout 2021 she completed 2,215 kilometres (1,376 miles) through walking, running, and hiking, which equates to 10 kilometres for every person estimated to be affected by Fibrous Dysplasia in the UK.
Fibrous Dysplasia is a rare bone disease which causes tumours to grow in place of bone and is estimated to occur in 1 out of every 300,000-1,000,000 people. It prevents bone maturing into a solid state, leaving it in a weak, misshapen fibrous stage which is prone to fractures. The illness is exceptionally painful and sadly there is no cure.
Nicola said: "I first became noticeably ill when I was 13 years old. It took three years to find out the cause of my pain and when I was 16 I was diagnosed with Fibrous Dysplasia in my skull. It subsequently took four more years until I had any attempt of treatment for the condition as many doctors have never heard of the illness and don't understand the condition."
"The past 11 years have been difficult with constant pain every single day, including chronic migraines. The impact of the pandemic means that doctors' appointments have often been cancelled or rearranged and certain treatment options have been withdrawn due to the NHS being over-stretched, so the need for awareness and research funding is more critical than ever."
The FD/MAS Alliance (Fibrous Dysplasia Foundation) work to raise awareness and fund research into treatments and cures. To raise money for them, Nicola has climbed the three largest peaks in England, Wales and Scotland (Scafell, Snowdon and Ben Nevis), climbed an active volcano (Fagradalsfjall), and run multiple races including the Manchester Half Marathon, the Liverpool Santa Dash, the Chase the Sun Tatton 10K and a Grinch 5K in West Kirkby.
Nicola will be concluding her fundraising on the 28 February 2022 to mark Rare Disease Day. With such a rare disease such as Fibrous Dysplasia there is no cure and little financial support for research so every single donation helps: https://www.justgiving.com/crowdfunding/nikki-deeley1
From all of us here at the University of Liverpool, we wish Nicola the very best of luck in completing her impressive and inspirational challenge over the next few weeks. You can find out more about Nicola's activities on her Instagram page @chronicallynikki where she is raising awareness of this condition. To show your support, visit Nicola's fundraising page: https://www.justgiving.com/crowdfunding/nikki-deeley1