Alumni memories: 'My life in music' by Diane Roome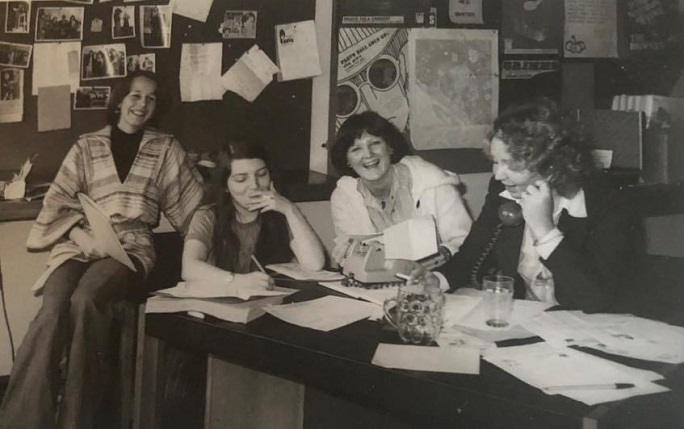 Our University days are full of some of the greatest achievements and most treasured memories of our lifetimes. In the next of our 'Alumni Memories' series, alumna Diane Roome (Combined Honours 1977) shares her memories of arriving in the musical metropolis of Liverpool in 1973 and all of the experiences student life brought with it.
"When I went up to Liverpool in October 1973, my experience of live music was limited to a couple of concerts – Thin Lizzy and Stevie Wonder. I also went to the inaugural Buxton festival, but can't even remember who was supposed to play; the weather was terrible and we rang my Dad to fetch us home!
So, armed with no experience whatsoever, I got involved with social secretary duties at Carnatic. First, I became social sec for Dale Hall. The job wasn't just about music, more organisation and marketing. John Howarth was the Carnatic Social Sec then, and I learnt so much from him.
It was my first experience of mentoring, and he taught me an awful lot about booking bands, and looking after them. I was entering a world of music agents, contracts and riders, sound systems, roadies, bands, promotion and marketing and ticket sales. Health and safety, fire regs, managing people and managing budgets, the list was endless.
I took over as Carnatic Social Sec from John a year later. This involved a vote and hustings in the bar – yet another new experience! My greatest triumph at Carnatic was the 1974 Christmas Formal, when the bands were The Troggs, The Bay City Rollers (at number 6 in the charts that week), and the DJ was John Peel.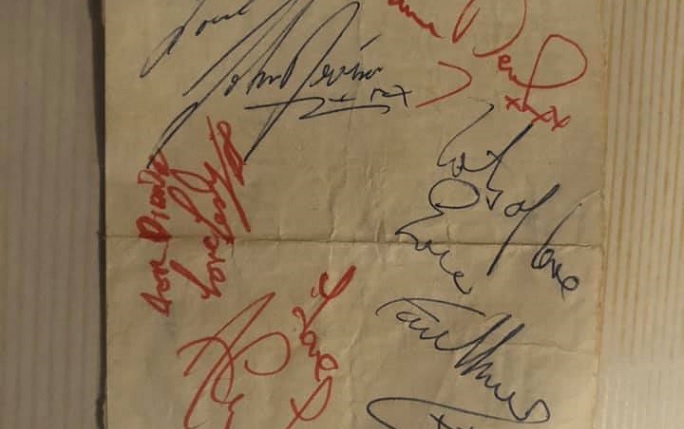 Autographs addressed to Diane from the Bay City Rollers
It was a fantastic night, but I had to ask my mate Paul Britton to don his penguin suit and be doorman for the night. We ran the risk of being overrun by teeny boppers when word got out the bands were at Carnatic!
Later, as Panto Social Sec, Deaf School and Alan Price headlined at Panto Ball. We also featured the Wild Angels and Blackfoot Sue.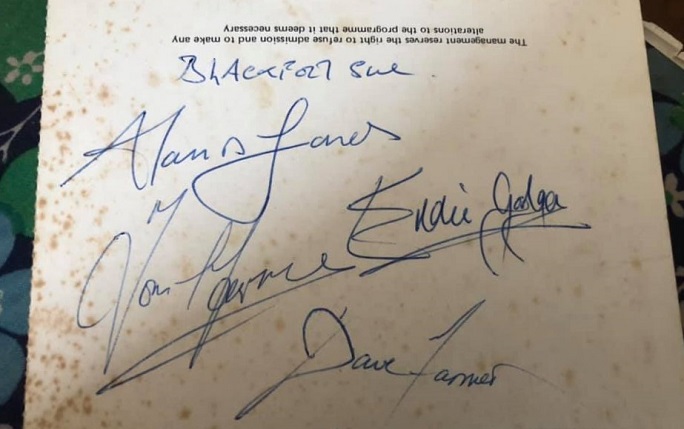 Autographs of the members of Blackfoot Sue
The most nerve-racking act was Screaming Lord Sutch. We borrowed a grand piano from the music department, only to learn Sutch had a habit of setting fire to them! Happily, he failed to ignite the piano this time, and simply played it. Relief all round I can tell you!
It wasn't always about big name bands though. Regulars included Limelight and Supercharge. Student gigs as ever, provided a platform for up and coming local bands.
Two of the best non-student gigs I went to in Liverpool were Elton John, and Hot Chocolate, both at the Empire. We only went to Hot Chocolate because the tickets were the princely sum of £1, but it was worth every one of the one hundred pennies! We danced all night. Errol Brown was the complete showman and the crowd loved him.
Elton too won everyone over with his rendition of Liverpudlian Freedom. He could do no wrong after that! Another personal highlight of those years of the mid 70's included a trip to London to see David Bowie in his Aladdin Sane alter ego. Just fantastic!
My time in Liverpool sadly came to an end all too soon. I retained a lifelong love of music of the most eclectic mix, and an open mind to new music as well as the old classics. I still love a good concert (the superb Van Morrison being the most recent), but the Liverpudlian music memories live on."
All of the images featured in the story above have been shared by University of Liverpool alumni in the 'Carnatic Halls in the 1970s' Facebook group. If you would like to join, you can find the group here.
The University of Liverpool wouldn't be the same without the amazing memories of our alumni community. If you have a funny memory or interesting story to share from your time as a University of Liverpool student, we would love to hear it: alumni@liverpool.ac.uk.