Canine Cruciate Registry provides solution to connect data with outcomes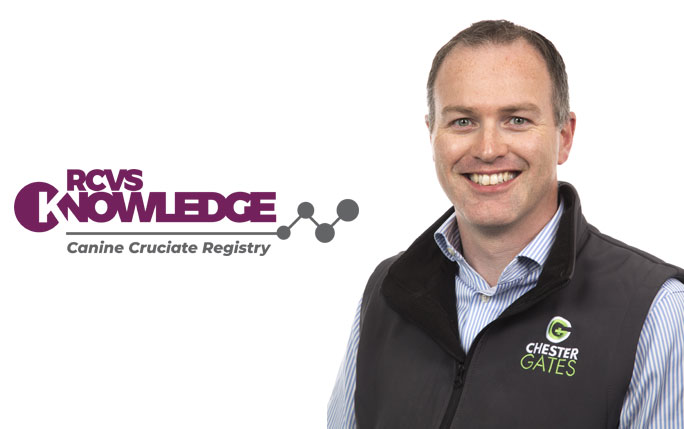 Mark Morton (BVSc 2006) tells us about his career path, how his interest in small animal orthopaedics developed, and his involvement with the Canine Cruciate Registry.
A career in orthopaedics
I thoroughly enjoyed my time at Liverpool. I made friends for life (some of whom I am still in touch with most weeks), although, as life gets busier, it's tough to see everyone in person as much as I would like, particularly over the last couple of years. Whilst still at Liverpool I gained an interest in small animal orthopaedics; I was inspired on rotations by the team at the Small Animal Teaching Hospital and my interest developed further after breaking my own tibia playing football for the Vet School!
After graduation I spent a year in mixed practice in Mold, North Wales, working for another Liverpool graduate, Richard Wignall (BVSc Hons 1974) , who sadly is no longer with us. He was a good surgeon who taught me a lot and helped me gain lots of surgical experience. He knew where my passions lay and encouraged me to pursue them, but he also kept me grounded sending me to the odd calving or TB test. This amused him, if not always me! A couple of friends from University worked there too, and I'm sure that support network made our first jobs much easier (it certainly did for me).
I then applied for a rotating internship at Davies Veterinary Specialists in Hertfordshire. I was offered a Residency in orthopaedics and afterwards stayed on as an orthopaedic surgeon. After nearly 10 years down south it was time to come back home to the North West.
I have worked at ChesterGates Veterinary Specialists since 2016 where I'm currently Clinical Lead. I passed my RCVS Diploma in Small Animal Surgery (Orthopaedics) in 2018 and I am an RCVS Specialist in Small Animal Orthopaedics. I enjoy all aspects of orthopaedics, but unsurprisingly a large proportion of my case load is dogs with cruciate ligament ruptures. There is a lack of high-quality evidence comparing the outcomes of the procedures we perform, and I was keen to find a solution to this.
Development of the Canine Cruciate Registry
In 2021, after three years of development and with the support of RCVS Knowledge, we launched the Canine Cruciate Registry (CCR). RCVS Knowledge is the charity partner of the Royal College of Veterinary Surgeons (RCVS). Their mission is to advance the quality of veterinary care for the benefit of animals, the public, and society, and their support has been vital to this project.
CCR was developed with a steering and advisory group of vets from across the profession. The aim of the registry is to gather as broad a sample as possible of accurate, up-to-date data on canine cruciate ligament repair techniques and outcomes. This data will be used to evaluate which surgical techniques and implants lead to improved patient outcomes and are associated with the least complications.
We have partnered with Amplitude Clinical Outcomes, a world leader in human registry platforms, to create a web-based system. It is free to use and open to any vet in the UK, performing any procedure. We hope to expand to other countries in the future.
Vets need to register on the CCR in advance of seeing cases. Once patients have been added electronically, and owners have given consent to be involved, the operating vet completes a surgical report form. This then triggers regular follow up for each patient that the owner receives by email.
Outcomes are assessed using the Liverpool Osteoarthritis in Dogs (LOAD) and Canine Orthopaedic Index (COI) questionnaires. LOAD was developed and validated at the University of Liverpool by Professor John Innes (BVSc 1991) and Ben Walton (BVSc 2002) and, along with Elanco, we are grateful for the University of Liverpool's support.
The CCR needs you(r data)
We hope the CCR will provide accurate real-world rates of success and complications for cruciate repair. This data can be discussed transparently with owners and used to form a treatment plan, which will enhance public trust within the sector and improve patient care. The registry will also allow individual veterinary surgeons to perform clinical audits and compare outcomes with peers, allowing for quality improvement within the peri- and post-operative journey.
The success of the registry relies on the volume and accuracy of data provided, so I would encourage all veterinary surgeons who perform cruciate surgery to take part in the project and to share data for the benefit of the profession and, ultimately, patient care.
Vets can register now via the registry website, where there is also more information about the project and further resources around cruciate surgery for both vets and owners. So, if you are performing cruciate surgery, please get involved.