From 1971 to 2021, Guild Presidents past and present meet on campus to mark 50-year anniversary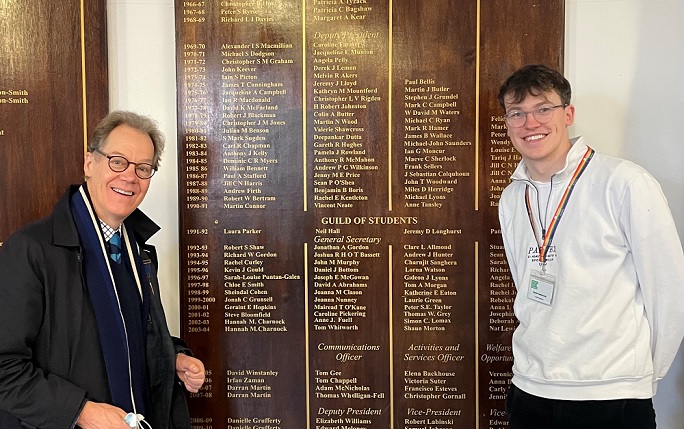 Alumnus and former Guild President Chris Graham (BA Hons History 1973) is marking 50 years since he served as the President of the Guild of Undergraduates this year. To celebrate this special anniversary, Chris was welcomed back to visit the University campus, to meet with current president Bertie Woodcock and for a tour of the Guild 50 years on.
On 2 December, Chris returned to the Guild offices where he spent a fruitful year as President of the Guild of Undergraduates – as the Liverpool Guild of Students was previously known – in 1971-1972. Talking about what it was like at the University during his presidential year, Chris said: "Life in Liverpool was a glorious experience after 10 years of boarding schools down South. The Guild was a really buzzy place – where politics, live music, sport, and socialising all met. The Guild President was put on sabbatical, and got paid the equivalent of a postgraduate grant - £600 for the year, as I remember."
"I lived in a bedsit off Ullet Road, and paid £3.25 per week rent. Then, in December, I found myself elected to Liverpool City Council as a councillor for St Michael's Ward. Britain's youngest. I was just 21. I was put on the Education Committee and also got involved in the campaign to save the Albert Dock. I was re-elected the following May. All in my presidential year. Of course, I had to get my head down for my Part II 'third' year, but it all came good in the end."
Following his graduation, Chris went into broadcasting, spending 25 years at the BBC where he rose to rose to Managing Editor of News Programmes and then to Secretary of the BBC at the time of the Corporation's 75th anniversary. He left to become Director-General of the Advertising Standards Authority (ASA) and then worked for seven years as UK Information Commissioner (ICO).
Current Guild President, Bertie Woodcock, said: "It was a pleasure to meet Chris and welcome him back to the Guild after 50 years. Although a great deal has changed at the Guild, and in the world, since his time as President, it was great to bond over many shared experiences and values."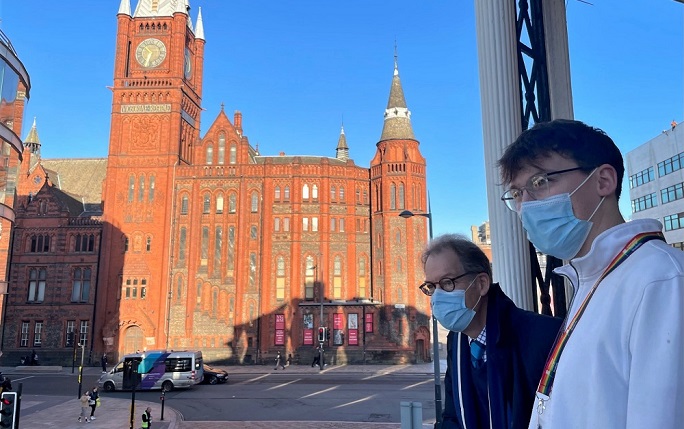 Chris and Bertie looking out from the balcony of the Harold Wilson Room
The University of Liverpool is incredibly proud to have a diverse group of alumni who have gone onto varied lives and careers like Chris. We thank him for his continued support of the University and hope you join us in celebrating his impressive milestone.