Supporting the next generation of veterinary students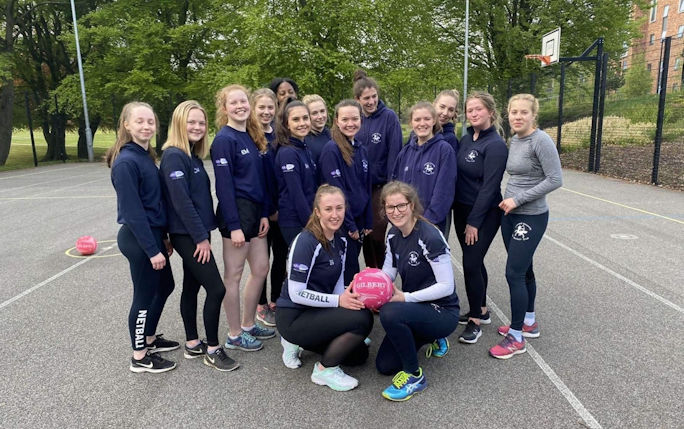 Each year the University of Liverpool Veterinary Alumni Association (ULVAA) receives monetary donations from alumni that helps to support our activities. We invite students to apply to us for funding to support academic activities as well as non-academic activities that promote wellbeing.
This year, due to the restrictions imposed by the pandemic, the students have had to adapt their activities. We are delighted that despite these challenges the students have still been able to make use of the funding we have provided them. Here is a round-up of the activities from last year.
Liverpool University Veterinary Society – Welcome to Vet School, COVID style – Sophie Marsden
Well, what a year it has been for our first years. From a lack of social events, to barely even meeting their peers and buddy families, the 2020 intake have had a rather dysfunctional welcome to vet school.
As the end of the summer holidays approached last year, it was clear that they wouldn't be getting any sort of LUVS Freshers Week. This would usually be filled with challenges to help them get to know the city, a maybe not-so-edible meal cooked by their older buddies, and a tour of the vets' favourite watering holes, while still managing to drag themselves to 9am lectures! Because of this, we knew we had to come up with an idea that would give them something physical when everything else was virtual. From here, we decided that giving out goody bags would be a great idea - there is nothing a student loves more than free stuff!
This is where the ULVAA came in. Their funding enabled us to add personalised LUVS items to the bags, such as a stress cow to hold onto when revision just does not seem to be sinking in, and bottle openers for when celebrations commence. Evie - and her cat Tink (pictured), by the looks of things - said she "enjoyed the little bits and bobs to put on her desk", they reminded her that "other vet students might be squeezing their stress cow at the same time".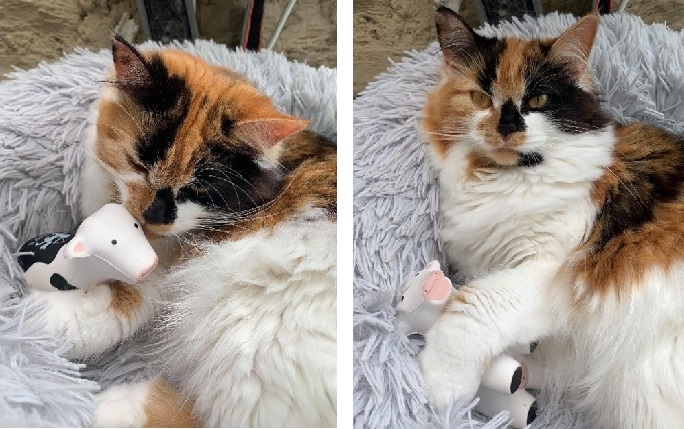 They were also given chuckle-worthy t-shirts and tote bags to remember their first year by, as modelled below by Chloe, one of our first years, who said that the goody bags "made her feel part of the vet family, despite the lack of other welcoming events". We also managed to wrangle some extra freebies and discount vouchers, so the students certainly didn't go home empty handed!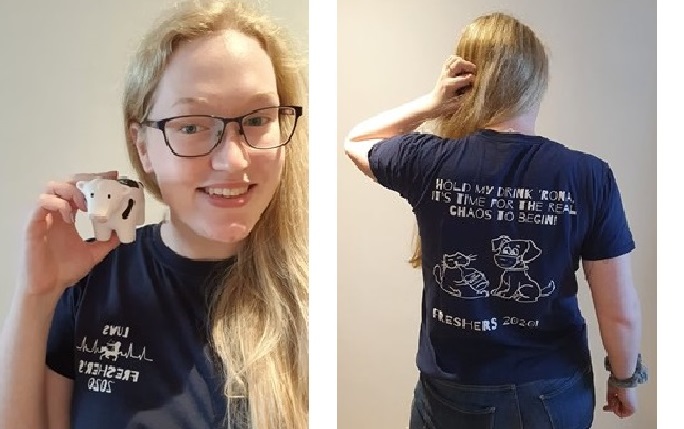 The Vice-Presidents and I had a great week sat in our clinical skills lab dishing out the goody bags after the first years attended their socially distanced dissection classes. Despite all the PPE, seeing the smiles from the corners of their eyes as they received their bags made it so worthwhile. I asked Carol, who became one of our first-year reps, why the items were so important, she said: "With living off campus and the pandemic cancelling all of our welcome events, there was a slight feeling of dissociation from the University and Vet School. Receiving the goody bag and being able to meet the LUVS President and students from other years helped combat those feelings somewhat. The stress cow was my favourite, she has pride of place on my desk."
The LUVS committee and first year students are so grateful for the funding we got from the ULVAA in helping us to welcome the freshers in such difficult circumstances, as well as their ongoing support and guidance.
Liverpool Farm Animal Veterinary Society – Thomas Ashworth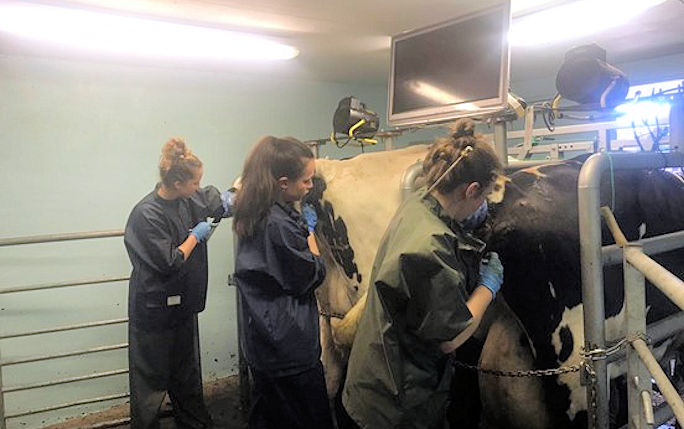 With COVID-19 impacting our society greatly, and all in-person talks unable to happen (although we did manage some great Zoom talks!) we were determined we would try and hold at least one in person event this semester - with the funding kindly put forwards by the alumni association allowing us to do so!
For two Saturdays in July members of the society visited Embryonics Ltd in Cheshire to undertake a practical DIY artificial insemination (AI) course led by John Dawson BVMS CertCHP. On the first weekend a quick refresher of the anatomy and reasoning behind the use of AI was discussed, as well as the usage of different synchronisation protocols and the pros and cons of each. The remainder of the morning was spent practising the passing of AI guns and metricure straws into uteri in preparation for the afternoon. Following lunch and a much needed cool down (why wouldn't we choose a heatwave to get geared up in waterproofs) we put the theory into practice palpating the reproductive tracts of cows and passing AI guns through the cervix.
The second Saturday morning was spent covering the regulations of AI and semen storage as well as proper handling of semen for best results and loading of the AI guns. The afternoon was arguably the highlight of the course as we got to practise AI-ing cows with dye which was visible on ultrasound. This enabled technique to be perfected as it could easily be confirmed if the AI had been successful. The group did Liverpool proud with some great results, and some members of the group have since gone on to AI their own cattle, or cattle on farms they work on, since the course.
Even with Embryonics kindly reducing their course rate for the society it is understandable such courses come at a high cost, however the funding provided by ULVAA went a long way to make sure the course was as accessible to all as possible. We thank the Association for their continued support in developing the next generation of farm vets.
Liverpool Small Animal Veterinary Society – Chloe Sheedy
First of all Liverpool Small Animal Veterinary Society (LSAVA) would like to thank ULVAA for their financial support during this very difficult year. Due to the restrictions, we used the money to host a virtual lecture with the author of the "Mini Vet Guide" Dr Gerardo Poli. This talk gave students crucial information regarding how to deal with 'real life' emergency cases in an interactive, engaging way. The money ULVAA kindly gave us allowed us to give away four free Mini Vet Guides. This helped boost the sales of the guides so our committee had to chance to make some money, which has otherwise been very difficult this year. Hopefully, this money will support LSAVS to continue to be able to put on talks and practical sessions next year!
Liverpool University Veterinary Zoological Society – Tobias Hunter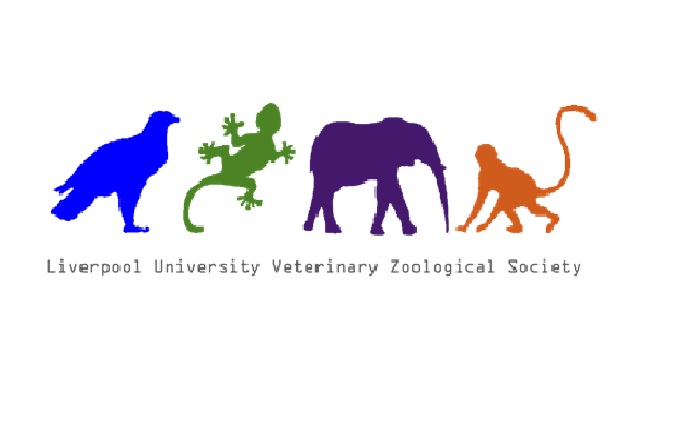 Liverpool University Veterinary Zoological Society (LUVZS) were the proud hosts of the Northern Veterinary Zoological Symposium 2021; a conference spanning two days packed full of lectures, interactive case sessions, and a live Q&A with practising exotic vets. We were joined by over 70 attendees from various UK vet schools, and even a few international colleagues from abroad thanks to the event being virtual!
We hosted an evening pub quiz social on the Saturday which was a blast, and overall, the conference was very well-received with glowing feedback. After a year of COVID and online learning, students were re-enthused with their love for veterinary and exotics and motivated to keep going until we can all be back face-to-face next year!
BSAVA Student Focus – Ieva Dimsaite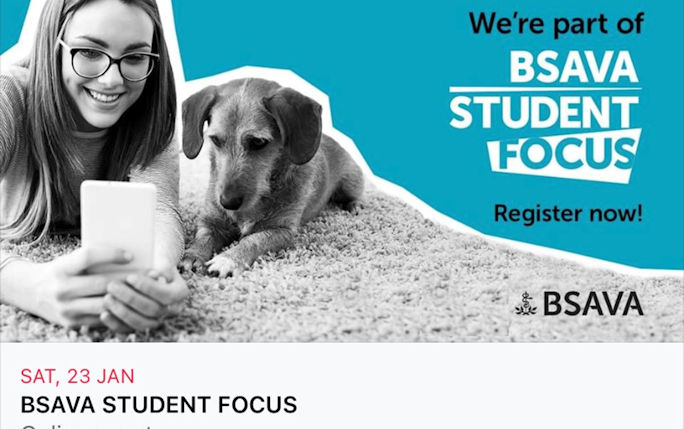 BSAVA student focus was a one-day virtual conference for veterinary students that took place in January 2021. This virtual event consisted of webinars and discussions, supplemented with a student bake off with Rosie Brandreth-Poynter as our host and judge. There was also extra bonus content available on the Sunday for students to watch in their own time. Overall, it was a great opportunity for veterinary students across the United Kingdom and Ireland to meet virtually and learn together, thank you to the Association for their support.
International Veterinary Students' Association – Calypso Bressan
The International Veterinary Students' Association Liverpool (IVSA Liverpool) have run a number of activities this year. In conjunction with XL Vets IVSA Liverpool ran three weeks of virtual clinical EMS for 150 students across the UK and Ireland, and many Liverpool Alumni spoke at the event.
The IVSA Liverpool podcast aims to educate veterinary students on the wide range of opportunities available to them once they graduated. The podcast, hosted by Calypso Bressan, featured interviews with vets about a day in their life and featured graduate scheme managers, researchers and educators. Finally, as part of the "Connecting Communities" lecture series, IVSA' one health ambassador Anna Maxwell, organised a talk on antimicrobial resistance.
Liverpool Vet Netball Club - Lauren Zazzeroni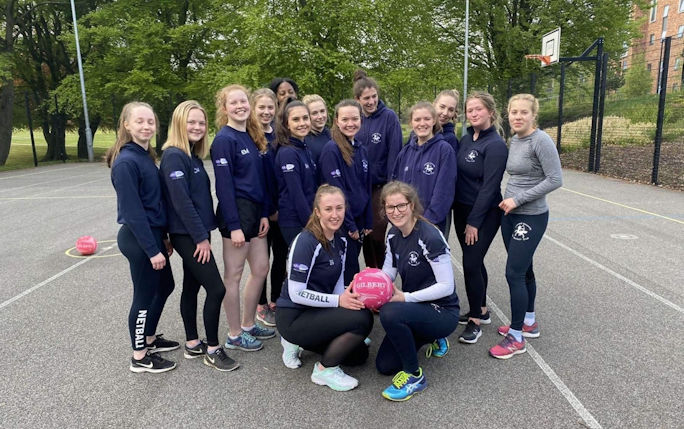 Despite the challenges and uncertainty faced in the past academic year as a result of COVID-19, we all held high hopes that the netball squad would be able to meet and train safely. Thankfully, in the latter half of the year, we were permitted to begin holding training sessions (adhering to government guidelines of maximum group sizes per session) and to compete in the University tournament.
The funds ULVAA kindly gave us allowed us to fund court hire for these training sessions as well as to buy new netballs and bibs that were desperately needed. A portion of the funds was also put towards health and hygiene related equipment, so that we could ensure our squad was able to train safely in light of the virus.
Given that University teaching had become predominantly online this year, these training sessions provided an invaluable opportunity for all of our members to get out in the fresh air, having a huge positive impact on mental health, as well as providing a fantastic opportunity for new first year students to meet other vet students.
On behalf of the whole netball squad, a huge thank you to ULVAA for funding us this year!
Liverpool University Veterinary Men's RUFC Committee 2020/21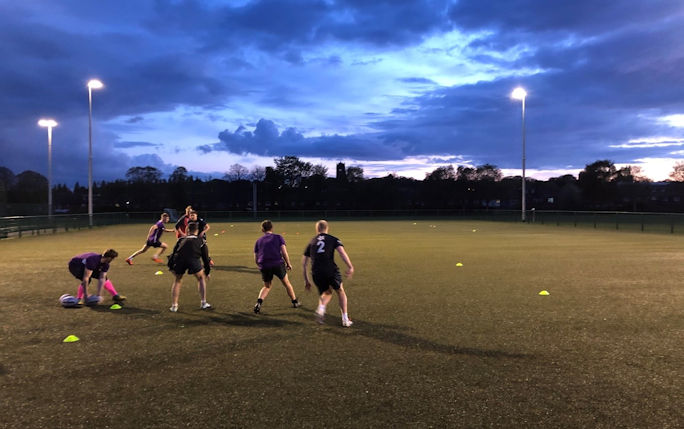 The Liverpool University Veterinary Men's RUFC (LUVRFC) has had rather a different season. Only managing to play one game against the medics, which we unfortunately lost, was not quite the season we had in mind. On the other hand, this season we have purchased more kit than ever before and that is thanks to our sponsors. The sponsorship provided by ULVAA was used to purchase cones, tackle pads and bibs which have made it easier to plan drills to get the most out of each session. In doing this we have managed to attract around 10 first year players to come to training. These have replaced the now graduated boys in numbers but not quite yet in might. The club this year has not only acted as a weekly break from the high demands of our course but also as an excuse to socialise and meet new people.
Next season will hopefully see the club competing in Division 2 South of the Northwest Intermediate Rugby Union Leagues, where we will focus on building up our player group and cement strong foundations to build on for further years. With the extra committee position of tour secretary, we hope to take two tours next year to make up for this year. We then wish to make touring an annual event which will reinforce relations amongst the UK vet schools whilst giving LUVRFC the opportunity to maintain our position as the highest achieving veterinary rugby team in the UK.