Alumni memories: The Story of POPeye by Norman Partington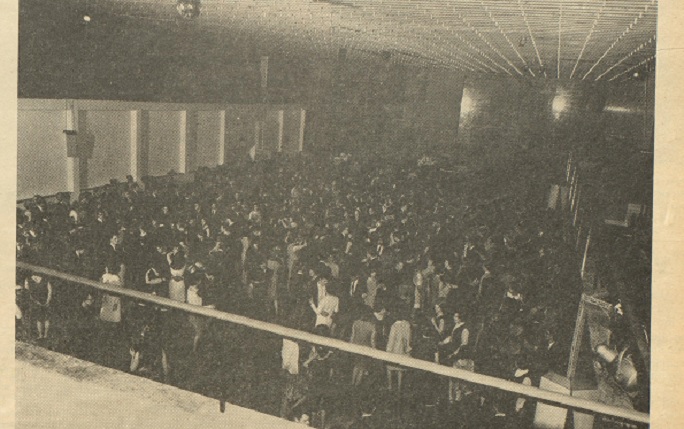 Our University days are full of some of the greatest achievements and most treasured memories of our lifetimes. In the next of our 'Alumni Memories' series, alumnus Norman Partington (BSc 1967), looks back through the archives on his memories working as a journalist for the Guild Gazette, developing the music-focused POPeye column, and his close encounters with the music legends that came to town.
"I came to the University of Liverpool to study Maths in October 1964. I hadn't told my Mum and Dad, but a huge reason for making Liverpool my first choice was that, at that time, it was the centre of the universe for the music world. Of course it was the home of the Beatles and of the Merseybeat which dominated pop at that time, and music was a passion for me then, as it still is today.
I also had a passion for writing and an interest in journalism – which years later would be inherited by my son Richard, who is now Economics Correspondent for The Guardian.
In my first year I guess I was too busy partying to indulge my journalistic tendencies, but in my second year, encouraged by getting to know fellow Rathbone Hall resident Russell Forgham, who worked on (and later became Editor of) Guild Gazette, I decided to sign up as a reporter with them. This gave me the privilege of being the proud owner of a press card: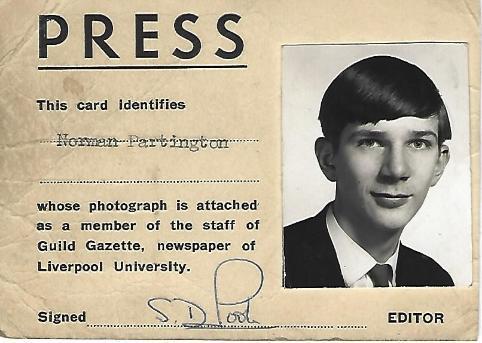 My initial assignments for Gazette, starting in early 1966, involved reporting on issues of local interest to Liverpool students. Although I don't still have cuttings of my first work, I did keep a copy of my first front page headline which came in October of that year. The Carnatic halls of residence had just been built, and were due for completion ready for the new term. There was however some consternation amongst the new residents that the halls were not yet properly completed, so the story looked like this: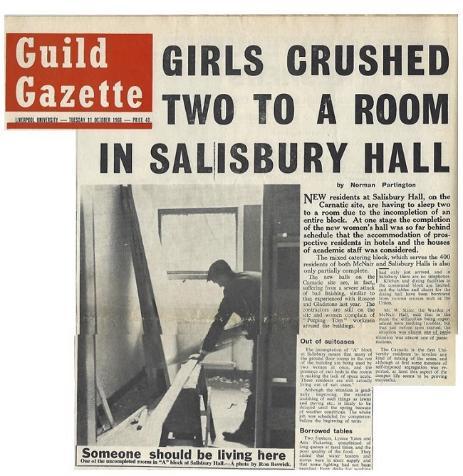 I also had another front page headline in October 1966 – 'Panto May Be Changed to Sefton Park Fair'. Apparently Panto Committee had mooted the idea of having a 'carnival fair' instead of the traditional procession. It didn't materialise.
Buoyed by the success of my front page appearances, I decided the time was ripe for moving into my specialisation – pop music.
I discovered that my press card was a virtual 'open sesame' for stage door access to the stars. Looking back 55 years now, it is difficult to believe that the level of security we now take for granted was unknown at that time. All I had to do, it seemed, was to present my press card to whatever doorman was there and, yes sir, so-and-so will see you now.
In February 1966 The Who were appearing at the Liverpool Empire, and I interviewed Pete Townshend in their dressing room, with Roger Daltrey going in and out of the shower with some blonde. I always remember he taught me how to play 'Substitute' on his guitar.
These were the times when the 'student circuit' was frequented by all the big groups and those who wanted to gain acceptance in the student market, which was regarded as key to their progression. In those days the 'Union dance' was where you went not only to see live performances, but to meet girls dancing around their handbags as well.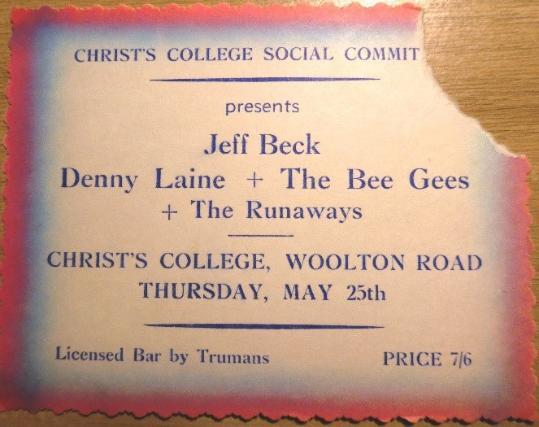 This not only applied to the University, but all the local colleges as well. The stars beat a path to our doorstep. I went to a dance at Christ's College ( a forerunner of Liverpool Hope University) in May 1967, which, looking back on it, was nothing short of phenomenal by today's standards. Top of the bill was the Jeff Beck Group, the lead singer for whom was a certain Rod Stewart, who would in 1994 play to an audience of 3.5m people on Copacabana Beach. Also on guitar was Ronnie Wood, who went on to be in The Rolling Stones. The Bee Gees were not even top of the bill – they of course went on to be international superstars. Their first hit 'New York Mining Disaster 1941' had entered the charts just the previous month. Denny Laine also appeared, late of the Moody Blues and later to partner Paul McCartney in Wings. The students present simply went about their nonchalant business of dancing – there was no excited crowd at the front, and 'crowd-surfing' was unheard of.
Prior to my graduation to the staff of Gazette, there had been a weekly column focussing on music – 'Simon Ashley's Pop Spot'. But the transience of the university population had meant that Simon had moved on, so the editor Peter Marsden was only too happy for me to fill the void, which was when my weekly column, 'POPeye' began.
One of my early columns under the POPeye banner was this one about the Cavern Club, which had undergone something of a renaissance. University student societies were in the habit of hiring the Cavern for their termly dances, and I have entries in my diary for the time like 'Biolsoc dance – Cavern'. This was also the time when University halls of residence had an 'Informal' dance as well as a 'Formal', requiring evening dress. I have no idea whether this still pertains.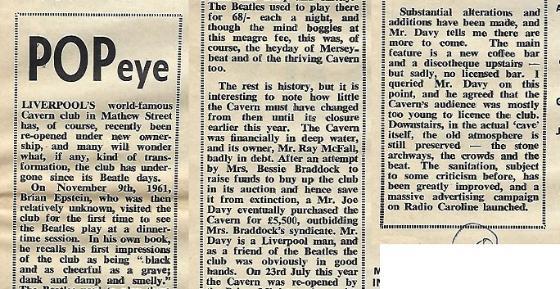 The tragedy of the Cavern's history was that in 1973 it had to make way for the 'Mersey loop' underground railway, and was thereafter only mimicked by a ground floor club claiming the Cavern name. As people have said to me – the Americans would never have allowed this to happen to a piece of their popular history. It would have been exploited to this day by tours of tourists eager to see the origin of the Beatles.
The 'new' Students Union building was first used in January 1965 when The Animals appeared at the Union dance in the Mountford Hall, and I was of course there. The official opening was conducted the following month by the Prime Minister Harold Wilson, who called it 'one of the most magnificent Student Union buildings in the world'. The Mountford, with its large capacity, was perfect for appearances by the groups of the day. Prior to this, Guild Gazette of 13th October 1964 recorded that a pre-Panto booking of the Rolling Stones was in doubt 'because youngsters will be attracted and the bars cannot be controlled'. I'm afraid my memory fails me as to whether they actually appeared or not.
The bands who did come to the Mountford Hall Included Georgie Fame and his Blue Flames, The Spencer Davis Group, and Duane Eddy (remember him?), all of whom I interviewed. In January 67, 2 years after the opening session at the Union, The Animals returned as Eric Burdon's Animals, and this article was my report of that.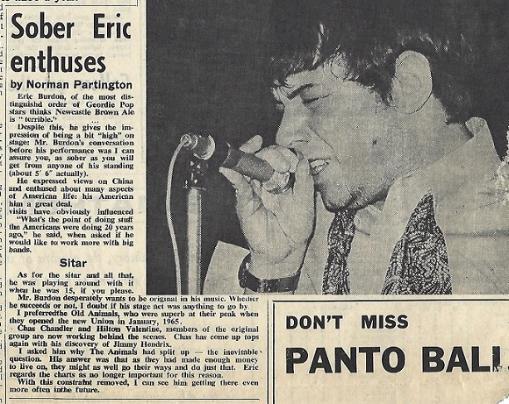 I realised at the time though, that the real coup, being in Liverpool, would be to interview the Beatles. Despite the Union's ability to attract the major bands of the day, regrettably it didn't extend to the major world sensation the Beatles had become. I was aware though that Paul McCartney was in the habit or dropping in on the town, so in November 1966 I wrote a letter to Brian Epstein asking if I could interview Paul when he next visited Liverpool. Regrettably this never came to pass, but Brian replied on NEMS Enterprises headed paper saying he would tell Paul to expect to hear from his brother Mike (of The Scaffold) who I was hoping to use as an intermediary. After the letter, signed by Brian personally, had gathered dust in my attic for 44 years, I decided to sell it at the 2010 Bonham's Entertainment Memorabilia auction, where it fetched £850.
My time at Liverpool was coming to an end in June 1967 when I (thankfully) graduated, but before I went down I managed to catch up with Lulu at the Wookey Hollow Club on Belmont Road. (It is no longer there). She had just had a big hit with 'The Boat That I Row', and although the student press wasn't exactly big-time publicity she was very charming and generous with her time for us. With two friends we recorded the interview on reel-to-reel tape on a device which nowadays is of course long since obsolete. However I did manage a couple of years ago to get it digitally transcribed on to a CD and can roll away the years listening to the interview again. Here I am with Lulu.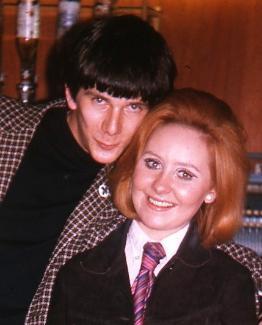 I went on from Liverpool to do an MSc in Computer Science in London, and took the POPeye name to Sennet newspaper there, branching out into more general commentary as well as meeting up with Cream, The Move and John Peel. I even promoted a couple of student dance appearances by groups including Spencer Davis myself.
I look back on my time at Liverpool with great affection, and continue to 'dine out' on this unique experience which enhanced my student days immeasurably. Needless to say, there is now a seat in The Tung Auditorium named after POPeye!"
The University of Liverpool wouldn't be the same without the amazing memories of our alumni community. If you have a funny memory or interesting story to share from your time as a University of Liverpool student, we would love to hear it: alumni@liverpool.ac.uk.
If you would like to join Norman in leaving your mark on the University by naming a seat in The Tung Auditorium, please find out more on our dedicated webpage.