Alumnus Phil Hadland discovers dinosaur footprints in Folkestone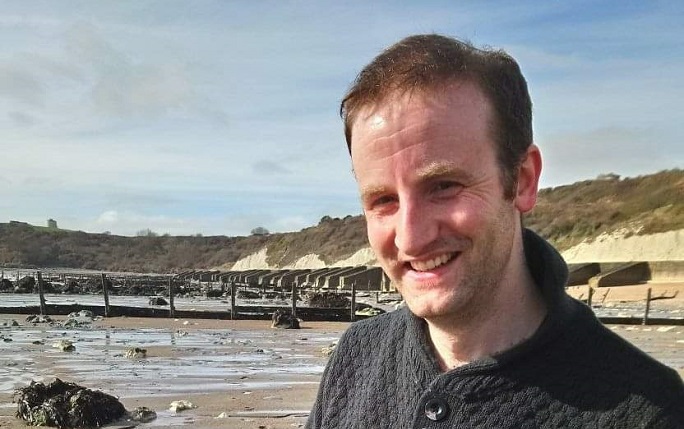 In 2010, University of Liverpool alumnus, Phil Hadland (BSc Hons Geology 2004), discovered footprints of the last of the dinosaurs to have roamed the UK 110 million years ago. Since then, many more examples of dinosaur footprints have been found, and their discovery has recently been documented in a publication in the Proceedings of the Geologists' Association.
Phil's discoveries were made in Folkestone, close to the white cliffs of Dover. At least six different species' footprints found left behind from ankylosaurs, theropods, and ornithopods. The footprints were all found in cliffs and foreshore areas made up of a layer if rock called the Lower Greensand. The discovery dates from the Early Cretaceous period and is the last record of dinosaurs in Britain.
Phil said: "Back in 2011, I came across unusual impressions in the rocks exposed on the foreshore at Folkestone. All I could think was they might be footprints. This was at odds with what most geologists said about the rocks here, but I went looking for more footprints and I found much more convincing ones."
Phil added: "Despite my first observations being widely dismissed initially, I was supported by others, notably fellow Kent Geology author Geoff Downer, the RocDoc, Dr Alistair Bruce and Dr Phil Manning of the University of Manchester. In 2017, and encouraged by my track record of work, other collectors began to identify footprints, including Steve Friedrich, who had been extremely sceptical from the start until 2017 when I extinguished his doubt with another good footprint (Fig 4A in the paper)."
Since graduating from the University of Liverpool in 2004, Phil moved to the South East where he has worked in a number of museums including University Museums in Oxford and Folkestone Museum. Phil started working at Hastings Museum and Art Gallery in 2019, where he is Collections and Engagement Curator for Natural History and Archaeology.
He has continued doing geological fieldwork in his spare time, adding to scientific knowledge of the geology of Kent. Three years ago, Phil published his first book, Fossils of Folkestone, Kent which brought the footprints to a much wider audience. The peer-reviewed paper which he has led on about the discovery of the youngest dinosaur footprints in the UK has recently been published in the Proceedings of the Geologists' Association. The work is an international collaboration with the co-authors Steve Friedrich, Prof David Martill and Moroccan based Prof Abdelouahed Lagnaoui.
Any alumni who are based in the South East, or who are planning a visit to Folkestone soon, can see some of the fossils featured in Phil's book as well as two of the dinosaur footprints at Folkestone Museum. You can find Fossils of Folkestone, Kent for sale here, and can access the Proceedings of the Geologists' Association publication about the dinosaur footprints here.