Careers Corner Recap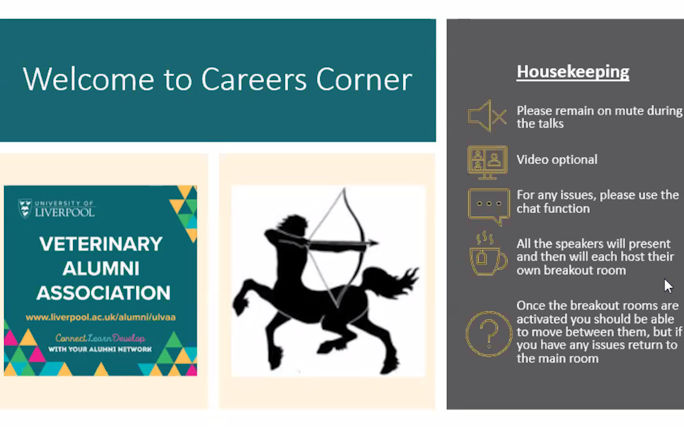 Earlier this year the University of Liverpool Veterinary Alumni Association (ULVAA) in conjunction with Liverpool University Veterinary Society (LUVS) held a Careers Corner event. This was an opportunity for members of our Veterinary Alumni community to share their varying career paths with current students and recent graduates.
We were delighted to welcome back five members of our Alumni community: Craig Waldron (BVSc 2009), Nicola Rolph (BVSc 2015), Zoe Cooper (BVSc 2017), Katie Burden (BVSc 2018), and Joanna Gillingham (BVSc 2019).
The perspective of a recent graduate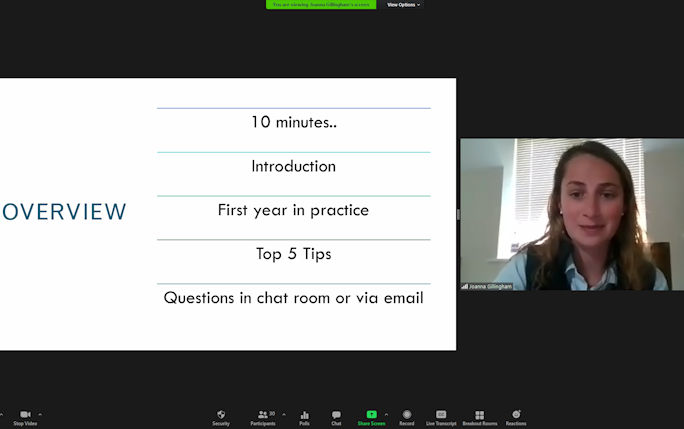 Joanna Gillingham has worked as an equine vet since graduating including in ambulatory roles and in a hospital internship. One of her key messages for the current students were that communication is key and encouraged us to remember that communication with our colleagues is just as important as communication with our clients. Joanna also took part in the BEVA Leg Up Career Coaching Scheme and discussed how useful it was to have an external mentor to give their perspective.
To work for an independent or to work for a corporate?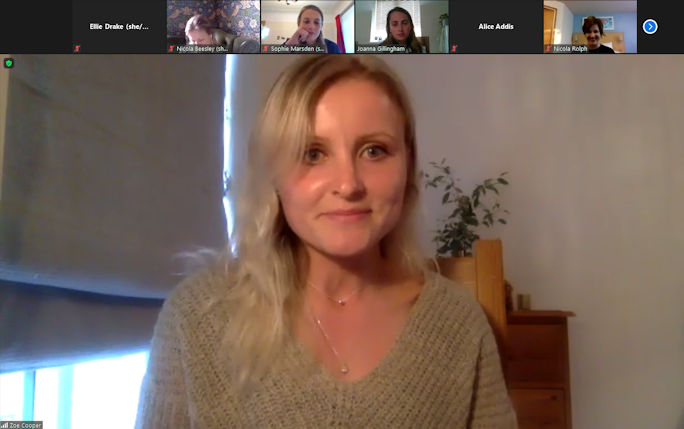 Immediately after graduation Zoe Cooper travelled to South Africa to pursue her childhood dream of working as a wildlife vet. On her return to the UK she made a conscious decision to work in independent practice as she believed it would be more personal.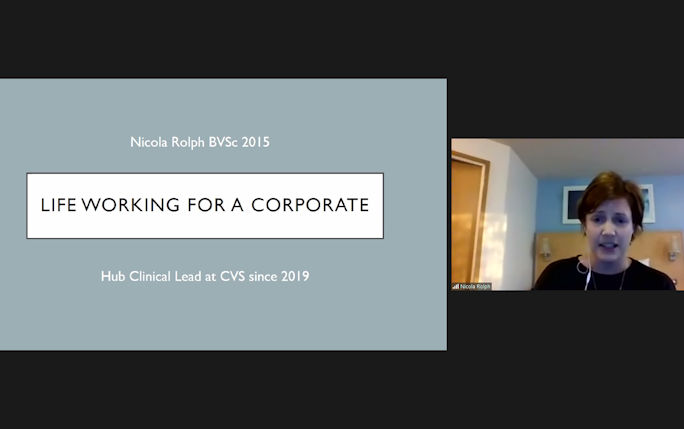 Nicola Rolph has worked for CVS since 2017 and is now working as a Hub Clinical Lead, which allows her to combine clinical knowledge with leadership skills. Nicola spoke about the variety of soft skills that she had acquired throughout her career prior to studying veterinary science, which have all come in useful in her current job. She encouraged the current students to start thinking now about how skills can transfer from one area to another.
Working abroad
Katie Burden has spent time working in the racing industry in Hong Kong, China and Australia. This year she returned to the UK to join the Rossdales stud team in Newmarket. If you are thinking about working abroad start thinking about this early – there are lots of hidden logistical difficulties that can be difficult to navigate! Katie also reminded students that if a job is not what you want do not be afraid to say no.
The versatility of a veterinary degree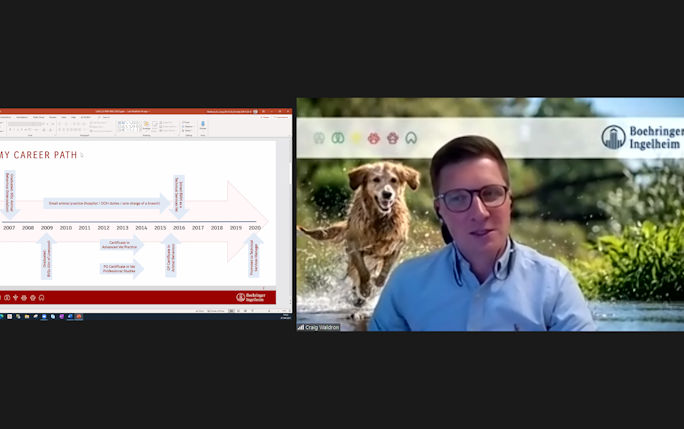 Our final speaker, Craig Waldron, had spent seven years working in small animal practice before moving to Boehringer Ingelheim Animal Health UK Ltd initially as a Technical Services Vet and now as Technical Services Manager. Craig highlighted the versatility of a veterinary degree and the interconnection of animals and people. He finds his role very fulfilling as he is able to impact pets, their owners, and help vets to excel in their care of their patients.
Our Careers Corner event was a great success with our speakers providing valuable insights for the students and recent graduates that attended. One of the aims of ULVAA is to support the next generation of vets by supporting activities such as this, if you too are interested in passing on your experience we encourage you to join Liverpool Connect – an online networking platform where Liverpool Alumni can support Liverpool students.