Meet the Liverpool graduate running 75 marathons in 85 days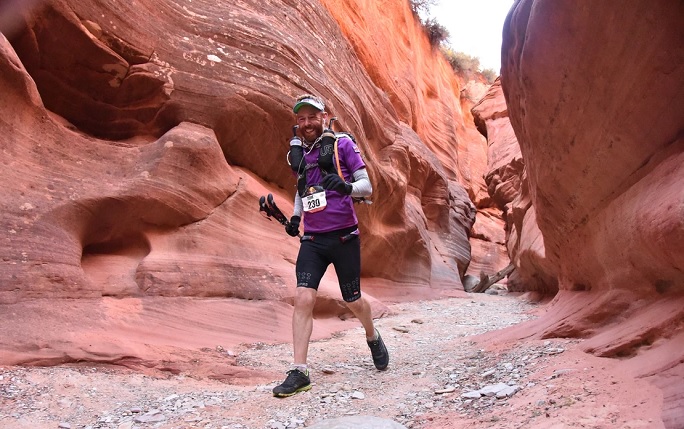 Alumnus Dr Tom Crossland (BSc Physiology 2003) is taking on an incredible challenge to run 75 marathons in 85 days around the coast of England and Wales. Tom started his 1,900-mile run on 2 June 2021 to raise awareness about the extent of modern-day slavery and human trafficking.
Born with cerebral palsy, Tom was unable to walk until he was over 3 years old. Whilst growing up, he found it difficult to maintain his balance and stay on his feet, and was never a natural runner. Even now, it takes daily training, strengthening work and huge effort for Tom to continue running, but with limited research around ageing and cerebral palsy, Tom is determined to get as much out of life, doing what he loves, whilst he can. He said: "It has never stopped me from being active, and taught me that success is not measured by how many times you fall over but by how many times you get up."
Whilst studying at the University of Liverpool, Tom gained such confidence and strength and his journey in sports really started – as he became an active member of the riding club. Now working for the NHS as a Clinical Psychologist, Tom's journey is about overcoming obstacles, pushing his body and mind to their limits and supporting a charity which is important to him.
Through his challenge, Tom is aiming to raise £20,000 for Tribe Freedom Foundation, a UK charity that works to fight modern slavery across the UK, by raising awareness, providing funding and support for frontline projects to fight modern slavery and working on projects which empower survivors with the long-term support to overcome their previous exploitation.
On his reasons for wanting to support trafficking survivors, Tom said: "Through my work and adventuring, I have developed a deep gratitude for being born in the UK and the freedoms this allows. I am passionate about fighting for human rights."
"Over the past few years, there have been large numbers of people entering Europe in search of asylum, freedom and safety. The reality is, that in their desperation, people will put themselves in incredibly dangerous situations, increasing their vulnerability to trafficking and exploitation, through their attempts to reach mainland Europe and the UK."
From all of us here at the University of Liverpool, we wish Tom the very best of luck in completing his inspirational and momentous challenge. You can find out more about Tom's amazing journey on his Run to Refuge website, or to show your support, visit Tom's fundraising page: https://www.justgiving.com/fundraising/runtorefuge.