National Volunteers' Week: Celebrating our Yoko Ono Lennon Centre Campaign Ambassadors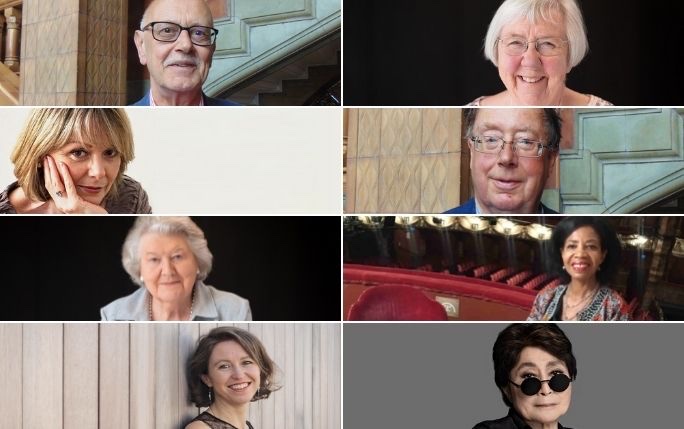 Every year, National Volunteers' Week (1-7 June) is an opportunity for the University to recognise the outstanding contribution alumni and friends make through volunteering. An impressive collection of hours are dedicated to supporting student mentoring, participating in events and special projects, and this year the University is privileged to have received support from volunteers to champion its new teaching and performance facility - the Yoko Ono Lennon Centre
Set to open in spring 2022, the Centre will house the 400-seat Tung Auditorium with space for a 70-piece orchestra, as well as the state-of-the-art 600-seat Paul Brett Lecture Theatre, offering students a world-class teaching experience. Our campaign ambassadors have supported the Centre along every step of our fundraising mission, by helping to raise the Centre's profile with alumni and local stakeholders alike, and advising us on our campaign.
Other than sharing the news of the Yoko Ono Lennon Centre with their contacts, our ambassadors have supported the University by reaching out to alumni via mail and email. A number of our ambassadors have also supported the Centre by taking part in fundraising events including Musical Memories: Made in Liverpool and From Liverpool With Love.
This week in particular, we are delighted to put a spotlight on them and their achievements:
Robin Bloxsidge (BA Hons Geography 1969), alumnus and former Head of University Press, was introduced to classical music by a friend at University. As a music enthusiast and avid supporter of the arts in Liverpool, Robin, along with his partner Nick Riddle, is a member of the Royal Liverpool Philharmonic Society and a regular attendee to the University's Lunchtime Concerts.
Alumna Professor Averil Mansfield CBE (MBChB 1960, ChM 1973, Hon MD 1994) was the first British female Professor of Surgery. An advocate for the wellbeing benefits of music, Averil has used music to counter the stresses of medicine throughout her career and in October 2020 appeared on the BBC's Desert Island Discs.
Nick Riddle is a retired barrister who has spent most of his career in Liverpool, most recently at Atlantic Chambers, specialising in company, land and property law. As a member of the Royal Liverpool Philharmonic Society and a regular attendee to the University's Lunchtime Concerts, Nick is a keen supporter of music and the arts in the city.
Dr Joan Rodgers CBE (BA Hons Russian 1978, Hon DMus 2005) is an alumna and acclaimed opera, concert and recitalist soprano. She has appeared in concert with conductors including Solti, Barenboim, Mehta and Harnoncourt as well as being a regular guest at the BBC Proms and participating in engagements at the Royal Opera House and English National Opera.
Alumna Dame Patricia Routledge DBE (BA Hons English Language & Literature 1951, Hon LittD 1999) is an award-winning actor, singer and comedian who's passion for music and performance was discovered whilst studying at the University of Liverpool.
Professor Shirley J. Thompson OBE (BA Hons Music 1979) is an accomplished composer, artistic director, Professor of Music, conductor, film-maker, writer, violinist and cultural activist who is a powerful voice in the contemporary classical world. She's been involved with a range of impressive touring artworks and in 2019 was honoured with an OBE for Services to Music in the New Year's Honour List.
Vanessa Reed is the President and CEO of New Music USA, a national resource which supports the creation, performance and appreciation of new music. She moved to New York in 2019 following a decade as CEO of the PRS Foundation (UK) and has received multiple awards including making the BBC Radio 4 Woman's Hour Power List 2018, which named her the 3rd most influential woman in the music industry after Beyoncé and Taylor Swift.
Yoko Ono Lennon is a long-time supporter of the University of Liverpool and we are extremely proud to name this new teaching and performance space after such a renowned artist, musician, songwriter and peace activist. Yoko Ono Lennon established the John Lennon Memorial Scholarships at the University to provide opportunities for students to study at Liverpool who may not otherwise have been able to go to University. A major philanthropist, she also remains an active artist and musician and continues to support and champion the city of Liverpool and its cultural heritage.
During this Volunteers' Week we would like to extend a special thanks to each of our campaign ambassadors for the work they do in supporting and promoting our fundraising mission.
If you would like to find out more about the Yoko Ono Lennon Centre, please visit our webpages. We have recently launched a JustGiving page to help us to reach our fundraising goal. We would be delighted to receive your support for the new Centre, or if you would be happy to share news of the campaign with your networks. For more information get in touch via: giving@liverpool.ac.uk